Good morning/afternoon!

Sorry - I am really late today, it's after 2pm already!

I've been busy for most of the morning making lots of Christmas gift orders (Bags of Christmas Blessings and In Loving Memory at Christmas Boxes) all the while thinking about what I need to do for tomorrow, as I will be at Langney Shopping Centre again - with my Cheeky Witch Hats, mugs, jewellery, gemstones, incense, etc., and celebrating all things Halloween!

I still have to make a couple more hats and some jewellery - if I get the time...

There's no rest for this wicked witch!


* * * * * * *
I have also been checking out my new social networking site
Tsu
(pronounced SUE).
I was on there last night and I have to say it's quite exciting and just a little addictive!
I imagine this must be a bit like it was when Facebook first started - we're all 'newbies' and trying to find our way around and make new friends, etc. but the big difference is that
Tsu
PAYS you for being social! lol
And it seems that it is actually working!
This is a screen shot of my
tsu
app - I'd earned $0.01 within 12 hours (overnight, while doing nothing as I'd signed up late in the evening on the 22nd), yesterday I earned $0.10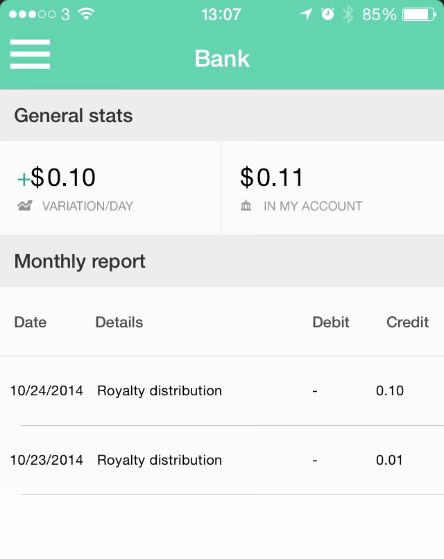 It may not be much - YET - but compare it with the zero, ZILCH, $0.00 that I get for all the hard work I've put in on facebook, for several years, to keep my FB page active and interesting (while they earn a ton of money from advertising on pages like mine) it's a great start!
Do you want to join me? If so please go to
http://tsu.co/CheekyWitch
to join my network, then you get a special 'short code' to invite all your friends and family. After that you can all share
tsu
's revenue too!
It's VERY early days - but maybe one day this will be bigger than Facebook and we can be among the first pioneers :)
* * * * * * *
Right! Enough chitchat! I must get on!
I have more orders to make before my post office run and then and evening of creating more witches' hats and jewellery!
Please find your message below and whatever your star sign - have a wonderful weekend - and if you are in the Eastbourne area, be sure to pop along to Langney Shopping Centre tomorrow and say "Hi!" :)
Brightest Blessings,
Kaz
www.blessingz.co.uk
www.cheekywitch.co.uk
www.kazzazzle.com

This week I am using the

Cosmic Ordering Oracle wish Cards


by Stephen Richards and Karen Whitelaw Smith




Quoted from the pack: "This guidance booklet will give you the meaning of the 44 pocket sized Cosmic Ordering Oracle Wish Cards. Use them in many different ways and learn to work with the energy of that card.

Use the cards in your daily life to make a wish and watch it come true."

My personal card for today

: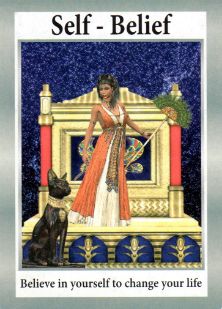 SELF-BELIEF
Believe in yourself to change your life
Full meaning: As you believe, so shall it be. Dream manifestation is possible for anyone, yet often our greatest enemy is Self. Begin this day knowing you deserve happiness, regardless of past failures.
To thine own Self be true. Each of us is unique. Only your authentic Self can find its spiritual destiny. Give thanks today and accept who you are.
Focus only on the positive. Make choices today in line with your highest good. Use your gifts, in gratitude, believing they will lead to the right path.

Today's cards for each of the star signs

:

Due to lack of time, etc. These are the 'quick reading' messages - for the full reading and meaning of the cards you will need to obtain these cards for yourself - or get someone else to buy them for you as a gift!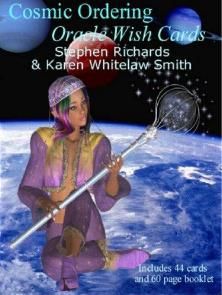 Here are your messages and insights for today. Try to sit quietly for a few moments, meditate on your card and think about how you can learn from, and act upon, its message...

Aries

: VISUALISATION

What you visualise can become a reality

Be on the alert for signs from Spirit., knowing you have the power to manifest all your dreams.

Taurus

: DETERMINATION

Never, ever give up

Call on Spirit to give you strength, creativity and perseverance. Once you have made a decision to never, ever give up, anything is possible.

Gemini

: DREAM BIG

Live life to the full

You stand at the door of unlimited abundance. The bigger your dream, the further it will take you on your journey. There are no limitations but your imagination.

Cancer

: BALANCE

It's important to have balance in your life

Drawing this card indicates an imbalance in your life. Is it in your physical body? Is it an emotional imbalance? Is your imbalance Spiritual?

Leo

: THOUGHTS

Your thoughts create you future

To be happy, we must think happy thoughts. Fill your mind with love and watch it spill out into every aspect of your existence.

Virgo

: GRATITUDE

To be wealthy you have to be more grateful

Cultivate gratitude for all the gifts you've been given and those you've yet to receive.

Libra

: TRAVEL

Take a break

Book a mental vacation. Empower your life with regular meditations on beautiful places. Let their healing energy uplift your spirit

Scorpio

: FORGIVENESS

Learn to forgive others

Forgiving someone who has wronged us is the hardest lesson the human spirit can learn. But it is a vital lesson. Without forgiveness, anger rages through our lives like a torrent, destroying everything in its path.

Sagittarius

: 'ME' TIME

Spend time alone in a quiet place

Take time to allow your body to relax and de-stress. Care for your body today. Pamper it. Your spirit will blossom.

Capricorn

: BIRTH

(2 days in a row!)

The start of new beginnings

This card designates a new beginning. Choosing it signifies that today marks a new stage in your journey.

Aquarius

: MUSIC

Listen to the music and feel the energy

Feel the music of Creation in your body. Use it to raise your vibrations, physical and mental.

Pisces

: CONFIDENCE

Confidence comes from believing in yourself

Using positive language at all times, we create more confidence - within others and our selves. When we acknowledge our power, we can achieve anything.

Please feel free to leave any comments here on Blogger, or on my Facebook Page
The Daily Divination
, or on
Twitter
Thank you!