Good morning!

I hope you had a lovely weekend?

Mine was very hectic!

I had a good time on Saturday, at Langney Shopping Centre.

Once again I met some lovely new people, reconnected with some more old friends and discovered some interesting coincidences that I shared with an acquaintance, which I never knew before!

Fascinating!

You can see some photos of my stall (which I posted on tsu) by clicking on this photo.


Sadly I won't be able to have a stall there again for quite some time - as they are fully booked up for the foreseeable future - however, it has made me even more determined to follow my dream of having a shop again.
A shop and spiritual centre - somewhere for like-minded people to gather and connect with others
,
have readings, treatments, join development groups, etc.
I am putting my wish out to the universe...
In the meantime, it's Manic Monday!
Everything is in such a muddle here at the moment... I really need to totally reorganise my workroom/office. I made a start yesterday, but there is so much to do!
I have boxes all over the place at the moment, but I shall have to abandon the reorganising for now, as I have lots of orders to make and emails to respond to...
But first - the CARDS!
This week I am using the
Goddess Guidance Oracle Cards
When I turned over my personal card for today it really made me smile! So appropriate!
The cards never fail to amaze and delight me!
Please find your message for Monday below, and whatever your star sign - have a good day :)
Brightest Blessings,
Kaz
www.blessingz.co.uk
www.cheekywitch.co.uk

This week I am using the
Goddess Guidance Oracle Cards
by Doreen Virtue, Ph.D.
Quoted from the pack: "The goddesses are angelic, powerful, loving beings who want to help you with every part of your life. In this set of oracle cards by Doreen Virtue, you'll learn who the different cross-cultural goddesses are and how they can help you. Each card gives a specific message about how you can improve your life, health, relationships, finances, career, and spiritual path. The gorgeous artwork on each card depicts Kuan Yin, Laksmi, Brigit, Isis and Athena; as well as goddesses Celtic, Mayan, Egyptian, Greek, Tibetan, Buddhist and other traditions.
The accompanying guide book helps you to give accurate readings for yourself, your loved ones, and your clients. Whether you're a beginner or seasoned pro, you'll find that working with the goddesses brings Divine magic into your life."

My personal card for today

: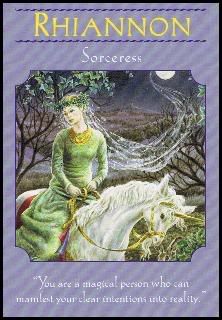 RHIANNON - Sorceress
"You are a magical person who can manifest your clear intentions into reality."
Message from Rhiannon: "A large part of my power stems from my connection to animals and nature. If you've been indoors too long, you can recapture your personal power by simply stepping outside. This simple motion will do you a world of good in reawakening your sleeping, magical, spiritual nature.
Allow the light of the sun, moon, and the stars to stir ancient memories that may be dormant. Recall the times of your magical abilities, and then put them to use immediately for the good of the entire planet. Resume the mission that was once aborted through the misdeeds of past-time leaders. Take up your spiritual arms and move with swift speed into the night, awakening one and all to the magic that is life itself. This is a mission that must be accomplished, and you're the one who can help us with it."
Various meanings of this card: Have absolute faith that your dream is manifested * Make a clear decision * Put your energy into manifesting your dreams * Know that you deserve to receive good * When you win, others win too * Keep your thoughts focused on your desire and away from fear.

Today's cards for each of the star signs

:

Due to lack of time, etc. These are the 'quick reading' messages - for the full reading and meaning of the cards you will need to obtain these cards for yourself - or get someone else to buy them for you as a gift!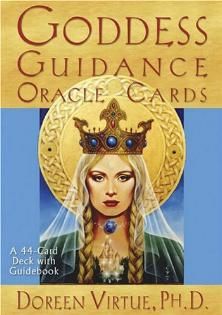 Here are your messages and insights for today. Try to sit quietly for a few moments, meditate on your card and think about how you can learn from, and act upon, its message...

Aries

: HATHOR - Receptivity

"Allow yourself to receive. This will increase your intuition, energy, and ability to give to others."

Various meanings of this card: Be still and listen * Release guilt about receiving * Ask for help * Increase psychic awareness * Know that you're in a learning cycle * Healing is occurring * Be more in your feminine energy * Child conception, pregnancy, or birth, including adoption or favourable custody arrangements, are issues in your life.

Taurus

: KUAN YIN - Compassion

"Release judgements about yourself and others, and focus on the love and light that is within everyone."

Various meanings of this card: Release guilt and shame to Heaven for healing and transmutation * Keep your thoughts about yourself and others positive * Avoid gossip or bad-mouthing of yourself or others * Forgive yourself or another * Don't be so hard on yourself or others * Release perfectionistic tendencies.

Gemini

: OSTARA - Fertility

"It is the perfect time for you to start new projects, access new ideas, and give birth to new conditions."

Various meanings of this card: This card signifies pregnancy * You will be involved with a successful child conception, adoption, or custody resolution * Your desire will fully manifest in the springtime * There will be a resurrection of the old * Your new idea or venture will be successful * It's an opportune time to make life changes.

Cancer

: MOTHER MARY - Expect a Miracle

"Have faith that your prayers have been heard and are being answered."

Various meanings of this card: Let go of worrisome thoughts * Keep your thoughts positive * Notice and follow any Divine guidance you may receive * Pray * Engage in spiritual healing.

Leo

: AERACURA - Blossoming

"You are just getting started, so have patience with yourself and the process, and do not give up."

Various meanings of this card: Slow down * Have patience * Get involved with gardening * Use aromatherapy and/or flower essences * Keep the faith.

Virgo

: DAMARA - Guiding Children

"You are good at helping, counselling, and healing children. Use your skills to help children now.

Various meanings of this card: Spend time with, or have a heart-to-heart talk with your own children * Get into a career involved with helping kids * Volunteer with young people * Know that children will be coming into your life soon * You will be a parent * Take care of your own inner child through play and laughter.

Libra

: WHITE TARA - Sensitivity

"You are becoming increasingly sensitive. Avoid harsh relationships, environments, situations, and chemicals."

Various meanings of this card: Acknowledge and honor your sensitivity * Take steps to protect yourself from negativity * Avoid chemicals * Steer clear of situations where there's loud noise, crowds, violent media, and other triggers.

Scorpio

: PELE - Divine Passion

"Be honest with yourself: What is your heart's true desire?"

Various meanings of this card: Make sure your career matches your true interests * Take a class or start a hobby that really excites you * Change jobs * Go on a wonderful trip * Invest time and money in manifesting your dreams * Give yourself permission to go for it * Start a new business * Make an honest assessment of how you spend you time * List your priorities.

Sagittarius

: MAAT - Fairness

"This situation will be handled in a fair and just manner."

Various meanings of this card: A lawsuit will be resolved * A dispute will end harmoniously * You'll be treated fairly * Keep everyone's needs in mind during negotiations * Release guilt and shame, as these emotions can attract a punishing attack.

Capricorn

: MAEVE - Cycles and Rhythms

"Honour the cycles of your body, energy levels and emotions."

Various meanings of this card: Female gynaecological changes (starting of menses or menopause, for example) are an issue for you * Make time to rest * Initiate steps to alleviate depression or lethargy * Take better care of your body * Seek support for dealing with emotional crises * Allow yourself to grieve or take time off * Know that this lull won't last forever * A doorway of opportunity has opened up, and you need to walk through it now.

Aquarius

: BAST - Independent

"Your independence is a foundation for your strength and success."

Various meanings of this card: Spend time alone * Give yourself permission to play * Ask for your needs to be met * Make your on decision * Work with cats * Pay attention to your pet feline and/or get a new cat.

Pisces

: SULIS - Bodies of water

"Spend time near water, such as a lake, river, or the ocean, to recharge your batteries."

Various meanings of this card: Go for a meditative walk near water * Take a vacation near the ocean * Move to a home closer to a body of water * Swim * Take a sea salt bath to detox your energetic and physical body * Drink more water.

Please feel free to leave any comments here on Blogger, or on my Facebook Page
The Daily Divination
, or on
Twitter
Thank you!