Good morning!

This week is passing very quickly! It's Thursday already and I still have so much to do before Saturday! I need to make at least 2 more Cheeky Witch Hats and some more earrings...

Last night I was supposed to be catching up with some of the Christmas orders I have received this week, but I got somewhat side-tracked, as I decided to join the new Social Networking site everyone is talking about!

Tsu - is a social network which is supposed to pay you for being social - sharing its revenue - unlike Facebook...

I do find Facebook very frustrating! I have worked hard to keep my Cheeky Witch Page active, and hopefully interesting, and yesterday I reached a new milestone of 15,000 Likes - which is wonderful!

I am so grateful to all of my followers!

However, although over 15,000 lovely people have liked my page - on average my posts only reach 200-300 of those people, if I'm lucky, and everytime I post something facebook encourages me to PAY to 'boost' the post - which I can't afford to do.

If they just showed the post to all the people who have chosen to follow my page, I wouldn't need to boost the post!

It's an annoying problem which all Facebook page owners have to deal with every day :(

Tsu (which pronounced 'Sue' apparently) could be an interesting new social networking option to try.

Whether or not it will grow and become popular only time will tell - but if you would like to join me and find out - please click here!


* * * * * * *
Time to get on with the cards!
I hope you have found the
Cosmic Ordering Oracle Wish Cards
interesting, relevant and helpful this week?
Personally, mine have been spot on!
Please find your message for Thursday below and whatever your star sign - enjoy your day :)
Brightest Blessings,
Kaz
www.blessingz.co.uk
www.cheekywitch.co.uk
www.kazzazzle.com

This week I am using the

Cosmic Ordering Oracle wish Cards


by Stephen Richards and Karen Whitelaw Smith




Quoted from the pack: "This guidance booklet will give you the meaning of the 44 pocket sized Cosmic Ordering Oracle Wish Cards. Use them in many different ways and learn to work with the energy of that card.

Use the cards in your daily life to make a wish and watch it come true."

My personal card for today

: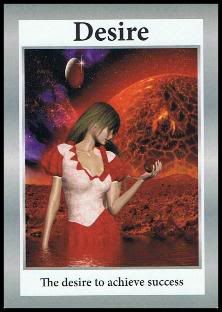 DESIRE
The desire to achieve success
Full meaning: What is your inner most desire? The burning passion you've never confided to anyone?
What do you need to change in order to have your greatest desire fulfilled? No matter what obstacles you face, your desire to achieve it must be greater. Desire equals manifestation.
Think about the goals you have already achieved in life.
Let there be no negativity attached to your Cosmic Orders.
Visualise yourself achieving your aims. Feel the success, then un-harness your belief. With the power of the cosmos anything is attainable.

Today's cards for each of the star signs

:

Due to lack of time, etc. These are the 'quick reading' messages - for the full reading and meaning of the cards you will need to obtain these cards for yourself - or get someone else to buy them for you as a gift!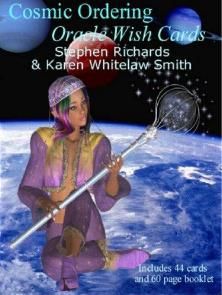 Here are your messages and insights for today. Try to sit quietly for a few moments, meditate on your card and think about how you can learn from, and act upon, its message...

Aries: MESSAGES FROM YOUR LOVED ONES

Stop and listen

Our loved ones will always find ways of connecting with us, especially in times of need.

Taurus

: TRUTH

Be truthful with yourself

Are you truthful with your dealings with others? Do you lie to protect your ego? Redefine your relationship with honesty today and watch your life transform.

Gemini

: CONFIDENCE

Confidence comes from believing in yourself

Using positive language at all times, we create more confidence - within others and our selves. When we acknowledge our power, we can achieve anything.

Cancer

: PERSEVERANCE

You can achieve anything if you persevere

Nothing can stop you if you want it badly enough. There is no problem too difficult to be resolved if we persevere.

Leo

: GRATITUDE

To be wealthy you have to be more grateful

Cultivate gratitude for all the gifts you've been given and those you've yet to receive.

Virgo

: COSMIC INDULGENCE

Look deeper

Ask the Cosmos for a special indulgence today, something wonderful, just for you. Remember too that the Cosmos will only reward you if you are giving back to the Universe.

Libra

: DREAMS

Dreams can come true

How is Spirit using your dreams to speak to you today? Do certain dreams repeat themselves? Harness their energy. Use them to strengthen and understand your Self.

Scorpio

: OCEAN

Spend time beside the water or relax in a warm bath

When we sit by the ocean our body relaxes, our spirit opens. Allow life's flotsam to float away and let yourself flow with the tide.

Sagittarius

: CAREER

Time to look at a new career path

Remember what you are on this earth to achieve. How can you align your work life with that goal? Reconnect with Spirit, asking to be shown the way forward. Through its guidance you will achieve the success you desire.

Capricorn

: BIRTH

The start of new beginnings

This card designates a new beginning. Choosing it signifies that today marks a new stage in your journey.

Aquarius

: DETOX

Wash away your worries

Have you been ignoring signs of overload in your body? Balance your physical body and clear your channel to the Cosmos. Drink more water to purify your system.

Pisces

: FORGIVENESS

Learn to forgive others

Forgiving someone who has wronged us is the hardest lesson the human spirit can learn. But it is a vital lesson. Without forgiveness, anger rages through our lives like a torrent, destroying everything in its path.

Please feel free to leave any comments here on Blogger, or on my Facebook Page
The Daily Divination
, or on
Twitter
Thank you!