Good morning!

I had some rather disappointing news this morning, which threw me a bit and all the plans I've been making will need to be changed...

So it wasn't a surprise when I saw my personal card for today was "Change"!

I hope your card is relevant for you too!

Please find your message for today below and whatever your star sign - have a lovely day :)

Brightest Blessings,
Kaz
www.blessingz.co.uk
www.cheekywitch.co.uk
www.kazzazzle.com




This week I am using the

Cosmic Ordering Oracle wish Cards


by Stephen Richards and Karen Whitelaw Smith




Quoted from the pack: "This guidance booklet will give you the meaning of the 44 pocket sized Cosmic Ordering Oracle Wish Cards. Use them in many different ways and learn to work with the energy of that card.

Use the cards in your daily life to make a wish and watch it come true."

My personal card for today

:
CHANGE
Use change to grow and learn
Full meaning: Change is all around us. Learn to accept and welcome its possibilities. Without change we stay stagnant. Change is healthy. Change is exciting.
For some, change holds terror. What changes should you be making? What fear is holding you back? Face it squarely. It is your shadow. It is not the real you.
Divert your mind from all negative thoughts. Decide today to forgive your self for past mistakes. Learn from them. Make changes today that will move your life forward.

Today's cards for each of the star signs

:

Due to lack of time, etc. These are the 'quick reading' messages - for the full reading and meaning of the cards you will need to obtain these cards for yourself - or get someone else to buy them for you as a gift!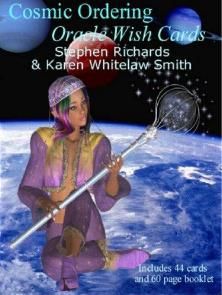 Here are your messages and insights for today. Try to sit quietly for a few moments, meditate on your card and think about how you can learn from, and act upon, its message...

Aries

: BEAUTY

Beauty lies within

Connect with your real Self today. Focus on the highest, purest part of you. Show your beauty. Smile.

Taurus

: COURAGE

It only takes a little bit of courage to change

Be true to yourself and you will be given the courage to overcome your difficulties.

Gemini

: VISUALISATION

What you visualise can become a reality

Be on the alert for signs from Spirit., knowing you have the power to manifest all your dreams.

Cancer

: LOVE

True love never dies

Love is the greatest spiritual, magnetic force we know. Focus on its magnificent energy. Take a moment to revel in it, and then send out loving, peaceful thoughts to the world.

Leo

: THOUGHTS

Your thoughts create you future

To be happy, we must think happy thoughts. Fill your mind with love and watch it spill out into every aspect of your existence.

Virgo

: PLACE YOUR ORDER

(2 days in a row!)

What do you really desire

Itemise your desires, making your order very specific. Make it official; put it in writing. Announce it to the waiting Universe. Crystallise your order with faith.

Libra

: STRESS

Learn to relax and let go

Our health depends on balance.

Scorpio

: PEACE OF MIND

Be at peace with yourself

Are you still looking to the external world for peace of mind? Only when we truly accept ourselves for who we are, love others and give back to the Cosmos will we know inner peace.

Sagittarius

: SELF-DISCIPLINE

To achieve you have to be self-disciplined

Self-discipline means aligning your actions with your desires, regardless of your emotional state. What will you do today to get closer to that dream?

Capricorn

: BALANCE

It's important to have balance in your life

Drawing this card indicates an imbalance in your life. Is it in your physical body? Is it an emotional imbalance? Is your imbalance Spiritual?

Aquarius

: SPIRITUAL POWER

It's time to unleash the power within and set yourself free

Use self-relaxation to discover your Spiritual power, which means connecting to Infinite Energy; with it we can move mountains.

Pisces

: HAPPINESS

Happiness comes from knowing who you are

Happiness is your birthright. Claim it today. Make the decision to be happy, regardless of circumstance.

Please feel free to leave any comments here on Blogger, or on my Facebook Page
The Daily Divination
, or on
Twitter
Thank you!