Good morning!

Well! Today is the day that my grandson is due - but what baby ever makes an appearance on their due date?

So difficult to focus on other stuff when such an exciting event is imminent!

However, focus I must! There are things to do and problems to sort out...

I've been on the phone for a lot of the morning trying to sort out one problem - which included about 15 minutes on 'hold'.

While on 'hold' I was multi-tasking, trying to sort out another problem via email!

These things are sent to try us...

So I thought I'd take a break from the problem-solving and do the cards!

Please find your message for Wednesday below and whatever your star sign - have a great day :)

Brightest Blessings,
Kaz
www.blessingz.co.uk
www.cheekywitch.co.uk



This week I am using the
Messages from you Angels Oracle Cards

by Doreen Virtue, Ph.D.


Quoted from the pack: "This card deck makes it easier than ever to give an amazingly accurate angel reading for yourself or others. Each card features a gorgeous angel painting, along with a one or two sentence message.
These cards will help you and others know what your exact life purpose it, whether ot not someone is your soulmate or not, what to do about your job and living situatuations, and other inportant life questions. Doreen based the cards upon her actual angel readings, using most commonly asked questions and angelic answers to create the ultimate deck for both the beginner and advanced card reader."

My personal card for today

: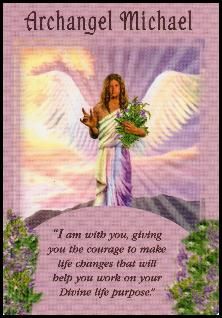 ARCHANGEL MICHAEL
Additional message: "I have come to you because you asked God for safety and protection, and because you asked about your life purpose. Since you are a lightworker, I am overseeing the fruition of your Divine life purpose. You have been a lightworker for a long time, and have felt different from others, isolated at times. Be assured that you
have never been
alone, and that
you never will be
alone.
When you feel pushed to make a change at work or at home, that may be my influence, encouraging you to make your life's purpose a high priority. I can re-arrange your schedule and support you in other ways to make your path smooth and harmonious. Simply ask me, and it is done. I will also help you feel safe and comfortable during your life's changes."

Today's cards for each of the star signs

:

Due to lack of time, etc. These are the 'quick reading' messages - for the full reading and meaning of the cards you will need to obtain these cards for yourself - or get someone else to buy them for you as a gift!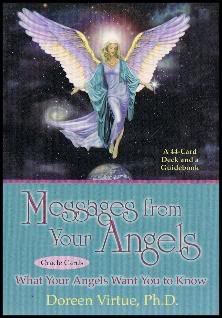 Here are your messages and insights for today. Try to sit quietly for a few moments, meditate on your card and think about how you can learn from, and act upon, its message...

Aries

: AKASHA

Quick message: "You are a spiritual teacher. You have the ability to counsel others and help them awaken their spiritual gifts and Divine life mission."

Taurus

: TERESA

Quick message: "Time-out! You've been so busy taking care of everyone else's needs, but now it's time to stop and take care of yourself."

Gemini

: ATHENA

Quick message: "It is safe for you to be powerful. You know how to be powerful in a loving way that benefits others as well as yourself."

Cancer

: INDRIEL

Quick message: "You are a lightworker. God needs you to shine your Divine light and love - like an angel - upon the earth and all of its inhabitants.

Leo

: SHANTI

Quick message:"I am the Angel of Peace. I bring you new tranquility and a smoother road ahead."

Virgo

: CRYSTAL

Quick message: "Have faith and hope, because there is something positive and new on the horizon that you can't yet see."

Libra

: LEILA

Quick message: "Spend time alone in nature, meditating about your desires and intentions. Ask the angels to help you gain a positive perspective."

Scorpio

: OMEGA

Quick message: "Victory! Your desire is coming to fruition. Keep up the good work!"

Sagittarius

: OCEANA

Quick message:"Take action. You're in touch with your truth in this situation, and you need to trust your gut and lovingly assert yourself."

Capricorn

: ROSETTA

Quick message: "You have a gift for working with young people, and your Divine purpose involves helping, teaching or parenting children."

Aquarius

: ISABELLA

Quick message:"Yes, the timing is right for this new venture. a happy outcome follows your positive expectations."

Pisces

: ROCHELLE

Quick message: "As you honor and follow the guidance of your heart, prosperity is coming to you now."

Please feel free to leave any comments here on Blogger, or on my Facebook Page
The Daily Divination
, or on
Twitter
Thank you!