Greetings!

I'm having trouble keeping my focus on anything today, as we wait for baby news...

So I am just going through the motions, keeping up with orders, etc. while I wait.

(I do hope the baby doesn't decide to stay put for another couple of weeks - I shall be a nervous wreck!)

On with the cards...

Please find your message from the Angels below and whatever your star sign - enjoy your day :)

Brightest Blessings,
Kaz
www.blessingz.co.uk
www.cheekywitch.co.uk



This week I am using the
Messages from you Angels Oracle Cards

by Doreen Virtue, Ph.D.


Quoted from the pack: "This card deck makes it easier than ever to give an amazingly accurate angel reading for yourself or others. Each card features a gorgeous angel painting, along with a one or two sentence message.
These cards will help you and others know what your exact life purpose it, whether ot not someone is your soulmate or not, what to do about your job and living situatuations, and other inportant life questions. Doreen based the cards upon her actual angel readings, using most commonly asked questions and angelic answers to create the ultimate deck for both the beginner and advanced card reader."

My personal card for today

: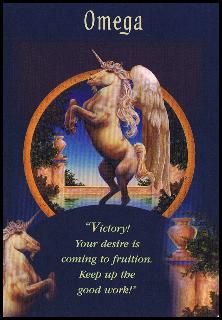 OMEGA
"Victory! Your desire is coming to fruition. Keep up the good work!"
Additional message: "Congratulations! You have chosen to follow your Divine guidance, and the Universe is flowing in natural rhythm with your decision. When you listen to the messages that your heart whispers, you swim in natural synchronicity with the tide of you life's purple. Stay relaxed and confident, and keep moving forward with happiness and grace.
"If, along the way, you notice problems occurring, then it's time t stop and center yourself. When problems occur, it simply means that you are temporarily out of sync with the Universe's rhythms. There is no need for analysis or shame when this occurs.. Simply pray or meditate until you feel strongly about your next move.
Your victory is inevitable in this situation, so you needn't worry that temporary problems will thwart your desire. Whatever happens is supposed to happen, and
when
it happens is the correct time. Release your doubts to Heaven, and rest assured that a happy outcome is yours.

Today's cards for each of the star signs

:

Due to lack of time, etc. These are the 'quick reading' messages - for the full reading and meaning of the cards you will need to obtain these cards for yourself - or get someone else to buy them for you as a gift!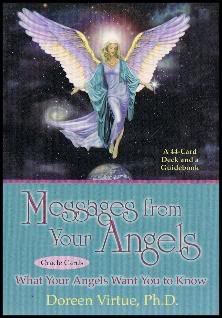 Here are your messages and insights for today. Try to sit quietly for a few moments, meditate on your card and think about how you can learn from, and act upon, its message...

Aries

: CRYSTAL

Quick message: "Have faith and hope, because there is something positive and new on the horizon that you can't yet see."

Taurus

: OCEANA

Quick message:"Take action. You're in touch with your truth in this situation, and you need to trust your gut and lovingly assert yourself."

Gemini

: ROSETTA

Quick message: "You have a gift for working with young people, and your Divine purpose involves helping, teaching or parenting children."

Cancer

: ISAIAH

Quick message: "It's a good time to give birth to new ideas and situations in your life. I am watching over you, guiding you and protecting you during these changes."

Leo

: ASTARA

Quick message: "You deserve the best. Reach for the stars with your dreams and desires, and don't compromise."

Virgo

: MYSTIQUE

Quick message: "Keep charging ahead, and don't take no for an answer. Expect miraculous solutions to appear."

Libra

: OPAL

Additional message: "Your children on Earth and in Heaven are happy and well cared for by god and the angels."

Scorpio

: ARCHANGEL URIEL

Quick message: "Your emotions are healing, which enables you to open to greater love. I will help you release anger and unforgiveness from your heart and mind."

Sagittarius

: ISABELLA

Quick message:"Yes, the timing is right for this new venture. a happy outcome follows your positive expectations."

Capricorn

: SEREPHINA

Quick message: "I am the Angel of Families. a happy change or addition is coming to your family."

Aquarius

: PATIENCE

Quick message: "Now is the time to learn, study, and gather information. Enjoy being a student, because in the future, you will synthesize your knowledge into action."

Pisces

: INDRIEL

Quick message: "You are a lightworker. God needs you to shine your Divine light and love - like an angel - upon the earth and all of its inhabitants.

Please feel free to leave any comments here on Blogger, or on my Facebook Page
The Daily Divination
, or on
Twitter
Thank you!