Good morning!

Another gorgeous, sunny day - but dare I say it...

Too hot for me!

I know lots of people love the heat and the sun, but I am not one of them.

Being fair-skinned I burn easily. In the past when I have tried to get a sun tan, my arms and chest burn but my legs refuse to tan at all!

I just can't lay out in the sun for long. I get too hot, too bothered and quite frankly, too bored!

(I can't be doing with spray tans either - unless it was for a very special occasion!)

I do envy people their sun tans, but I shall just have to be content with being 'pale and interesting'.


* * * * * * *
Having a busy morning - just received another order of mugs for the
Museum of Witchcraf
t in Boscastle - and lots of
Bagz of Blessingz
to make too!
But fIrst the cards!
Please find your
M
essage from the Angels for Tuesday below, and whatever your star sign - have an enjoyable day :)
Brightest Blessings,
Kaz
www.blessingz.co.uk
www.cheekywitch.co.uk

This week I am using the
Messages from you Angels Oracle Cards
by Doreen Virtue, Ph.D.


Quoted from the pack: "This card deck makes it easier than ever to give an amazingly accurate angel reading for yourself or others. Each card features a gorgeous angel painting, along with a one or two sentence message.
These cards will help you and others know what your exact life purpose it, whether ot not someone is your soulmate or not, what to do about your job and living situatuations, and other inportant life questions. Doreen based the cards upon her actual angel readings, using most commonly asked questions and angelic answers to create the ultimate deck for both the beginner and advanced card reader."

My personal card for today

: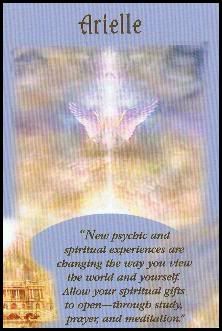 ARIELLE
"New psychic and spiritual experiences are changing the way you view the world and yourself. Allow your spiritual gifts to open - through study, prayer, and meditation."
Additional message: "It's not your imagination. You really
are
psychic, and you
have
connected with the spirit world. These mystical experiences are occurring due to your increased spiritual openness, and because you have asked about your angels and your life's purpose. I am part of a large group of angels assigned to help those of you who have spiritual gifts. We will send you additional Earth helpers in the form of spiritual teachers, books and classes so that you may further open up to your spiritual abilities.
Please don't be afraid of your gifts. Although you may have been teased or punished for being psychic in your childhood or past life, we can help you heal any fears that you may have about being psychic or spiritually gifted. Just ask for our help, and it is given.
The earth needs your help right now. We ask that you regularly send the Divine love and light within you toward those who need it most. Simply hold the intention of sending beams of loving energy toward any place, plant, animal, person, or situation, and it is done. We thank you for your Earth angel assistance."

Today's cards for each of the star signs

:

Due to lack of time, etc. These are the 'quick reading' messages - for the full reading and meaning of the cards you will need to obtain these cards for yourself - or get someone else to buy them for you as a gift!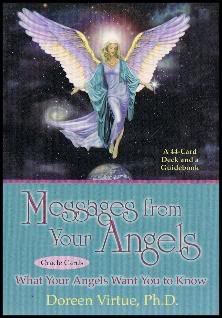 Here are your messages and insights for today. Try to sit quietly for a few moments, meditate on your card and think about how you can learn from, and act upon, its message...

Aries

: BETHANY

Quick message: "When you take excellent care of yourself, everybody benefits. Give yourself a relaxing treat today, such as a massage, sea salt bath, or pedicure."

Taurus

: SONYA

Quick message:"I bring you a message from your deceased loved one: 'I am happy, at peace, and I love you very much. Please don't worry about me."

Gemini

: ISAIAH

Quick message: "It's a good time to give birth to new ideas and situations in your life. I am watching over you, guiding you and protecting you during these changes."

Cancer

: ROSETTA

Quick message: "You have a gift for working with young people, and your Divine purpose involves helping, teaching or parenting children."

Leo

: ARCHANGEL MICHAEL

Quick message: "I am with you, giving you the courage to make life changes that will help you work on your divine life purpose."

Virgo

: ADRIANA

"I am leading you toward the answer to your prayers. Please listen to and follow the steps I am communicating through your intuition, thoughts, and dreams.

Libra

: INDRIEL

Quick message: "You are a lightworker. God needs you to shine your Divine light and love - like an angel - upon the earth and all of its inhabitants.

Scorpio

: OPAL

Quick message: "Your children on Earth and in Heaven are happy and well cared for by god and the angels."

Sagittarius

: MAYA

Quick message:"Schooling, study, and education help your

Capricorn

: AKASHA

Quick message: "You are a spiritual teacher. You have the ability to counsel others and help them awaken their spiritual gifts and Divine life mission."

Aquarius

: SEREPHINA

Quick message: "I am the Angel of Families. a happy change or addition is coming to your family."

Pisces

: LEILA

Quick message: "Spend time alone in nature, meditating about your desires and intentions. Ask the angels to help you gain a positive perspective."

Please feel free to leave any comments here on Blogger, or on my Facebook Page
The Daily Divination
, or on
Twitter
Thank you!