Good morning!

I hope you had a lovely weekend?

We had beautiful weather for the Solstice - unfortunately I overslept and missed the sunrise!

Typical! I had been sleeping badly all week, waking around 3am, and foolishly thought I would wake up in time without setting my alarm - but no - I woke just after 6am!

Well, there's always next year...


* * * * * * *
This is could be a tense and exciting week as my grandson is due to make his arrival on the 25th!
Having had 4 babies myself I know that they rarely arrive on the day that they are due, but I shall be on tenterhooks all week!
Exciting times!
* * * * * * *
In the meantime - it is Manic Monday, so lots to do...
But first the cards!
This week I am using the
Messages from you Angels Oracle Cards
by Doreen Virtue
(My personal card is very relevant as I continue to work on my new project, little by little, getting together the things I need, while trying to keep on top of all the other things I already have to do!)
Please find your message for Monday below and whatever your star sign - have a good day :)
Brightest Blessings,
Kaz
www.blessingz.co.uk
www.cheekywitch.co.uk

This week I am using the

Messages from you Angels Oracle Cards

by Doreen Virtue, Ph.D.


Quoted from the pack: "This card deck makes it easier than ever to give an amazingly accurate angel reading for yourself or others. Each card features a gorgeous angel painting, along with a one or two sentence message.
These cards will help you and others know what your exact life purpose it, whether ot not someone is your soulmate or not, what to do about your job and living situatuations, and other inportant life questions. Doreen based the cards upon her actual angel readings, using most commonly asked questions and angelic answers to create the ultimate deck for both the beginner and advanced card reader."

My personal card for today

: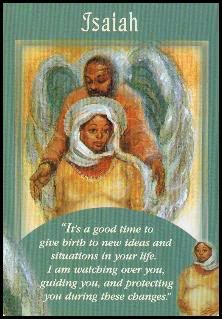 ISAIAH
"It's a good time to give birth to new ideas and situations in your life. I am watching over you, guiding you and protecting you during these changes."
Additional Message: "You are ripe with new possibilities, and you feel an urgency to push into new territory. Beloved one, your new and exciting life changes are inevitable. There is no turning back! Instead of playing it safe, you decided to move forward. That is why I am with you right now, giving you the extra courage and comfort that you need.
However, there is no need to rush. This is a time of incubation, where nature can allow everything to grow in its innate rhythm. Be assured that your life change will hatch at just the right moment! In the meantime, you know that God and the angels are watching over you. You are safe and very loved.. Congratulations on the birth of this new period in your life.

Today's cards for each of the star signs

:

Due to lack of time, etc. These are the 'quick reading' messages - for the full reading and meaning of the cards you will need to obtain these cards for yourself - or get someone else to buy them for you as a gift!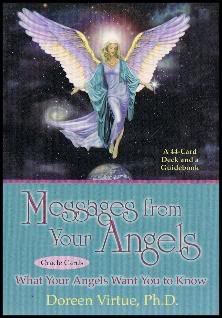 Here are your messages and insights for today. Try to sit quietly for a few moments, meditate on your card and think about how you can learn from, and act upon, its message...

Aries

: ZANNA

Quick message: "You are protected from all types of harm. The worst is now behind you. I ask you to relax and feel safe."

Taurus

: LEILA

Quick message: "Spend time alone in nature, meditating about your desires and intentions. Ask the angels to help you gain a positive perspective."

Gemini

: ATHENA

Quick message: "It is safe for you to be powerful. You know how to be powerful in a loving way that benefits others as well as yourself."

Cancer

: AKASHA

Quick message: "You are a spiritual teacher. You have the ability to counsel others and help them awaken their spiritual gifts and Divine life mission."

Leo

: SHANTI

Quick message:"I am the Angel of Peace. I bring you new tranquility and a smoother road ahead."

Virgo

: DANIEL

Quick message: "I am the Angel of Marriage, and I am assisting you right now."

Libra

: ARCHANGEL MICHAEL

Quick message: "I am with you, giving you the courage to make life changes that will help you work on your divine life purpose."

Scorpio

: BRIDGETTE

Quick message: "Caution is warranted. Look deeper into this situation before proceeding further."

Sagittarius

: ISABELLA

Quick message:"Yes, the timing is right for this new venture. a happy outcome follows your positive expectations."

Capricorn

: SERENA

Quick message:"I am the Angel of Abundance. You will receive the money that you need, and God is in charge of how that will happen. Have faith."

Aquarius

: MYSTIQUE

Quick message: "Keep charging ahead, and don't take no for an answer. Expect miraculous solutions to appear."

Pisces

: FRANCESCA

Quick message: "What do you desire right now? Visualize it, and it will come about. Negativity will block your progress."

Please feel free to leave any comments here on Blogger, or on my Facebook Page
The Daily Divination
, or on
Twitter
Thank you!