Good morning!

It's a very miserable, grey, wet and windy day here on the south coast of England...

Didn't stop Maisie wanting to go out for a walk though!

I have heard that some dogs won't go out in the rain? Or is that just a myth I wonder? She cries and sulks if she doesn't get a walk in the morning - no matter what the weather!


* * * * * * *
Yesterday's trip to the new dentist (who looked about 12 years old!) resulted in me coming home with another prescription for antibiotics - and an appointment with her, for a root canal treatment next week.
Not looking forward to that, but hopefully it will sort out my problem... fingers crossed!
In the meantime - thank goddess for my painkillers!
* * * * * * *
If you are in the USA, you may be interested to know that I have had several new postage stamp designs USPS approved and they are now available to purchase on
Zazzle
!
I am rather excited about this - I just wish we could use them here in the UK too - but unfortunately we can't :(
Here are a few of the designs!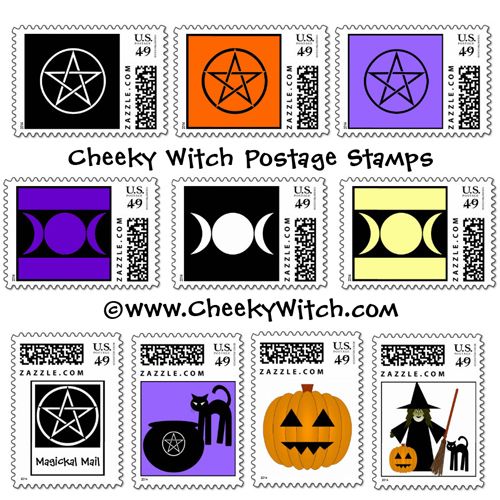 To view more, please click
here
The clock is getting round there fast today - so I had better get on with some orders!
Please find your message for Thursday below and whatever your star sign - have a good day :)
Brightest Blessings,
Kaz
www.blessingz.co.uk
www.cheekywitch.co.uk

This week I am using the Power Animal Oracle Cards
by Steven D.Farmer, Ph.D.


Quoted from the pack: "Power Animals are spirit guides in animal form who provide protection, guidance and healing. This deck of 44 oracle cards by Steven Farmer will connect you with animal spirit guides who will advise you about any aspect of your life. Whether you're a beginner or an experienced reader, the enclosed easy-to-follow guidebook provides instructions to help you immediately give accurate readings to yourself and others."

My personal card for today

: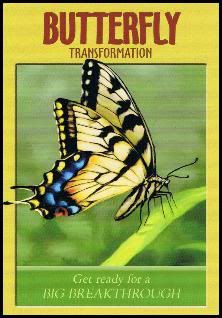 BUTTERFLY - TRANSFORMATION
Get ready for a BIG BREAKTHROUGH
Divinatory meaning: It's very possible to go through major changes calmly and willingly when you view them as natural and hold relentless positive expectations. Whether in the darkness before the storm of emergence, the process of coming out of the self-created cocoon (which occasions some struggle at times), or the full and glorious expression of the new "you," it's faith in the wisdom of Great Spirit and your conscious resonance with Source that will be your guiding force. There's no need to identify with or feel constricted within the cocoon or by the darkness before the light - it's only a phase!
The truth is that you're birthing each and every moment. Yet sometimes there are larger circles that incorporate so many unexpected twists and turns that it can at times seem momentous and frightening. You may feel scattered, uncertain, flitting from this to that, with seemingly no thread of continuity that you can grab hold of. It's worth it to pause at those times, enjoy the richness and beauty of it all, and have absolute trust that this is a natural progression for your soul's development. What is coming to fruition each and every time is more and more of the true Self that is your destiny.
Additional Association: Rebirth; Vibrancy; Reincarnation; Colourfulness

Today's cards for each of the star signs

:

Due to lack of time, etc. These are the 'quick reading' messages - for the full reading and meaning of the cards you will need to obtain these cards for yourself - or get someone else to buy them for you as a gift!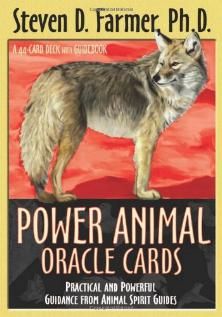 Here are your messages and insights for today. Try to sit quietly for a few moments, meditate on your card and think about how you can learn from, and act upon, its message...

Aries

: FROG - PURIFICATION

CLEAR OUT the clutter

Additional Associations: Singing; Rhythm; Rainmaker; Sensitivity

Taurus

: RABBIT - FERTILITY

Your creativity is at a peak

Additional Association: Vigilance; Abundance; Agility; Sacrifice

Gemini

: RACCOON - RESOURCEFULNESS

You have all the RESOURCES you need

Additional Association: Stealth; Ingenuity; Cleverness; Dexterity

Cancer

: WHALE - SOUL'S PATH

HONOR your soul's purpose

Additional Associations: Migration; Devotion; Communication; Soul Memory

Leo

: COUGAR - CONFIDENCE

Be bold and TAKE CHARGE

Additional Associations: Stealth; Leadership; Focus; Conviction

Virgo

: LYNX - DISCERNMENT

LOOK BEYOND immediate appearances

Additional Association: Confidentiality; Stealth; Privacy; Inner Vision

Libra

: BEAR - BOUNDARIES

STAND your ground

Additional Association: Protection; Creativity; Solitude; Healing

Scorpio

: EAGLE - SPIRIT

TRUST in your higher self

Additional Association: Vision; Courage; University; Masculinity

Sagittarius

: PORCUPINE - INNOCENCE

FREE YOURSELF of guilt and shame

Additional Association: Humility; Protection; Sensitivity; Trust

Capricorn

: COYOTE - WISE FOOL

ACCEPT YOUR FOLLIES and find the teaching in them

Additional Association: Trickster; Sociability; Adaptability; Wisdom-Keeper

Aquarius

: BUFFALO - ABUNDANCE

YOU ARE PROVIDED FOR in all ways

Additional Associations: Generosity; Gratitude; Surrender; Sacrifice

Pisces

: SWAN - GRACE

APPRECIATE THE BEAUTY inside and all around you

Additional Associations: Elegance; Purity; Innocence

Please feel free to leave any comments here on Blogger, or on my Facebook Page
The Daily Divination
, or on
Twitter
Thank you!