Good morning!

It's Friday again already!

I think it's very scary how quickly the weeks are flying by! Is it just me feeling this way I wonder?

I don't think things are going to slow down either - the summer is going to be hectic.

I'm looking forward to the Stix Summer Madness on 14th June (where I shall have a stall), my first grandson is due to be born at the end of June (we are all SO excited!), and the Eastbourne Lammas Festival at the end of July - my favourite weekend of the summer - where I shall pitch my Cheeky Witch tent for the 5th year running :)

Yes - it's going to be a busy summer!

In the meantime - lots of orders to catch up with after my internet connection problems yesterday...

I hope you have liked the cards this week?

The Power Animal Oracle Cards seem to be a favourite with a lot of people!

Please find your card and message below and whatever your star sign - have a wonderful weekend :)

Brightest Blessings,
Kaz
www.blessingz.co.uk
www.cheekywitch.co.uk



This week I am using the
Power Animal Oracle Cards

by Steven D.Farmer, Ph.D.


Quoted from the pack: "Power Animals are spirit guides in animal form who provide protection, guidance and healing. This deck of 44 oracle cards by Steven Farmer will connect you with animal spirit guides who will advise you about any aspect of your life. Whether you're a beginner or an experienced reader, the enclosed easy-to-follow guidebook provides instructions to help you immediately give accurate readings to yourself and others."

My personal card for today

:
EAGLE - SPIRIT
TRUST in your higher self
When you live your life according to Spiritual Law, Spirit's intent expresses through your personality easily and fluidly. Your light will sine if you only let it, and all that you want will come to you without ever needing to know how. To follow your spiritual path, your only job is to listen to and then heed Spirit's directives and your life will flow quite easily and naturally.
Your conscious mind is meant to be the receiver and transmitter of these urgings, translating the information sent from Spirit through pure awareness into the physical realm and decipherable communication. Since your ego's wilfulness can interfere and misdirect, you must pay close attention to discern which is which.
Know that your higher self will only give you straightforward, positive, and encouraging support, whereas the ego's voice will tend to be negative and discouraging. Let this ageless wisdom that is your spiritual birthright come through so that you may shine with light and love upon yourself, others, and the world around you!
Additional Association: Vision; Courage; University; Masculinity

Today's cards for each of the star signs

:

Due to lack of time, etc. These are the 'quick reading' messages - for the full reading and meaning of the cards you will need to obtain these cards for yourself - or get someone else to buy them for you as a gift!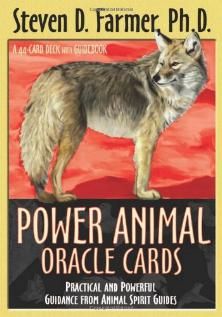 Here are your messages and insights for today. Try to sit quietly for a few moments, meditate on your card and think about how you can learn from, and act upon, its message...

Aries

: ELEPHANT - RESOLVE

You will OVERCOME ANY OBSTACLES

Additional Association: Protective; Motivated; Maternal; Family

Taurus

: RABBIT - FERTILITY

(2 days in a row!)

Your creativity is at a peak

Additional Association: Vigilance; Abundance; Agility; Sacrifice

Gemini

: BUTTERFLY - TRANSFORMATION

Get ready for a BIG BREAKTHROUGH

Additional Association: Rebirth; Vibrancy; Reincarnation; Colourfulness

Cancer

: BEAVER - PRODUCTIVENESS

Go ahead and JUST DO IT

Additional Associations: Enthusiasm; Community; Cooperation; Ingenuity

Leo

: DOLPHIN - PLAYFULNESS

Take time to PLAY

Additional Association: Communication; Breath; Community; Guidance

Virgo

: BLACK PANTHER - PASSION

Follow your PASSION

Additional Associations: Sensuality; strength; Clarity; Solitude

Libra

: LYNX - DISCERNMENT

LOOK BEYOND immediate appearances

Additional Association: Confidentiality; Stealth; Privacy; Inner Vision

Scorpio

: BUFFALO - ABUNDANCE

YOU ARE PROVIDED FOR in all ways

Additional Associations: Generosity; Gratitude; Surrender; Sacrifice

Sagittarius

: FROG - PURIFICATION

CLEAR OUT the clutter

Additional Associations: Singing; Rhythm; Rainmaker; Sensitivity

Capricorn

: COUGAR - CONFIDENCE

Be bold and TAKE CHARGE

Additional Associations: Stealth; Leadership; Focus; Conviction

Aquarius

: OWL - OMENS

Pay attention to SIGNS

Additional Association: Wisdom; Shadows; Secrecy; Magician

Pisces

: KANGAROO - GRATITUDE

BE GRATEFUL for all you are blessed with

Additional Association: Nurturing; Generosity; Abundance; Family

Please feel free to leave any comments here on Blogger, or on my Facebook Page
The Daily Divination
, or on
Twitter
Thank you!