Good morning!

I have an appointment with the dentist this afternoon - hopefully I shall find out the cause of my excruciating pain!

Luckily I am still dosed up on painkillers so able to function... unlike at the weekend, when I was being driven demented! Fingers crossed they will find a solution.

In the meantime I have lots of orders to make, but I just wanted to share this short video with you. I found it very moving....

It's not possible for me to completely switch off and disconnect - as I work online - but it does sadden me when I'm out and about and I see everyone looking at their phones and not talking to the person sitting next to them!
Please find your card for Wednesday below and whatever your star sign - enjoy your day :)
Brightest Blessings, Kaz
www.blessingz.co.uk
www.cheekywitch.co.uk

This week I am using the
Power Animal Oracle Cards
by Steven D.Farmer, Ph.D.


Quoted from the pack: "Power Animals are spirit guides in animal form who provide protection, guidance and healing. This deck of 44 oracle cards by Steven Farmer will connect you with animal spirit guides who will advise you about any aspect of your life. Whether you're a beginner or an experienced reader, the enclosed easy-to-follow guidebook provides instructions to help you immediately give accurate readings to yourself and others."

My personal card for today

: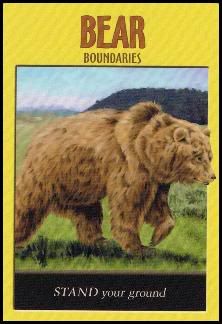 BEAR - BOUNDARIES
STAND your ground
Divinatory meaning: For you to be your complete self - the self that the Creator wants you to be and that you know in your heart of hearts is your destiny - you must not only define who you are, but also, who you are not. It's only when you can say a clear no that you can say a clear yes, and both are equally important in defining where your edges are. Setting your boundaries in this way increases your confidence and sense of autonomy, and your choices become much clearer. This doesn't mean to always say no; it just means to be secure in knowing that you can. This is critical in accomplishing your mission, whatever that may be, and it's especially important related to your question.
It's very tempting to succumb to others' demands and the various distractions that tempt you., as this often appears to be the easier route to take. Yet, in your heart of hearts, you know that you need to establish these limits to stay on purpose. And remember; the only way that others can intimidate you is to deny your own power out of fear. Come from strong love, without malice or aggression, and let them see and feel your full presence. It will work every time.
Additional Association: Protection; Creativity; Solitude; Healing

Today's cards for each of the star signs

:

Due to lack of time, etc. These are the 'quick reading' messages - for the full reading and meaning of the cards you will need to obtain these cards for yourself - or get someone else to buy them for you as a gift!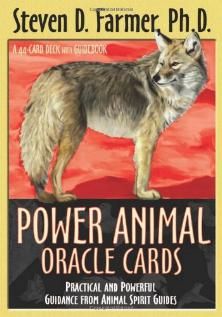 Here are your messages and insights for today. Try to sit quietly for a few moments, meditate on your card and think about how you can learn from, and act upon, its message...

Aries

: LIZARD - DREAMTIME

Pay attention to your DREAMS AND VISIONS

Additional Association: Primal; Ancient; Reflexive; Spontaneous

Taurus

: KOALA - EMPATHY

Speak less and LISTEN MORE

Additional Association: Rest; Detoxification; Safty; Sensitivity

Gemini

: COUGAR - CONFIDENCE

Be bold and TAKE CHARGE

Additional Associations: Stealth; Leadership; Focus; Conviction

Cancer

: DRAGONFLY - ILLUSION

YOU KNOW who you really are

Additional Associations: Colourfulness; Mirage; Mystery; Deception

Leo

: SWAN - GRACE

APPRECIATE THE BEAUTY inside and all around you

Additional Associations: Elegance; Purity; Innocence

Virgo

: HORSE - FREEDOM

You always have a CHOICE

Additional Association: Integrity; Compromise; Speed; Agility

Libra

: EAGLE - SPIRIT

TRUST in your higher self

Additional Association: Vision; Courage; University; Masculinity

Scorpio

: ANTELOPE - DECISIVENESS

MAKE A DECISION and take appropriate action

Additional Associations: Vigilance; Action; Speed; Sacrifice

Sagittarius

: OWL - OMENS

Pay attention to SIGNS

Additional Association: Wisdom; Shadows; Secrecy; Magician

Capricorn

: RAVEN - MAGIC

OWN your power

Additional Association: Shadow; Insight; Prophecy; Shape-Shifting

Aquarius

: PELICAN - FORGIVENESS

LET GO of your judgments

Additional Association: Grace; Unselfishness; Self-sacrifice; Cooperation

Pisces

: MONKEY - INGENUITY

The situation calls for ADAPTABILITY and INNOVATION

Additional Association: Dexterity; Clevernes; Inquisitiveness; Innovation

Please feel free to leave any comments here on Blogger, or on my Facebook Page
The Daily Divination
, or on
Twitter
Thank you!