Good morning!

Full moon energies and a lunar eclipse too! Hang on to your hats people!

Sadly I'm in the wrong place to have seen it myself - but some lovely people have been sending photos of the lunar eclipse to me on Facebook!

Please visit my Cheeky Witch Facebook Page to see the photos.

Nothing to see here except blue skies and sunshine! So I can't grumble ;)

I do have some work to do however, so I had better get on!

Please find your card and today's affirmation below and whatever your star sign - enjoy your day :)

Brightest Blessings, Kaz

www.blessingz.co.uk
www.cheekywitch.co.uk



This week I am using the

Wisdom Cards

by Louise L Hay
Illustrated by Eris Klein and Sarajo Frieden


Quoted from the pack: "A deck of 64 Affirmation Cards to help you develop your Inner Wisdom."
These are affirmation cards and are all about the power of positive thought!

My personal card for today

: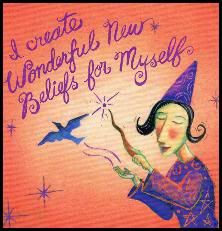 Affirmation: I Create wonderful new beliefs for Myself.
Life is very simple. I create my experiences by my thinking and feeling patterns. What I believe about myself and about life becomes true for me.

Today's cards for each of the star signs

:

Due to lack of time, etc. These are the 'quick reading' messages - for the full reading and meaning of the cards you will need to obtain these cards for yourself - or get someone else to buy them for you as a gift!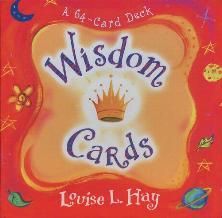 Here are your messages and insights for today. Try to sit quietly for a few moments, meditate on your card and think about how you can learn from, and act upon, its message... and don't forget to repeat your affirmation throughout the day!

Aries

: Affirmation: I am Perfect exactly as I Am.

If I wait until I become perfect before I love myself, I will waste my whole life. I am already perfect right here and right now.

Taurus

: Affirmation: I Express my True being Today.

This is a new day. I begin anew to claim and create all that is good.

Gemini

: Affirmation: I Love and Accept myself right now.

I am in the process of becoming my own best friend - the person I am most joyous to be with.

Cancer

: Affirmation: I am One with Everyone on the Planet.

I am on the cutting edge of a new conscious awakening for the whole planet. I am willing to expand the horizons of my thinking.

Leo

: Affirmation: I allow others to be themselves.

I do not try to heal my friends. I do my own mental work and heal myself. This is the best thing I can do for others.

Virgo

: Affirmation: I am good enough.

I am not restricted by old, limiting beliefs from my family or from society.

Libra

: Affirmation: My Mental Pattern is Positive and Joyful.

Everything in my life - every experience, every relationship - is a mirror of the mental pattern that is going on inside of me.

Scorpio

: Affirmation: I am a Harmonious Being.

I am in harmony with all of the people, places, and things that surround me in this world. I am at peace.

Sagittarius

: Affirmation: Each person is part of the harmonious whole.

I choose to believe that "everyone is always helpful." Therefore, wherever I go in life, people are there to help me.

Capricorn

: Affirmation: I am Connected to All of Life.

I can either help to destroy the planet or to heal it. Everyday I choose to send loving, healing energy to the planet. What I do with my mind does make a difference.

Aquarius

: Affirmation: I am Worth Loving.

At least three times a day, I stand with my arms wide open and say, "I am willing to let the love in. It is safe to let the love in."

Pisces

: Affirmation: I Love being Me.

I no longer judge or criticize myself. I am free to love who I am.

Please feel free to leave any comments here on Blogger, or on my Facebook Page
The Daily Divination
, or on
Twitter
Thank you!