Good morning!

I hope you had a good weekend?

I had a lovely day on Saturday with Richard and Maisie. We went for a drive along the coast, through Bexhill and Hastings, to the Pett Levels and enjoyed a nice walk along the seafront there. Makes a change from walking along my seafront here!

We treated ourselves to an icecream and even Maisie had some too!


Spent the rest of the day relaxing, watched a movie and just chilled out... made a nice change.
Yesterday, I tried to have a bit of a clearout in my office - but ended up finding some stock and then spent a few hours listing things on ebay. It took a few hours because my computer seems to be on a permanent 'go slow' at the moment - which I am hoping to rectify soon! Fingers crossed I will be getting a new computer in the very near future!
In the meantime, it's manic monday, I have orders to make, emails to respond to - and my pc has already frozen and crashed a couple of times this morning - so I am already getting behind!
More caffeine is needed!
I am using the
Wisdom Cards
by Louise L Hay this week - with daily affirmations for you!
Please find your card and affirmation below, and whatever your star sign - have a good Monday :)
Brightest Blessings, Kaz
www.blessingz.co.uk
www.cheekywitch.co.uk

This week I am using the
Wisdom Cards

by Louise L Hay
Illustrated by Eris Klein and Sarajo Frieden


Quoted from the pack: "A deck of 64 Affirmation Cards to help you develop your Inner Wisdom."
These are affirmation cards and are all about the power of positive thought!

My personal card for today

: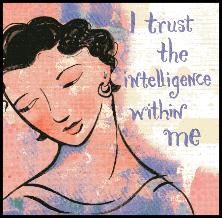 Affirmation: I Trust the Intelligence within me.
Whatever is happening out there is only a mirror of my own limited thinking.

Today's cards for each of the star signs

:

Due to lack of time, etc. These are the 'quick reading' messages - for the full reading and meaning of the cards you will need to obtain these cards for yourself - or get someone else to buy them for you as a gift!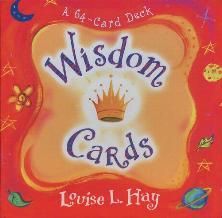 Here are your messages and insights for today. Try to sit quietly for a few moments, meditate on your card and think about how you can learn from, and act upon, its message...

Aries

: Affirmation: I allow others to be themselves.

I do not try to heal my friends. I do my own mental work and heal myself. This is the best thing I can do for others.

Taurus

: Affirmation: I Am at Peace.

I relax and enjoy life. I know that whatever I need to know is revealed to me in the perfect time and space sequence.

Gemini

: Affirmation: I Express my True being Today.

This is a new day. I begin anew to claim and create all that is good.

Cancer

: Affirmation: I Accept all the Parts of Myself.

I look in the mirror and say: "I love and accept myself exactly as I am."

Leo

: Affirmation: I Am my own Unique Self.

Everyone is unique and different. If we are like other people, then we are not expressing our own specialness.

Virgo

: Affirmation: I deserve only Good in my Life.

I release other people's fears and limitations. I think my own loving thoughts.

Libra

: Affirmation: My Income is constantly Increasing.

Money is energy and an exchange of services. How much I have depends on what I believe I deserve.

Scorpio

: Affirmation: I am good enough.

I am not restricted by old, limiting beliefs from my family or from society.

Sagittarius: Affirmation: I speak and think positively.

I listen to what I say. If I hear myself using negative or limiting words, I change them.

Capricorn

: Affirmation: I Love and Accept myself right now.

I am in the process of becoming my own best friend - the person I am most joyous to be with.

Aquarius

: Affirmation: I Am a natural Winner.

I only listen to the winners - people who know what they are doing and who live a joyous, loving, prosperous Life.

Pisces

: Affirmation: I am Connected to All of Life

.

I can either help to destroy the planet or to heal it. Everyday I choose to send loving, healing energy to the planet. What I do with my mind does make a difference.

Please feel free to leave any comments here on Blogger, or on my Facebook Page
The Daily Divination
, or on
Twitter
Thank you!