Good morning!

It's a lovely sunny day today - makes all the difference to your mood when the sun is shining, don't you agree?

Wonderful to see all the spring flowers popping up all over the place too :)

I was working until the early hours (I just can't keep track of the time when I'm engrossed in something!) so had a late start this morning.

I have another busy day ahead of me, but first the cards and then more coffee!

Please find your message for Wednesday below and whatever your star sign - have a great day :)

Brightest Blessings,
Kaz
www.blessingz.co.uk
www.cheekywitch.co.uk



This week I am using the beautiful

Magical Mermaids and Dolphins Oracle Cards



by Doreen Virtue, Ph.D.


Quoted from the pack: "The Magical Mermaids and Dolphins Oracle Cards are specifically designed to help you manifest your goals, life purpose, and Divinely inspired dreams. These 44 beautifully illustrated cards can help you swim into the ocean of your unconscious mind, where profound thoughts and feelings can create - or block - your heart's desire. The cards are easy to use, and the enclosed guidebook will help you perform amazingly accurate readings for yourself and others."

My personal card for today

: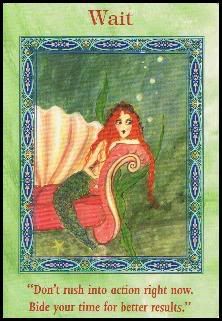 WAIT
Don't rush into action right now. Bide your time for better results.
Divinatory meaning: If you take action now, you'll miss a window of opportunity that's coming up for you shortly. Don't worry - you'll know in your heart and gut when that moment arrives. In the meantime, it's important to meditate and make sure that your breathing is deep and frequent. (Often we hold our breath or experience shortened breath during stressful periods.)
You're also on the verge of receiving new information that will alter the course of action you plan to take, leading you in a more positive direction. By waiting, the outcome will be much more enjoyable than if you took action without this added in formation.
Affirm: "I have infinite patience, and I am Divinely directed to always be in the right place at the perfect time."

Today's cards for each of the star signs

:

Due to lack of time, etc. These are the 'quick reading' messages - for the full reading and meaning of the cards you will need to obtain these cards for yourself - or get someone else to buy them for you as a gift!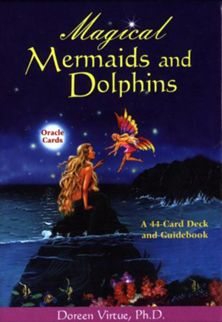 Here are your messages and insights for today. Try to sit quietly for a few moments, meditate on your card and think about how you can learn from, and act upon, its message...

Aries

: MUSIC FOR MANIFESTING

To manifest rapidly, think of your desire while you chant, hum, sing, or play music.

Taurus

: ALCHEMY

You have the Midas touch right now, and every project you begin turns to gold.

Gemini

: HEALING HEART

You are a powerful healer. Keep up the great work!

Cancer

: REST

You've been working hard. Take a nap and get some rest.

Leo

: MAKE A WISH

This is a magical moment. Make a wish, and enjoy its manifestation.

Virgo

: PROTECTION

You, your loved ones, and your possessions are safe and protected by Heaven!

Libra

: TRANQUILITY

Make time to relax, be still, and enjoy your solitude, indulging in much-needed self-care.

Scorpio

: READY, SET, GO!

Now is the perfect moment to dive in and embrace your heart's desire.

Sagittarius

: SIMPLIFY YOUR LIFE

Eliminate clutter from your home and work life to balance the flow of activities.

Capricorn

: MORNING AFFIRMATIONS

Say positive affirmations each morning to open the gates of manifestation.

Aquarius

: LET YOURSELF RECEIVE

(2 days on a row!)

Allow others to give you loving care. Receive without guilt or apologies.

Pisces

: HELPFUL PERSON

Someone wants to help you. Think of whom that might be, and initiate contact.

Please feel free to leave any comments here on Blogger, or on my Facebook Page
The Daily Divination
, or on
Twitter
Thank you!