Good morning!

It's a beautiful day - blue skies and sunshine - what more could you ask for?

After a week of enforced rest following Maisie's operation last week, there was no way she was going to stay indoors all day again today! She barked at me to take her out!

She was so excited, running around, sniffing everything and begging for me to throw her ball.

Here's a photo of a grumpy Maisie - because she seems to hate having her photo taken!

(Before and after the photo she was skipping about wagging her tail and a very happy doggy indeed!)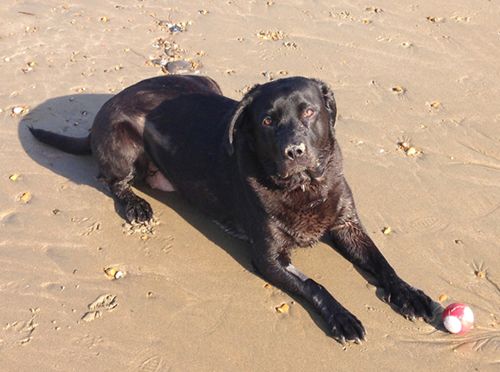 As often happens, Maisie helped me find a new treasure on the beach, this magnificent and huge Holey Stone!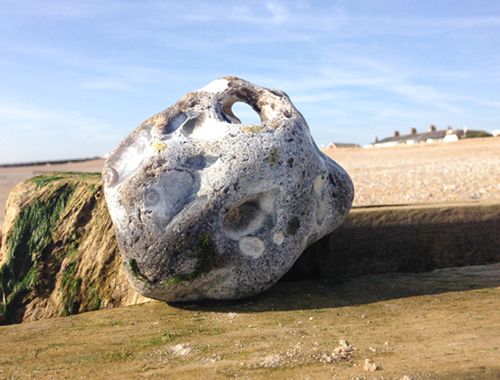 I put it on a groyne to photograph it - so you can see the blue sky through the hole (by the way, I live just behind the houses in the background).
I found it next to Maisie's ball - which she had left for me to retrieve, after abandoning it when her nose caught an interesting scent which needed to be followed!
So I've had a lovely start to the day, but now better knuckle down and make some orders! I'm very busy with Bagz of Blessingz for Mother's Day!
Please find your message for Thursday below and whatever your star sign - have a wonderful day :)
Brightest Blessings,
Kaz
www.blessingz.co.uk
www.cheekywitch.co.uk

This week I am using the beautiful

Magical Mermaids and Dolphins Oracle Cards



by Doreen Virtue, Ph.D.


Quoted from the pack: "The Magical Mermaids and Dolphins Oracle Cards are specifically designed to help you manifest your goals, life purpose, and Divinely inspired dreams. These 44 beautifully illustrated cards can help you swim into the ocean of your unconscious mind, where profound thoughts and feelings can create - or block - your heart's desire. The cards are easy to use, and the enclosed guidebook will help you perform amazingly accurate readings for yourself and others."

My personal card for today

: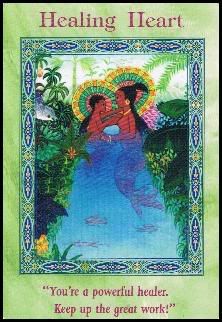 HEALING HEART
You are a powerful healer. Keep up the great work!
Divinatory meaning: Deep within your heart, you're aware of your healing abilities. Perhaps you've received feedback from others about the way your words or touch have helped them heal. By drawing this card, you're urged to take your healing work to the next level. You're also asked to purify your diet and thoughts so that higher frequencies of healing can flow through you.
By opening to the next level, you'll notice a shift in the people or situations that come to you for help. You may find the number of healing opportunities increasing, or your clients may display a greater understanding of spirituality.
Heaven wishes to support your healing work completely. If you'd like to further your education, work in a healing centre, or increase your income, just ask... and then be open to receiving.

Today's cards for each of the star signs

:

Due to lack of time, etc. These are the 'quick reading' messages - for the full reading and meaning of the cards you will need to obtain these cards for yourself - or get someone else to buy them for you as a gift!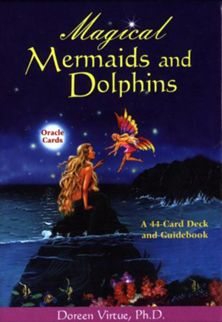 Here are your messages and insights for today. Try to sit quietly for a few moments, meditate on your card and think about how you can learn from, and act upon, its message...

Aries

: MORNING AFFIRMATIONS

Say positive affirmations each morning to open the gates of manifestation.

Taurus

: A NEW DAWN

The worst is now behind you, and positive new experiences are on the horizon.

Gemini

: SELF-FORGIVENESS

Let go of old guilt, and remember that you're God's perfect child!

Cancer

: DIVINE MAGIC

Extra magical energy surrounds your situation right now. Expect miracles!

Leo

: TIME TO MOVE ON

It's time to let go of the old and worn out so that the new can come in.

Virgo

: HELPFUL PERSON

Someone wants to help you. Think of whom that might be, and initiate contact.

Libra

: MUSIC FOR MANIFESTING

To manifest rapidly, think of your desire while you chant, hum, sing, or play music.

Scorpio

: PLAY TIME

The dolphins know the importance of playing, as joy creates miracles and manifestation.

Sagittarius

: TREASURE CHEST

An unforeseen windfall of new abundance comes to you now!

Capricorn

: ACCEPT HEAVEN'S HELP

You've prayed for help, so get out of the way and let Heaven help you.

Aquarius

: LET YOURSELF RECEIVE

(Very unusual - this is the third day in a row that this card has been drawn for Aquarius!)

Allow others to give you loving care. Receive without guilt or apologies.

Pisces

: WAIT

Don't rush into action right now. Bide your time for better results.

Please feel free to leave any comments here on Blogger, or on my Facebook Page
The Daily Divination
, or on
Twitter
Thank you!