Good morning!

Apologies for missing yesterday's cards - I had stayed up all night Sunday, to watch The Oscars!

Afterward I tried to get a few hours of sleep in the morning (interrupted by the postman ringing my doorbell with a parcel!) and then had a frantic Manic Monday trying to catch up with my orders!

Still not caught up and lots more orders overnight - so no time to chat - let's get straight on with the cards for Tuesday!

I'm using the Magical Mermaids and Dolphins Oracle Cards this week.

Please find your message below and whatever your star sign - have a good day :)

Brightest Blessings,
Kaz
www.blessingz.co.uk
www.cheekywitch.co.uk



This week I am using the beautiful

Magical Mermaids and Dolphins Oracle Cards

by Doreen Virtue, Ph.D.


Quoted from the pack: "The Magical Mermaids and Dolphins Oracle Cards are specifically designed to help you manifest your goals, life purpose, and Divinely inspired dreams. These 44 beautifully illustrated cards can help you swim into the ocean of your unconscious mind, where profound thoughts and feelings can create - or block - your heart's desire. The cards are easy to use, and the enclosed guidebook will help you perform amazingly accurate readings for yourself and others."

My personal card for today

: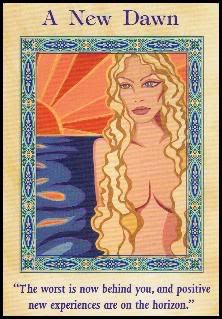 A NEW DAWN
The worst is now behind you, and positive new experiences are on the horizon.
Divinatory meaning: You've endured storms over rough seas, but now the way is clear and smooth. From hereon in, you can expect the best. Wash away the negativity from your consciousness and past memories, and keep only positive lessons and love. Don't hang on to anything that could weigh you down, such as resentment or bitterness. Let it go!
If you've gone through patterns of negativity in the past, this is the time to affirm: "I now release the need to experience this life lesson. I extract whatever teachings I need to discover, and I move on to a life of harmonious and peaceful actions."
By pulling this card, you've turned a corner in your life, wherein your prayers and positive thoughts are delivering new rays of Divine light to illuminate your present and future.

Today's cards for each of the star signs

:

Due to lack of time, etc. These are the 'quick reading' messages - for the full reading and meaning of the cards you will need to obtain these cards for yourself - or get someone else to buy them for you as a gift!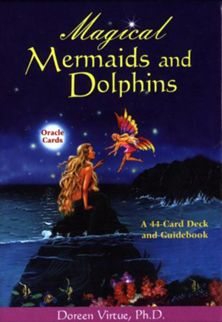 Here are your messages and insights for today. Try to sit quietly for a few moments, meditate on your card and think about how you can learn from, and act upon, its message...

Aries

: YES

Your intuition is correct. Take action accordingly.

Taurus

: EXPLORE YOUR OPTIONS

It's time to look at other possibilities. It's a good time to make changes.

Gemini

: STAY OPTIMISTIC

Your dreams are coming true. Don't quit right before the miracle occurs.

</ a>

Cancer

: SOULMATE RELATIONSHIP

New romance with a spiritual basis is here for you now.

Leo

: ALCHEMY

You have the Midas touch right now, and every project you begin turns to gold.

Virgo

: WATCH YOUR THOUGHTS

It's important to only think about what you desire, not what you fear.

Libra

: SET YOUR SIGHTS HIGHER

Increase your standards, and expect more for yourself. Don't settle!

Scorpio

: MAKE A WISH

This is a magical moment. Make a wish, and enjoy its manifestation.

Sagittarius

: BREAK FREE

Try different ventures and experiences as a way to grow and learn.

Capricorn

: READY, SET, GO!

Now is the perfect moment to dive in and embrace your heart's desire.

Aquarius

: LET YOURSELF RECEIVE

Allow others to give you loving care. Receive without guilt or apologies.

Pisces

: CONSULT AN EXPERT

More information is needed. Contact someone with expertise in this area.

Please feel free to leave any comments here on Blogger, or on my Facebook Page
The Daily Divination
, or on
Twitter
Thank you!