Good morning!

Can you believe that it is the end of February already?!

Time seems to be passing so quickly! Mind you, I think many people will be glad when this winter is over...

I think we are all looking forward to Spring - and there are signs around, with pretty flowers popping up and giving a beautiful array of colours :)


* * * * * * *
I'm running late as usual - but have a good excuse as Maisie had to go back to the vet this morning, for her post-op checkup.
The vet was very pleased with her progress - although she has been wheezing and coughing a bit - but that's to do with the aneasthetic, etc.
She has to rest up for a week - which she wont like, because she loves her walks on the beach!
I have to confess, it's quite nice not to have to go out for the morning walkies - I am not a morning person and I do find it a bit of an ordeal having to go out for the early morning walks...
* * * * * * *
I hope you have found your cards and messages interesting and insightful this week?
The
Messages from you Angels Oracle Cards
are usually pretty relevant I find...
This is an image of the pack: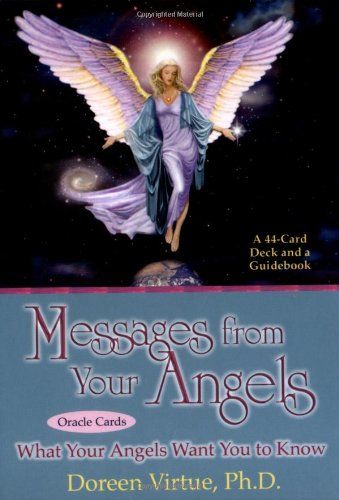 This is the image on the back of these cards:
Please find your Message from your Angel below, and whatever your star sign - have a wonderful weekend :)
Brightest Blessings,
Kaz
www.blessingz.co.uk
www.cheekywitch.co.uk

This week I am using the
Messages from you Angels Oracle Cards

by Doreen Virtue, Ph.D.


Quoted from the pack: "This card deck makes it easier than ever to give an amazingly accurate angel reading for yourself or others. Each card features a gorgeous angel painting, along with a one or two sentence message.
These cards will help you and others know what your exact life purpose it, whether ot not someone is your soulmate or not, what to do about your job and living situatuations, and other inportant life questions. Doreen based the cards upon her actual angel readings, using most commonly asked questions and angelic answers to create the ultimate deck for both the beginner and advanced card reader."

My personal card for today

: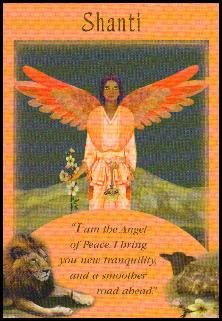 SHANTI
"I am the Angel of Peace. I bring you new tranquillity and a smoother road ahead."
Additional message: "You have been through turmoil, and your soul is tired. Your mind craves peace and quiet, and I am here to help you with that desire. I will give you new opportunities to spend time alone, where you can relax your mind and heart. I will bring tranquillity to your soul so that you can mirror the peace of mind that is your true Divine nature.
Like the angels, you are able to hover within the eye of any hurricanes that may swirl around you right now. Through breath and intention, you can stay centred no matter what's happening in your life. This inner foundation of peace has a powerful healing effect. Your outer life soon reflects your inner peacefulness. Smooth roads are ahead for you, and the worst is behind you now. A peaceful outcome to this situation is assured."

Today's cards for each of the star signs

:

Due to lack of time, etc. These are the 'quick reading' messages - for the full reading and meaning of the cards you will need to obtain these cards for yourself - or get someone else to buy them for you as a gift!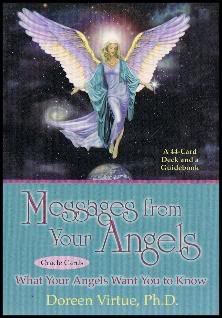 Here are your messages and insights for today. Try to sit quietly for a few moments, meditate on your card and think about how you can learn from, and act upon, its message...

Aries

: VANESSA

Quick message: "To make your decision, ask yourself, 'Which way brings me closer to my divine purpose? Which way takes me away from it?' "

Taurus

: YVONNE

Quick message:"You have a special bond with animals. Your pets on Earth and Heaven are watched over by angels."

Gemini

: DANIEL

Quick message: "I am the Angel of Marriage, and I am assisting you right now."

Cancer

: ARCHANGEL MICHAEL

Quick message: "I am with you, giving you the courage to make life changes that will help you work on your divine life purpose."

Leo

: OPAL

Quick message: "Your children on Earth and in Heaven are happy and well cared for by god and the angels."

Virgo

: OCEANA

Quick message:"Take action. You're in touch with your truth in this situation, and you need to trust your gut and lovingly assert yourself."

Libra

: ATHENA

Quick message: "It is safe for you to be powerful. You know how to be powerful in a loving way that benefits others as well as yourself."

Scorpio

: MAYA

Quick message:"Schooling, study, and education help your life's purpose and personal growth at this time. The angels will guide you and help you with this process."

Sagittarius

: OMEGA

Quick message: "Victory! Your desire is coming to fruition. Keep up the good work!"

Capricorn

: ROSETTA

(2 days in a row!)

Quick message: "You have a gift for working with young people, and your Divine purpose involves helping, teaching or parenting children."

Aquarius

: CELESTE

Quick message: "A happy move to a new home or place of employment is in the works. This movement will usher in positive new energy."

Pisces

: RAYE

Quick message: "Yoga and exercise are essential to your well-being, peace of mind, and spiritual growth right now."

Please feel free to leave any comments here on Blogger, or on my Facebook Page
The Daily Divination
, or on
Twitter
Thank you!