Greetings!

A beautiful day - but also a Manic Monday!

Not made any easier by computer and internet access problems!

These things are sent to try us...

Let's get on with the cards for Monday - with fingers crossed that I can upload this blog when I've finished, as I have had trouble uploading everything so far this morning.

So if you are reading this, I have been successful!

Please find your message below and whatever your star sign - have a good day :)

Brightest Blessings,
Kaz
www.blessingz.co.uk
www.cheekywitch.co.uk



This week I am using the

The Answer Is Simple Oracle Cards

by Sonia Choquette


Quoted from the pack: "These Oracle cards provide immediate access to your divine Spirit, where you receive specific guidance for any and all challenges facing you in life. Each card not only offers direction for particular proplems, it also reinforces the path to your Higher Self, freeing you from the turbulence and fear of the ego plane.
You can use this deck (and the accompanying guide book) for specific direction, meditation, and life and purpose readings and to offer guidance to others; as well as to connect to your Divine Self, where drama and stress give way to joy and inner peace.

My personal card for today

: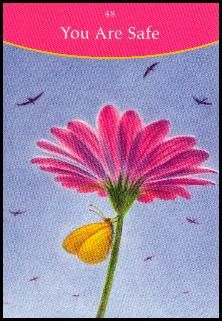 You Are Safe
Full meaning:
The answer is simple: YOU ARE SAFE - The ego torments you with fears of danger and keeps your attention on patrolling the borders of your life, expecting an ambush at any moment. This is stressful and frightening and allows you no room to relax. The Spirit, on the other hand, surrounds you in a powerful and protective shield of light, alerting you to real danger far before it presents itself, and moving you gracefully away before it shows up; therefore you can relax your fears and allow your attention to rest.
Breathe in deeply and recognize how much fear you carry. As you exhale, send the anxiety out of your body and replace it with a second inhalation of protective, loving light. You are safe. Danger has passed. There's no one out to get you. Most of all, don't fear taking charge of your life.
Just as there's no one ready to pounce, there's no one who's necessarily going to save you either - not anyone outside of you, anyway. The safety you seek, however, is available to you—it can be found in your Spirit. It lies in your heart and is watching over you at all times. Your Spirit is formidable and can be counted on to protect you, so you needn't fear a thing. Don't allow your ego to steal away another moment's peace. You are safe.

Today's cards for each of the star signs

:

Due to lack of time, etc. These are the 'quick reading' messages - for the full reading and meaning of the cards you will need to obtain these cards for yourself - or get someone else to buy them for you as a gift!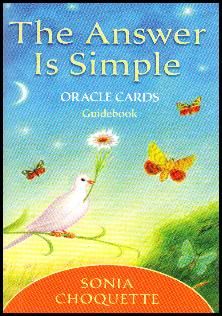 Here are your messages and insights for today. Try to sit quietly for a few moments, meditate on your card and think about how you can learn from, and act upon, its message...

Aries

: Tell The Truth

Quick message:

The answer is simple: TELL THE TRUTH - Your ego doesn't feel safe, so it hides the truth, both from the world and you. This makes life extremely complicated and exhausting, as you know. You can't feel authentic unless you interrupt the ego and let your Spirit take over. Start by being honest with yourself. Ask the question

If I weren't afraid, I would———.

then fill in the blank. Do this several times and your truth will come tumbling forth. Really want the truth of your Spirit to come forward. With it will come the power and inspiration to

live

it.

Taurus

: Have Fun

Quick message:

The answer is simple: HAVE FUN - It's important to keep the inner light of your Spirit shining bright in order to remain uplifted in a dark, negative, ego-based world. The best way to do so is to intentionally surround yourself with things that delight the Spirit in every way. Fuel your inner light with some good old-fashioned fun. Connect with any sounds, scents, tastes, textures, flavours, and friends that amuse your inner child. Step away from drudgery, duty, mindless tasks, and responsibility for one hour - or a day - and do something spontaneous or frivolous. Break from convention and routine, and do something out of the box. The ego disdains frivolity, yet it's the most direct path to joy. Be frivolous. Lighten up. Have fun. Be silly. It will refuel your light.

Gemini: Lend a Hand

Quick message:

The answer is simple: LEND A HAND - The greatest expression of Spirit is to love and serve others, and your Spirit is now called upon to do so. Don't mistake service with rescue: To serve is an act of great spiritual power, born of love and focused on empowering others; rescue, on the other hand, is born of a fearful ego and keeps both you and others enslaved to weakness. Simply do your part to help those around you become stronger in their Spirit, without judgement or criticism. To serve is to rule, and your service is needed now.

Cancer

: Talk to God

Quick message:

The answer is simple: TALK TO GOD - Stop talking to your ego. It only confuses you and makes you fearful. Besides its advice is terrible and never brings the results it promises. Converse with God instead. Instruct your ego to be quiet, and allow your Spirit to have a heart-to-heart with your loving Creator. Ask the Divine for direction. Listen with your Spirit, in the very centre of your heart, and don't permit your ego to interrupt. There you will find the answers.

Leo

: Turn On the Light

Quick message:

The answer is simple: TURN ON THE LIGHT - Look to your life with the eyes of your Spirit, not your ego. The ego points out your flaws; your Spirit concentrates on your perfection. The ego sees everything as your failure; your Spirit sees it as process and progress. The ego views itself as separate and alone; the Spirit knows itself to be connected to all and an essential part of the whole. The ego see darkness; the Spirit sees light. If you look with the light of your Spirit, you'll clearly make out that all is well. Your ego can't see past its own fears, so all appears dark. Your Spirit turns on the light and thus perceives the value of all your experiences - with it on, you can see that it's all good.

Virgo

: Stop

Quick message:

The answer is simple: STOP - The ego is running wild with confusion, causing unnecessary stress and leading you in the wrong direction. Presently you're at risk of overreacting to things and are making poor decisions. You may feel threatened, defensive, or angry or feel the need to try too hard to please others. No matter how this runaway fear is manifesting, it's time to stop. In spite of appearances

you

are causing your greatest troubles, and no one else. Doing nothing doesn't mean nothing is being done. The Universe will right any imbalance as soon as you stop making waves.

Libra

: Decide the Outcome

Quick message:

The answer is simple: DECIDE THE OUTCOME - The greatest expression of Spirit is to fully embrace your creative power and use it. The ego denies that you have any and falls into the trap of feeling like a victim. This leaves you with a sense of being hopelessly at the mercy of fate and without choice. The Spirit, on the other hand, not only knows that it's a Divine Creator… it actively directs your creative power every day toward satisfying goals. Plan your future based on your decisions, rather than dreading it based on your fears. Visualise how your goals will manifest. Expect good things to come, and know that they're on the way. As a creative and holy being, intend what you want and expect it - now.

Scorpio

: You are Not Afraid

Quick message:

The answer is simple: YOU ARE NOT AFRAID - The ego is always in fear, so it becomes a habit to be afraid in life even when you're not. As you face present conditions, ask yourself,

Am I really scared? And if so, then of what?

Listen to your Spirit for the answer. Don't be surprised to discover that you're not really afraid at all - you're just in the habit of believing that you should be. Get past the habit of fear and dive into your new adventure with confidence. Stop fearing and start enjoying the fact that you're not really afraid after all.

Sagittarius

: Give More

Quick message:

The answer is simple: GIVE MORE - Your heart's desire isn't elusive, nor is it out of your reach. However, it does require more from you to make it a reality. Don't give up and walk away so easily from your desire, frustrated and discouraged by the present results. Instead, make an honest evaluation of your efforts toward realising your dream, and admit where you've fallen short. It may take more time, energy, patience, honesty, education, or assistance from others. It might take all of these things and more. Don't be afraid of the hard work required to realise a dream. Nor should you be afraid of disappointment. Your ego deters you so easily, but your Spirit never gives up on a dream. Your Spirit is able to achieve everything you dream of, if only you're willing to give your all. So do.

Capricorn

: Clear the Fog

Quick message:

The answer is simple: CLEAR THE FOG - Life looks a bit foggy now, and your ego is distorting the truth. It's time to summon the pure heart of your Spirit so that you're correctly informed. The first step to clearing away the confusion is to take nothing personally. Stay aware, and learn as much as you can. Listen closely, observe the details, and be on guard for a tendency to interpret things from an overly emotional point of view, especially when it comes from the behaviour of others. Allow your Spirit to speak for you, breathing calmly as you do and expecting the best. The fog will lift, and the pollution of the present will clear.

Aquarius

: Open Your Heart

Quick message:

The answer is simple: OPEN YOUR HEART - To love yourself and experience all the blessings your Spirit offers, you must have an open heart. You can't fully experience love of any sort - that of self or otherwise - if it isn't open. As Divine beings, we're all born with a welcoming heart: the one that expects life to be a positive experience. It's especially important right now to open yourself up, because life is trying to deliver you the gift of love. Your Spirit and the Divine Source of all Life knows exactly what your core needs and is more than willing to supply that and so much more - but it can't succeed if you're not prepared to receive the blessings it wants to rain on you. Only a willing heart can receive your innermost desire. Take the risk: Feel the love coming in… open your heart and believe.

Pisces

: Look Forward

Quick message:

The answer is simple: LOOK FORWARD - The ego looks backward and wallows in regret; the spirit looks forward with excitement and wonder. The ego looks down and sees few options; the Spirit looks up and perceives endless possibilities. The ego looks for problems and views itself as a victim; the Spirit seeks out solutions and sees itself as a genius. There's nothing blocking you except the ego habit of limiting your own view. Glance up and you'll see doors opening to you. You're free from the past, so don't look back anymore. Peer ahead with the light heart of your Spirit. You'll be delighted by what you see.

Please feel free to leave any comments here on Blogger, or on my Facebook Page
The Daily Divination
, or on
Twitter
Thank you!