Good morning!

I woke up with a migraine this morning - not a great way to start the day - feeling very fuzzy-headed...

However, there's lots to do as usual, so I must get on!

But first the cards :)

Please find your message below and whatever your star sign - have a great day :)

Brightest Blessings,
Kaz
www.blessingz.co.uk
www.cheekywitch.co.uk



This week I am using the

The Answer Is Simple Oracle Cards

by Sonia Choquette


Quoted from the pack: "These Oracle cards provide immediate access to your divine Spirit, where you receive specific guidance for any and all challenges facing you in life. Each card not only offers direction for particular proplems, it also reinforces the path to your Higher Self, freeing you from the turbulence and fear of the ego plane.
You can use this deck (and the accompanying guide book) for specific direction, meditation, and life and purpose readings and to offer guidance to others; as well as to connect to your Divine Self, where drama and stress give way to joy and inner peace.

My personal card for today

: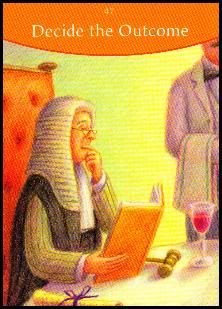 Decide the Outcome
Full meaning:
The answer is simple: DECIDE THE OUTCOME - The greatest expression of Spirit is to fully embrace your creative power and use it. The ego denies that you have any and falls into the trap of feeling like a victim. This leaves you with a sense of being hopelessly at the mercy of fate and without choice. The Spirit, on the other hand, not only knows that it's a Divine Creator… it actively directs your creative power every day toward satisfying goals.
The simplest way to support this process is to decide the outcome of your intentions before you begin. For example, rather than
hoping
that you get a new job,
decide
that you'll have one and it will be delightfully satisfying to you. Instead of
praying
that romance will find you,
decide
that you'll love and be loved fully starting today.
Plan your future based on your decisions, rather than dreading it based on your fears. Visualise how your goals will manifest. Expect good things to come, and know that they're on the way. Leave hope and wishful thinking out of it - these, too, are manipulations of the ego to keep you doubting that you can anticipate success. As a creative and holy being, intend what you want and expect it - now.

Today's cards for each of the star signs

:

Due to lack of time, etc. These are the 'quick reading' messages - for the full reading and meaning of the cards you will need to obtain these cards for yourself - or get someone else to buy them for you as a gift!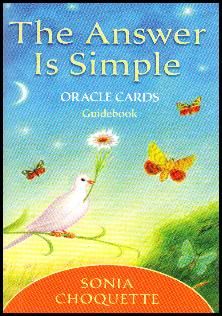 Here are your messages and insights for today. Try to sit quietly for a few moments, meditate on your card and think about how you can learn from, and act upon, its message...

Aries

: Look Forward

Quick message:

The answer is simple: LOOK FORWARD - The ego looks backward and wallows in regret; the spirit looks forward with excitement and wonder. The ego looks down and sees few options; the Spirit looks up and perceives endless possibilities. The ego looks for problems and views itself as a victim; the Spirit seeks out solutions and sees itself as a genius. There's nothing blocking you except the ego habit of limiting your own view. Glance up and you'll see doors opening to you. You're free from the past, so don't look back anymore. Peer ahead with the light heart of your Spirit. You'll be delighted by what you see.

Taurus

: Start Anew

Quick message:

The answer is simple: START ANEW - Okay. So things aren't as great as you'd like, and in fact, life feels like a big mess right now. Not to worry - simply bless your mess and start over. Whatever is going on at the moment, appreciate the fact that you created it… and because you did so, you can "un-create" it as well. Start by accepting that the situation at hand is your creation. Maybe it's not your intentional one, but it's yours, nevertheless. Until you acknowledge your power, you can't use it correctly. Ask yourself =: "How did I get here? What about the present moment isn't working for me? What about this is familiar and might be a pattern that I keep repeating and now would like to stop?" and the most important question of all: "What does my Spirit want to experience instead?" Simply study your situation and request that your Spirit free you from whatever creation you don't enjoy - if you ask, it will oblige.

Gemini

: Stop

Quick message:

The answer is simple: STOP - The ego is running wild with confusion, causing unnecessary stress and leading you in the wrong direction. Presently you're at risk of overreacting to things and are making poor decisions. You may feel threatened, defensive, or angry or feel the need to try too hard to please others. No matter how this runaway fear is manifesting, it's time to stop. In spite of appearances

you

are causing your greatest troubles, and no one else. Doing nothing doesn't mean nothing is being done. The Universe will right any imbalance as soon as you stop making waves.

Cancer

: Open Your Heart

Quick message:

The answer is simple: OPEN YOUR HEART - To love yourself and experience all the blessings your Spirit offers, you must have an open heart. You can't fully experience love of any sort - that of self or otherwise - if it isn't open. As Divine beings, we're all born with a welcoming heart: the one that expects life to be a positive experience. It's especially important right now to open yourself up, because life is trying to deliver you the gift of love. Your Spirit and the Divine Source of all Life knows exactly what your core needs and is more than willing to supply that and so much more - but it can't succeed if you're not prepared to receive the blessings it wants to rain on you. Only a willing heart can receive your innermost desire. Take the risk: Feel the love coming in… open your heart and believe.

Leo

: Let Go and Flow

Quick message:

The answer is simple: LET GO AND FLOW - Your ego is resisting some aspect of life, trying to halt, slow, or control its formidable force. Doing so is like trying to stop the ocean: It's exhausting and silly because it can't succeed. Your Spirit, on the other hand, embraces life head-on and rides the ups and downs, the ebb and flow, and the shifts and changes of life with determination and courage. Breathe in, dive in, and embrace all that faces you now. Your ego may be fearful and try to stop change, but your Spirit is ready and able to gracefully handle all that's coming toward you. Trust this, and embrace the changes at hand.

Virgo

: Dare to Be Happy

Quick message:

The answer is simple: DARE TO BE HAPPY - You're beginning to feel the vibration of joy. This is a sign that your Spirit is finally breaking free from the prison of the ego and you're reconnecting with your true Divine nature. Your next challenge is to be openly happy, even when those around you don't readily appreciate, or even encourage, your joy. The ego is intimidated by this emotion because it has no power in that frequency. It prefers to keep people in pain. When you break free of its grip, it will try to lure you back by suggesting that your joy is false or temporary - or worse, that you'll lose it, so there's no reason to bother in the first place. Stand tall in the joy of your Spirit. One by one, others will become inspired by your higher vibration and begin to resonate with it, finding their happiness as well.

Libra

: It's Not an Emergency

Quick message:

The answer is simple: IT'S NOT AN EMERGENCY - Although it's clear that things are in the midst of change, your ego is creating unnecessary drama, causing you to feel threatened and afraid. Regain clarity by stepping away from the situation, calming your emotions and reconnecting to your Spirit. Take no action until you feel calm and peaceful, knowing that you're fully protected by your Spirit in every way. Even though it feels as though you must act

now

, this isn't true. You're far better off taking the time you need to get re-centred and re-connected to your spirit first. Only then will it serve you to act.

Scorpio

: Put Others First

Quick message:

The answer is simple: PUT OTHERS FIRST - Presently your Spirit is calling you to make choices that will serve others' needs more than your own. It may be as simple as giving up an hour at the gym in order to help your company finish a project, skipping a pre-planned night out with friends, in order to host a last minute visitor from out of town, or changing your vacation dates in order to attend your employers wedding. Whatever sacrifice you're called upon to make, know that in the Big Picture, your willingness to do so is serving the greater good of all. The ego doesn't like to be interrupted. The Spirit is flexible and adaptable, placing service to humanity over selfish interests at all times. So take it easy on your ego - and make it delightful for your Spirit - and expect disruptions.

Sagittarius

: Detox

Quick message:

The answer is simple: DETOX - The ego accumulates negativity and holds on to it for a long time. It settles into the mind and body as destructive patterns, attitudes, behaviours, habits, and feelings. The more negativity you amass and absorb, the more difficult it is to sense or see the light of your Spirit. It's time to detox from all of this negativity, to clear the inner light and let it shine once again. Start by cleansing your body. Stop eating heavy foods, sugar, and white flour or using alcohol. Tobacco, and other know toxins for the next few days. These foods and substances tax your system and place a burden on you, dimming the light of your Spirit. It's also time to eliminate other toxic elements in your life as well. Are your conversations toxic? Are your habits? Is your thinking? How about your associations? If you aren't sure, ask your Spirit and then feel the vibration of your answer.

Capricorn

: Say "I'm Sorry"

Quick message:

The answer is simple: SAY "I'M SORRY" - Let's face it: Your ego hates to admit that it makes mistakes, and it doesn't like to say "I'm sorry." Rather, it conjures up a long list of excuses and explanations for its poor and fearful behaviour. The ego ignores the impact it has on others because it's too busy defending itself. Your Spirit, on the other hand, doesn't hesitate to apologize for all the mistakes the ego makes as soon as they become obvious. It knows that we're all students here to learn, and mistakes are an essential part of the process. Your Spirit also lives in the now and is aware that the best way to be present is both to forgive and ask forgiveness of errors as quickly as possible. Say "I'm sorry." Keep your prideful ego from preventing this important healing. Every apology calls back more of your light. Apologize now - to others and to yourself.

Aquarius

: Say "Yes!"

Quick message:

The answer is simple: SAY "YES!" - The ego gets fearful and is afraid to commit. It holds back, hesitates, and doesn't dare be vulnerable. It waits until it's absolutely sure that it will be safe before it acts. The trouble with this approach is that the ego never feels safe, so it never acts - it only

reacts

. The Spirit, on the other hand, knows that the minute you hesitate, you miss the moment, because life neverstops, but rather flows - and it's now inviting you to flow with it. You're being asked to step into the flow, and you don't want to miss out. Don't hesitate - say yes to life and act now.

Pisces

: Love Your Body

Quick message:

The answer is simple: LOVE YOUR BODY - Be mindful of how hard it works for you and treat it like your friend. It serves your Spirit and wants to be the best vehicle it can be - you must simply free it from the control of your ego so that it can serve you well. Your ego distrusts the body and tries to shame and control it, or else allows it to be overindulged or under-utilised… all of which makes it sick and weak. Your Spirit, on the other hand, loves and appreciates your physical self as a Divine gift, honoring and caring for it with love. You can't succeeed in living your Spirit if it doesn't dwell in your body. For it to do so, you must love and bless your physical self as the home for your Spirit - and then treat it that way.

Please feel free to leave any comments here on Blogger, or on my Facebook Page
The Daily Divination
, or on
Twitter
Thank you!