Good morning!

Well, Maisie is not a happy doggy today :(

Yesterday she was spayed - and also had a tooth out! (Apparently the tooth was a baby tooth which should have come out when she was a few months old.)

Today she is very subdued and her face is a little swollen - and she was sick during the night - which I was told to expect after the anaesthetic.

So I have a poorly doggy to look after - and I have lots of orders to catch up with too, orders I was unable to make yesterday.

It's going to be a busy Thursday!

Please find you card and message below and whatever your star sign - have a great day :)

Brightest Blessings,
Kaz
www.blessingz.co.uk
www.cheekywitch.co.uk



This week I am using the

Messages from you Angels Oracle Cards



by Doreen Virtue, Ph.D.


Quoted from the pack: "This card deck makes it easier than ever to give an amazingly accurate angel reading for yourself or others. Each card features a gorgeous angel painting, along with a one or two sentence message.
These cards will help you and others know what your exact life purpose it, whether ot not someone is your soulmate or not, what to do about your job and living situatuations, and other inportant life questions. Doreen based the cards upon her actual angel readings, using most commonly asked questions and angelic answers to create the ultimate deck for both the beginner and advanced card reader."

My personal card for today

: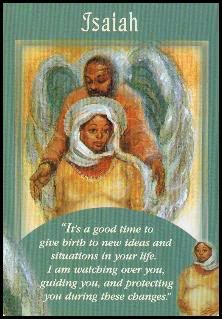 ISAIAH
"It's a good time to give birth to new ideas and situations in your life. I am watching over you, guiding you and protecting you during these changes."
Additional Message: "You are ripe with new possibilities, and you feel an urgency to push into new territory. Beloved one, your new and exciting life changes are inevitable. There is no turning back! Instead of playing it safe, you decided to move forward. That is why I am with you right now, giving you the extra courage and comfort that you need.
However, there is no need to rush. This is a time of incubation, where nature can allow everything to grow in its innate rhythm. Be assured that your life change will hatch at just the right moment! In the meantime, you know that God and the angels are watching over you. You are safe and very loved.. Congratulations on the birth of this new period in your life.

Today's cards for each of the star signs

:

Due to lack of time, etc. These are the 'quick reading' messages - for the full reading and meaning of the cards you will need to obtain these cards for yourself - or get someone else to buy them for you as a gift!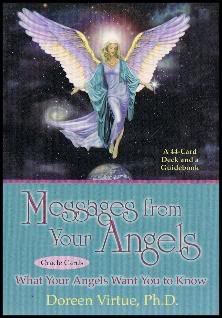 Here are your messages and insights for today. Try to sit quietly for a few moments, meditate on your card and think about how you can learn from, and act upon, its message...

Aries

: SEREPHINA

Quick message: "I am the Angel of Families. a happy change or addition is coming to your family."

Taurus

: OMEGA

Quick message: "Victory! Your desire is coming to fruition. Keep up the good work!"

Gemini

: LEILA

Quick message: "Spend time alone in nature, meditating about your desires and intentions. Ask the angels to help you gain a positive perspective."

Cancer

: MERLINA

Quick message: "You are confused and indecisive because you do not have enough information. Do research or seek expert advice before making a decision."

Leo

: ISABELLA

Quick message:"Yes, the timing is right for this new venture. a happy outcome follows your positive expectations."

Virgo

: AZURE

Quick message: "Your desired outcome will occur in the very near future. Have patience and faith, and don't try to force it to happen."

Libra

: VANESSA

Quick message: "To make your decision, ask yourself, 'Which way brings me closer to my divine purpose? Which way takes me away from it?' "

Scorpio

: MYSTIQUE

Quick message: "Keep charging ahead, and don't take no for an answer. Expect miraculous solutions to appear."

Sagittarius

: CHANTELLE

Quick message: "New romance is imminent -either with a newcomer; or through re-ignited passion in your existing relationship. Be open to giving and receiving love."

Capricorn

: ROSETTA

Quick message: "You have a gift for working with young people, and your Divine purpose involves helping, teaching or parenting children."

Aquarius

: OCEANA

Quick message:"Take action. You're in touch with your truth in this situation, and you need to trust your gut and lovingly assert yourself."

Pisces

: ARCHANGEL RAPHAEL

Quick message: "I am helping you heal physical challenges in yourself and others. You are a healer, like me."

Please feel free to leave any comments here on Blogger, or on my Facebook Page
The Daily Divination
, or on
Twitter
Thank you!