Good morning!

Today is an 11 Master Day!


Here's what
Elizabeth Peru
has to say about it:
"TUESDAY Jan 21, 2014 is an 11 MASTER DAY: Can you feel the energy buzzing? Just before we begin the shadow phase of the upcoming Mercury Retrograde we are given ample opportunity to be adventurous and open the door to new possibilities!
2+1+0+1+2+0+1+4 = 11
11 days are rare on the calendar. There are maybe 3 or 4 per month. The 11 represents the 'doorway'. Just as there are two pillars that mark all doorways (just look around your home you will see the 11 everywhere in doorways and furniture etc).
11 days ask that we walk through to a new way, a new life and new energy with confidence.
So you can expect to get nudged with synchronicity on this day. Signs will be flooding in to push you ahead.
They can be physical signs, like:
~ feathers falling at your feet
~ hearing music or lyrics that have a message for you
~ hearing horns beep when you are looking for a 'yes' or 'no'
~ being guided to specific websites or people
~ Plus the myriad of signs that are individual to you
So keep aware and awake on this day. Throw yourself into your newness as you would a holiday to a new land, treat it as an adventure, rather than with fear.
You will learn just how capable and worthy and rewarded you are at the end on this 24 hour period."
* * * * * * *
Elizabeth Peru has a great website -
www.deltawaves.com.au
and Facebook Page
www.facebook.com/ElizabethSPeru
and she posts very interesting information - well worth a vist!
So don't forget to look out for signs and synchronicities today!
Please find your message for today below and whatever your star sign - have an interesting day :)
Brightest Blessings,
Kaz
www.blessingz.co.uk
www.cheekywitch.co.uk

This week I am using the
Power Animal Oracle Cards
by Steven D.Farmer, Ph.D.


Quoted from the pack: "Power Animals are spirit guides in animal form who provide protection, guidance and healing. This deck of 44 oracle cards by Steven Farmer will connect you with animal spirit guides who will advise you about any aspect of your life. Whether you're a beginner or an experienced reader, the enclosed easy-to-follow guidebook provides instructions to help you immediately give accurate readings to yourself and others."

My personal card for today

: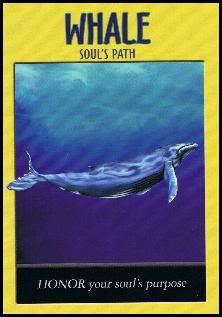 WHALE - SOUL'S PATH
HONOR your soul's purpose
Divinatory meaning: It's time to stop fooling yourself and get moving on your soul's path. Pay attention to the subtleties of your experience; and listen very, very carefully to those urgings that are begging you to honor the deepest truth of who you are - not what you think everyone else will approve of, but the path that heeds the voice of your soul that's been calling to since before you were born.
Every experience up to this point in your life has shaped you, and even the lives that you've lived before exert their karmic influence. At this point you can no longer live your life driven solely by ego. Instead, it's important to consciously and consistently attune to your most profound sense of self and align with Spirit's intent. It will take courage and faith to dive to these depths, but you have indeed funded the power and the strength to do so. claim the destiny that you know is yours, and act on it now
Additional Associations: Migration; Devotion; Communication; Soul Memory

Today's cards for each of the star signs

:

Due to lack of time, etc. These are the 'quick reading' messages - for the full reading and meaning of the cards you will need to obtain these cards for yourself - or get someone else to buy them for you as a gift!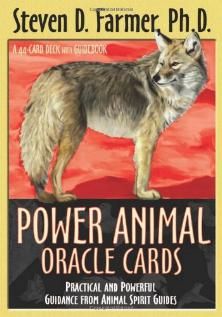 Here are your messages and insights for today. Try to sit quietly for a few moments, meditate on your card and think about how you can learn from, and act upon, its message...

Aries

: BLACK PANTHER - PASSION

Follow your PASSION

Additional Associations: Sensuality; strength; Clarity; Solitude

Taurus

: RABBIT - FERTILITY

Your creativity is at a peak

Additional Association: Vigilance; Abundance; Agility; Sacrifice

Gemini

: ELEPHANT - RESOLVE

You will OVERCOME ANY OBSTACLES

Additional Association: Protective; Motivated; Maternal; Family

Cancer

: BEAR - BOUNDARIES

STAND your ground

Additional Association: Protection; Creativity; Solitude; Healing

Leo

: KANGAROO - GRATITUDE

BE GRATEFUL for all you are blessed with

Additional Association: Nurturing; Generosity; Abundance; Family

Virgo

: BUFFALO - ABUNDANCE

YOU ARE PROVIDED FOR in all ways

Additional Associations: Generosity; Gratitude; Surrender; Sacrifice

Libra

: OWL - OMENS

Pay attention to SIGNS

Additional Association: Wisdom; Shadows; Secrecy; Magician

Scorpio

: BUTTERFLY - TRANSFORMATION

Get ready for a BIG BREAKTHROUGH

Additional Association: Rebirth; Vibrancy; Reincarnation; Colourfulness

Sagittarius

: COUGAR - CONFIDENCE

Be bold and TAKE CHARGE

Additional Associations: Stealth; Leadership; Focus; Conviction

Capricorn

: DOLPHIN - PLAYFULNESS

Take time to PLAY

Additional Association: Communication; Breath; Community; Guidance

Aquarius

: SNAKE - HEALING

You are a HEALER

Additional Associations: Rebirth; Sexuality; Transmutation; Transformation

Pisces

: COYOTE - WISE FOOL

ACCEPT YOUR FOLLIES and find the teaching in them

Additional Association: Trickster; Sociability; Adaptability; Wisdom-Keeper

Please feel free to leave any comments here on Blogger, or on my Facebook Page
The Daily Divination
, or on
Twitter
Thank you!