Good morning!

I hope you've had a nice relaxing weekend? Ready to tackle the week ahead?

No? Me neither! Nonstop working...

However, apart from forcing myself to do some of the dreaded housework, the rest of the time is was 'work' that I really enjoy - designing stuff on Zazzle - so I had a very enjoyable weekend!

Please click here the view my new range of Zodiac Mugs! I think these would make lovely birthday gifts for you loved ones. (I shall be making them in different colours too, when time allows!)

Here's an example - the one for Aquarius.


I keep getting ideas for new designs, especially just as I am trying to sleep, and I've been scribbling things down on the notepad, on my bedside table. I wish I could spend today working on those ideas, however, it is Manic Monday and I have Bagz of Blessingz to make!
But first - the cards!
Please find your message from the
Power Animal Oracle Cards
for Monday below - and whatever your star sign - have a good day :)
Brightest Blessings,
Kaz
www.blessingz.co.uk
www.cheekywitch.co.uk

This week I am using the
Power Animal Oracle Cards
by Steven D.Farmer, Ph.D.
Quoted from the pack: "Power Animals are spirit guides in animal form who provide protection, guidance and healing. This deck of 44 oracle cards by Steven Farmer will connect you with animal spirit guides who will advise you about any aspect of your life. Whether you're a beginner or an experienced reader, the enclosed easy-to-follow guidebook provides instructions to help you immediately give accurate readings to yourself and others."

My personal card for today

:
LIZARD - DREAMTIME
Pay attention to your DREAMS AND VISIONS
Divinatory meaning: There's a place underneath the conscious mind, below the instinctual self, where one's usual identity is dissolved and you are pure witness, observing your experience from a completely detached perspective. This place is called
dreamtime
, where all apparent boundaries between self and other disappear. What remains is unadulterated awareness, specific to you, yet at the same time expanded into the boundless universe.
In this place that is at the very core of your experience, you alos profoundly comprehend that you're simultaneously a body and something much greater than merely a body. The dreamtime is a place where there's no sense of boundaries between your body and surroundings. In this mystical, surreal state of pure experience, you're always guided and protected by the wise and ageless inspiration of Spirit.
Your dreams and visions are the window into this absolute reality, so watch your dreams closely and pay attention to your visions. They will always guide you and lead you, but most especially at this time.
Additional Association: Primal; Ancient; Reflexive; Spontaneous

Today's cards for each of the star signs

:

Due to lack of time, etc. These are the 'quick reading' messages - for the full reading and meaning of the cards you will need to obtain these cards for yourself - or get someone else to buy them for you as a gift!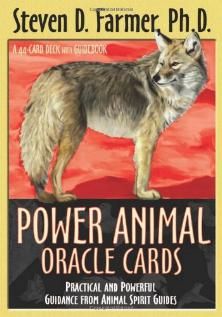 Here are your messages and insights for today. Try to sit quietly for a few moments, meditate on your card and think about how you can learn from, and act upon, its message...

Aries

: WHALE - SOUL'S PATH

HONOR your soul's purpose

Additional Associations: Migration; Devotion; Communication; Soul Memory

Taurus

: SNAKE - HEALING

You are a HEALER

Additional Associations: Rebirth; Sexuality; Transmutation; Transformation

Gemini

: BLACK PANTHER - PASSION

Follow your PASSION

Additional Associations: Sensuality; strength; Clarity; Solitude

Cancer

: FROG - PURIFICATION

CLEAR OUT the clutter

Additional Associations: Singing; Rhythm; Rainmaker; Sensitivity

Leo

: ELEPHANT - RESOLVE

You will OVERCOME ANY OBSTACLES

Additional Association: Protective; Motivated; Maternal; Family

Virgo

: BADGER - PERSEVERANCE

Dig in and see it through to COMPLETION

Additional Associations: Self-reliance; Determination; Assertiveness; Willingness

Libra

: LYNX - DISCERNMENT

LOOK BEYOND immediate appearances

Additional Association: Confidentiality; Stealth; Privacy; Inner Vision

Scorpio

: COUGAR - CONFIDENCE

Be bold and TAKE CHARGE

Additional Associations: Stealth; Leadership; Focus; Conviction

Sagittarius

: EAGLE - SPIRIT

TRUST in your higher self

Additional Association: Vision; Courage; University; Masculinity

Capricorn

: BEAR - BOUNDARIES

STAND your ground

Additional Association: Protection; Creativity; Solitude; Healing

Aquarius

: DRAGONFLY - ILLUSION

YOU KNOW who you really are

Additional Associations: Colourfulness; Mirage; Mystery; Deception

Pisces

: DOVE - SERENITY

SLOW DOWN, pause, and breathe

Additional Associations: Love; Soul; Domesticity; Spirituality

Please feel free to leave any comments here on Blogger, or on my Facebook Page
The Daily Divination
, or on
Twitter
Thank you!