Greetings!

Where did the morning go? It's gone midday already!

I got a bit side-tracked this morning...

Better get back on track now though - I have Cheeky Witch Mugs to package and Bags of Christening Blessings to make!

Please find Wednesday's message from the animal guides below, and whatever your star sign - have a good day :)

Brightest Blessings,
Kaz
www.blessingz.co.uk
www.cheekywitch.co.uk



This week I am using the
Power Animal Oracle Cards
by Steven D.Farmer, Ph.D.


Quoted from the pack: "Power Animals are spirit guides in animal form who provide protection, guidance and healing. This deck of 44 oracle cards by Steven Farmer will connect you with animal spirit guides who will advise you about any aspect of your life. Whether you're a beginner or an experienced reader, the enclosed easy-to-follow guidebook provides instructions to help you immediately give accurate readings to yourself and others."

My personal card for today

: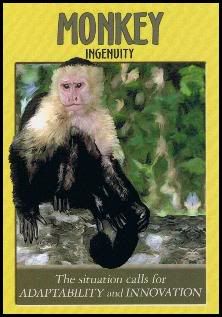 MONKEY - INGENUITY
The situation calls for ADAPTABILITY and INNOVATION
Divinatory meaning: No matter what's happening right now, you've got to be able to first adjust to the circumstances at hand, then generate creative solutions or ideas and act on them. This situation will require you to get your hands on it, take a good look at it, use your intelligence coupled with your gut sense to evaluate it, then choose a course of action. Don't get rigid about your choice, however, as once you make your move, new factors will come into play and you may have to adjust your course again, sometimes very rapidly. Count on it. It's kind of like swinging from tree to tree - you have to be very quick in anticipating which branch to grab hold of.
Don't get discouraged if one direction doesn't pan out. Just be willing to shift, and it will work out. From time to time, use that keen mind of yours to stop and assess what's happening, then continue on, perhaps with a slight change in course based on new information. Once you stop and look back, you'll see that every move was timely and purposeful. You have an amazing ability to move through life in a fluid and poetic fashion, whether or not you're aware of it - just don't get stuck in old habits and routines. Trust that and you can do no wrong.

Today's cards for each of the star signs

:

Due to lack of time, etc. These are the 'quick reading' messages - for the full reading and meaning of the cards you will need to obtain these cards for yourself - or get someone else to buy them for you as a gift!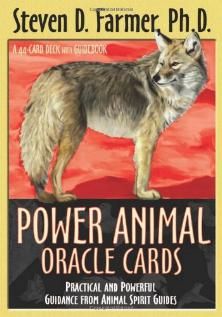 Here are your messages and insights for today. Try to sit quietly for a few moments, meditate on your card and think about how you can learn from, and act upon, its message...

Aries

: COUGAR - CONFIDENCE

Be bold and TAKE CHARGE

Additional Associations: Stealth; Leadership; Focus; Conviction

Taurus

: FROG - PURIFICATION

CLEAR OUT the clutter

Additional Associations: Singing; Rhythm; Rainmaker; Sensitivity

Gemini

: LIZARD - DREAMTIME

Pay attention to your DREAMS AND VISIONS

Additional Association: Primal; Ancient; Reflexive; Spontaneous

Cancer

: SNAKE - HEALING

You are a HEALER

Additional Associations: Rebirth; Sexuality; Transmutation; Transformation

Leo

: DEER - PATHFINDER

TRUST YOUR INSTINCTS to guide you through this situation

Additional Association: Gentleness; Cunning; Grace; Purity

Virgo

: OPOSSUM - STRATEGY

Have a BACK-UP PLAN

Additional Associations: Grasping; Agility; Maternal Instinct; Stability

Libra

: HORSE - FREEDOM

You always have a CHOICE

Additional Association: Integrity; Compromise; Speed; Agility

Scorpio

: HAWK - FOCUS

CHOOSE YOUR PRIORITIES and eliminate all distractions

Additional Associations: Messenger; Perspective; Detachment; Swiftness

Sagittarius

: COYOTE - WISE FOOL

ACCEPT YOUR FOLLIES and find the teaching in them

Additional Association: Trickster; Sociability; Adaptability; Wisdom-Keeper

Capricorn

: SWAN - GRACE

APPRECIATE THE BEAUTY inside and all around you

Additional Associations: Elegance; Purity; Innocence

Aquarius

: BUFFALO - ABUNDANCE

YOU ARE PROVIDED FOR in all ways

Additional Associations: Generosity; Gratitude; Surrender; Sacrifice

Pisces

: BEAR - BOUNDARIES

STAND your ground

Additional Association: Protection; Creativity; Solitude; Healing

Please feel free to leave any comments here on Blogger, or on my Facebook Page
The Daily Divination
, or on
Twitter
Thank you!