Good morning/afternoon!

Another busy week has just flown by!

I've been busy with my websites and Facebook pages, but also I've been enjoying making some gemstone jewellery this week.

I used to make jewellery years ago, before my Bagz of Blessingz took over.

In more recent years I've only made a few pieces when I have had a stall at a psychic fair - or at the Lammas Festival, but I miss making pretty sparkly things - so decided to start again - and put some online.

My Pentacle Earrings always sell out at the fairs!

I do them with all different gemstone beads - here are the Chinese Jade Pentacle Earrings, which are £3.95 a pair.


I also make sparkly gemstone bracelets to match! These are £6.95 each.
I shall be adding some more pretty jewellery, as time allows, so please bookmark my website
www.blessingz.co.uk
for future reference - these items would make lovely gifts and Christmas is only 8 weeks away...
EEEK!
Well, I have an optician's appointment booked in a couple of hours, so I'd better get a move on!
Please find your card and message below - and whatever your star sign - have a wonderful weekend :)
Brightest Blessings,
Kaz
www.blessingz.co.uk
www.cheekywitch.co.uk

This week I am using the beautiful

Magical Mermaids and Dolphins Oracle Cards

by Doreen Virtue, Ph.D.


Quoted from the pack: "The Magical Mermaids and Dolphins Oracle Cards are specifically designed to help you manifest your goals, life purpose, and Divinely inspired dreams. These 44 beautifully illustrated cards can help you swim into the ocean of your unconscious mind, where profound thoughts and feelings can create - or block - your heart's desire. The cards are easy to use, and the enclosed guidebook will help you perform amazingly accurate readings for yourself and others."

My personal card for today

: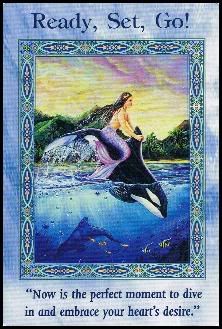 READY, SET, GO!
Now is the perfect moment to dive in and embrace your heart's desire.
Divinatory meaning: Even though you may not feel entirely ready, this card says that there's no better time than the present to dive into your future. You're advised to take both big and small steps to move in the direction of your dreams.
Push aside everything unrelated to your life's mission. Adjust your schedule so that the bulk of your time relates to your priorities and goals. Delegate tasks to other people, or hire someone to assist you. Your responsibilities will still be met, you'll be happier, you'll enjoy greater self-esteem, and you'll attract more abundance in the long run - if you jump in and follow your heart.

Today's cards for each of the star signs

:

Due to lack of time, etc. These are the 'quick reading' messages - for the full reading and meaning of the cards you will need to obtain these cards for yourself - or get someone else to buy them for you as a gift!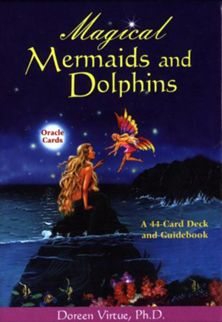 Here are your messages and insights for today. Try to sit quietly for a few moments, meditate on your card and think about how you can learn from, and act upon, its message...

Aries

: SELF-FORGIVENESS

Let go of old guilt, and remember that you're God's perfect child!

Taurus

: DIVINE MAGIC

Extra magical energy surrounds your situation right now. Expect miracles!

Gemini

: SELF-EMPLOYMENT

You're a born entrepreneur, and your business is surrounded by magical opportunities.

Cancer

: FATHER HEALING

Your personal power increases as you give any father-related issues to Heaven.

Leo

: A NEW DAWN

The worst is now behind you, and positive new experiences are on the horizon.

Virgo

: PAY ATTENTION

Notice repetitious signs and your inner guidance, as this can yield valuable information.

Libra

: YOU'RE BEING HELPED

Heaven is working behind the scenes to help you, even if you don't see results yet.

Scorpio

: HAVE FAITH

Your prayers are manifesting. Remain positive, and follow your guidance!

Sagittarius

: ACCEPT HEAVEN'S HELP

You've prayed for help, so get out of the way and let Heaven help you.

Capricorn

: WATCH YOUR THOUGHTS

It's important to only think about what you desire, not what you fear.

Aquarius

: EXPLORE YOUR OPTIONS

It's time to look at other possibilities. It's a good time to make changes.

Pisces

: FRIENDSHIP

Make a date for a play day with one or more friends.

Please feel free to leave any comments here on Blogger, or on my Facebook Page
The Daily Divination
, or on
Twitter
Thank you!