Good morning/afternoon!

Apologies for missing the messages yesterday - I was just too busy and unable to get the cards done..

I'm busy again today but just dashing in quickly during my lunchbreak to give you your messages for Wednesday!

Please find your message from the Magical Mermaids and Dolphins Oracle Cards below and whatever your star sign - enjoy your day :)

Brightest Blessings,
Kaz
www.blessingz.co.uk
www.cheekywitch.co.uk



This week I am using the beautiful

Magical Mermaids and Dolphins Oracle Cards

by Doreen Virtue, Ph.D.


Quoted from the pack: "The Magical Mermaids and Dolphins Oracle Cards are specifically designed to help you manifest your goals, life purpose, and Divinely inspired dreams. These 44 beautifully illustrated cards can help you swim into the ocean of your unconscious mind, where profound thoughts and feelings can create - or block - your heart's desire. The cards are easy to use, and the enclosed guidebook will help you perform amazingly accurate readings for yourself and others."

My personal card for today

: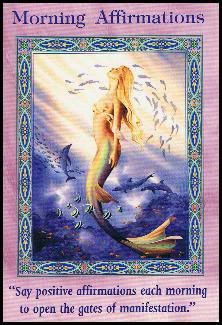 MORNING AFFIRMATIONS
Say positive affirmations each morning to open the gates of manifestation.
Divinatory meaning: This card asks you to begin each day with positive intentions and affirmations. Before arising from your bed, spend a few moments thinking about your desires. Don't worry about how to bring them into physical form. Just allow yourself to imagine that they've already manifested.
Then, make one or more positive affirmations relating to your desires, When you open your eyes, write down these affirmations (it's a good idea to keep a pad and pen on your nightstand). During the day, look at the affirmations and say them mentally or verbally.

Today's cards for each of the star signs

:

Due to lack of time, etc. These are the 'quick reading' messages - for the full reading and meaning of the cards you will need to obtain these cards for yourself - or get someone else to buy them for you as a gift!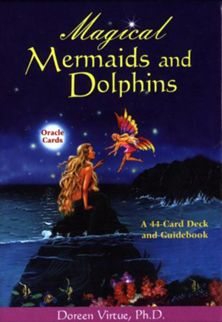 Here are your messages and insights for today. Try to sit quietly for a few moments, meditate on your card and think about how you can learn from, and act upon, its message...

Aries

: SOULMATE RELATIONSHIP

New romance with a spiritual basis is here for you now.

Taurus

: PAY ATTENTION

Notice repetitious signs and your inner guidance, as this can yield valuable information.

Gemini

: SELF-FORGIVENESS

Let go of old guilt, and remember that you're God's perfect child!

Cancer

: CONTEMPLATION TIME

Spend time alone, meditating upon what you truly desire.

Leo

: REST

You've been working hard. Take a nap and get some rest.

Virgo

: YOU'RE BEING HELPED

Heaven is working behind the scenes to help you, even if you don't see results yet.

Libra

: SYNCHRONICITY

Your prayers and questions are being answered by synchronistic events. Notice them in order to increase their flow.

Scorpio

: BREAK FREE

Try different ventures and experiences as a way to grow and learn.

Sagittarius

: WORTHINESS

Know that you deserve to receive in good ways.

Capricorn

: READY, SET, GO!

Now is the perfect moment to dive in and embrace your heart's desire.

Aquarius

: TRANQUILITY

Make time to relax, be still, and enjoy your solitude, indulging in much-needed self-care.

Pisces

: LET YOURSELF RECEIVE

Allow others to give you loving care. Receive without guilt or apologies.

Please feel free to leave any comments here on Blogger, or on my Facebook Page
The Daily Divination
, or on
Twitter
Thank you!