Greetings!

Yay for Friday! Didn't this week fly by?

Doesn't each week fly by?! Half way through October already!

Not long until my friend has to shave all her hair off...

My brave and amazing friend, Carla, is going to shave off all her gorgeous hair to raise funds for St. Wilfreds Hospice and her beautiful hair will be donated to a charity which makes wigs for little girls who have lost their hair through illness.

To read her story please visit www.justgiving.com/Carla-Purkiss and please sponsor her if you can - no matter how small - any donations would be gratefully accepted.

Imagine if my followers on Facebook and readers of this blog donated just £1 each she would go way beyond her target!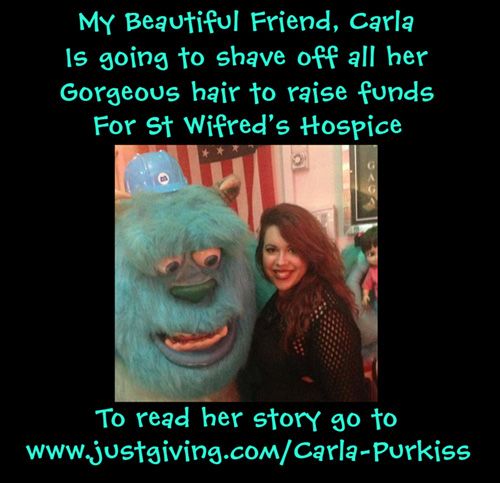 Please help Carla to reach her goal of raising £2000 for
St. Wilfreds Hospice
I think this is a truly wonderful thing that she is doing - I am so proud of her!
I hope you have found your cards and messages interesting and insightful this week?
Please find your message from the Angels below and whatever your star sign - have a wonderful weekend :)
Brightest Blessings,
Kaz
www.blessingz.co.uk
www.cheekywitch.co.uk

This week I am using the

Messages from you Angels Oracle Cards

by Doreen Virtue, Ph.D.


Quoted from the pack: "This card deck makes it easier than ever to give an amazingly accurate angel reading for yourself or others. Each card features a gorgeous angel painting, along with a one or two sentence message.
These cards will help you and others know what your exact life purpose it, whether ot not someone is your soulmate or not, what to do about your job and living situatuations, and other inportant life questions. Doreen based the cards upon her actual angel readings, using most commonly asked questions and angelic answers to create the ultimate deck for both the beginner and advanced card reader."

My personal card for today

: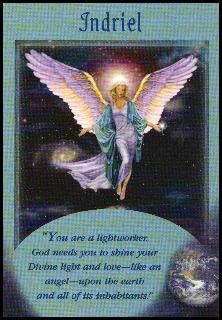 INDRIEL
"You are a lightworker. God needs you to shine your Divine light and love - like an angel - upon the earth and all of its inhabitants.
Additional message: "Yes, you are a lightworker. As such, you have always had a burning desire to make the world a better place. It is a deep calling that is beyond time and space. You are often called into service during ordinary circumstances, such as when you are shopping for groceries and someone needs your help. Right now, your life's mission is expanding so that you can reach even more people. This will require you to make some life changes that you will learn through your inner guidance.
You are deeply sensitive to others' emotions, and it is important for you to clear yourself regularly - especially after helping someone. You can call upon Archangel Michael, your other guardian angels and me to clear you of toxins or cords that may have resulted from your helpful efforts. You are an Earth Angel, and we are happy to assist you in all ways. Just ask!"

Today's cards for each of the star signs

:

Due to lack of time, etc. These are the 'quick reading' messages - for the full reading and meaning of the cards you will need to obtain these cards for yourself - or get someone else to buy them for you as a gift!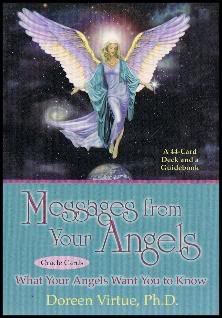 Here are your messages and insights for today. Try to sit quietly for a few moments, meditate on your card and think about how you can learn from, and act upon, its message...

Aries

: ROSETTA

Quick message: "You have a gift for working with young people, and your Divine purpose involves helping, teaching or parenting children."

Taurus

: ARCHANGEL GABRIELLE

Quick message: "You have an important life purpose involving communication and the arts. Please don't allow insecurities to hold you back. I will help you."

Gemini

: AZURE

Quick message: "Your desired outcome will occur in the very near future. Have patience and faith, and don't try to force it to happen."

Cancer

: LEILA

Quick message: "Spend time alone in nature, meditating about your desires and intentions. Ask the angels to help you gain a positive perspective."

Leo

: ATHENA

Quick message: "It is safe for you to be powerful. You know how to be powerful in a loving way that benefits others as well as yourself."

Virgo

: BETHANY

Quick message: "When you take excellent care of yourself, everybody benefits. Give yourself a relaxing treat today, such as a massage, sea salt bath, or pedicure."

Libra

: SHANTI

Quick message:"I am the Angel of Peace. I bring you new tranquility and a smoother road ahead."

Scorpio

: MERLINA

Quick message: "You are confused and indecisive because you do not have enough information. Do research or seek expert advice before making a decision."

Sagittarius

: OCEANA

Quick message:"Take action. You're in touch with your truth in this situation, and you need to trust your gut and lovingly assert yourself."

Capricorn

: YVONNE

Quick message:"You have a special bond with animals. Your pets on Earth and Heaven are watched over by angels."

Aquarius

: TERESA

Quick message: "Time-out! You've been so busy taking care of everyone else's needs, but now it's time to stop and take care of yourself."

Pisces

: GRACE AND ANTOINETTE

Quick message: "To help heal this situation, see the other person's point of view with compassion."

Please feel free to leave any comments here on Blogger, or on my Facebook Page
The Daily Divination
, or on
Twitter
Thank you!