Greetings!

It's Manic Monday! EEEK!

Just popping in quickly to do the cards and messages - I'm using the Magical Mermaids and Dolphins Oracle Cards by Doreen Virtue, Ph.D., this week.

Whatever your star sign - have a good day :)

Brightest Blessings,
Kaz
www.blessingz.co.uk
www.cheekywitch.co.uk



This week I am using the beautiful

Magical Mermaids and Dolphins Oracle Cards

by Doreen Virtue, Ph.D.


Quoted from the pack: "The Magical Mermaids and Dolphins Oracle Cards are specifically designed to help you manifest your goals, life purpose, and Divinely inspired dreams. These 44 beautifully illustrated cards can help you swim into the ocean of your unconscious mind, where profound thoughts and feelings can create - or block - your heart's desire. The cards are easy to use, and the enclosed guidebook will help you perform amazingly accurate readings for yourself and others."

My personal card for today

: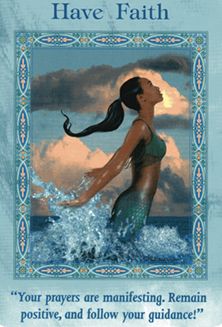 HAVE FAITH
Your prayers are manifesting. Remain positive, and follow your guidance!
Divinatory meaning: Good work! You've been asking and praying for some big dreams to come true… and it's working! Just like a gardener who has planted new seeds, you must have faith that your crops will push above the surface. Keep watering your dreams by taking the steps that make them flourish.
This is a precious time for you and your dreams. You don't have to strain or push to make them come true. You've already accomplished the major part of the manifestation by asking and praying.
Trust that Heaven is helping you - just like a best friend would if you asked for their assistance. Your job is to have faith, listen for Divine guidance, and take action whenever you're guided.

Today's cards for each of the star signs

:

Due to lack of time, etc. These are the 'quick reading' messages - for the full reading and meaning of the cards you will need to obtain these cards for yourself - or get someone else to buy them for you as a gift!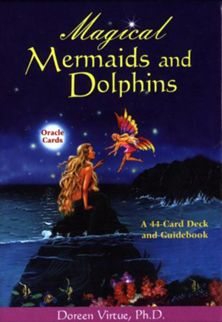 Here are your messages and insights for today. Try to sit quietly for a few moments, meditate on your card and think about how you can learn from, and act upon, its message...

Aries

: CONSULT AN EXPERT

More information is needed. Contact someone with expertise in this area.

Taurus

: WAVES OF PROSPERITY

New abundance and exciting opportunities wash over you now.

Gemini

: READY, SET, GO!

Now is the perfect moment to dive in and embrace your heart's desire.

Cancer

: FRIENDSHIP

Make a date for a play day with one or more friends.

Leo

: PROTECTION

You, your loved ones, and your possessions are safe and protected by Heaven!

Virgo

: MAKE A DECISION

Feeling stuck or indecisive? Listen to your intuition and make a decision!

Libra

: TIME TO MOVE ON

It's time to let go of the old and worn out so that the new can come in.

Scorpio

: MORNING AFFIRMATIONS

Say positive affirmations each morning to open the gates of manifestation.

Sagittarius

: ALCHEMY

You have the Midas touch right now, and every project you begin turns to gold.

Capricorn

: REST

You've been working hard. Take a nap and get some rest.

Aquarius

: MOTHER HEALING

As your feelings toward your mother heal, your desires manifest more rapidly and accurately.

Pisces

: SYNCHRONICITY

Your prayers and questions are being answered by synchronistic events. Notice them in order to increase their flow.

Please feel free to leave any comments here on Blogger, or on my Facebook Page
The Daily Divination
, or on
Twitter
Thank you!