Greetings!

I've been trying to do too many things at once today and totally forgot about the cards!

However, here they are - and it's better late than never!

Please find your message from the angels below and whatever your star sign - have a good day :)

Brightest Blessings,
Kaz
www.blessingz.co.uk
www.cheekywitch.co.uk



This week I am using the
Messages from you Angels Oracle Cards

by Doreen Virtue, Ph.D.
Quoted from the pack: "This card deck makes it easier than ever to give an amazingly accurate angel reading for yourself or others. Each card features a gorgeous angel painting, along with a one or two sentence message.
These cards will help you and others know what your exact life purpose it, whether ot not someone is your soulmate or not, what to do about your job and living situatuations, and other inportant life questions. Doreen based the cards upon her actual angel readings, using most commonly asked questions and angelic answers to create the ultimate deck for both the beginner and advanced card reader."

My personal card for today

:
ROSETTA
"You have a gift for working with young people, and your Divine purpose involves helping, teaching or parenting children."
Additional message: "Children respond to your openhearted nature. You are also charmed by their straightforward honesty, laughter, and innocence. In many ways, they engage and heal your own inner child. You seek to give these hildren that which you desired when
you
were young. You also feel an inner calling to improve the lives of children, and you may wonder about the best way to proceed.
I am with you as a guardian angel who delights in bringing you new opportunities to help children. All you need to do is notice the young people whom I bring into your orbit. Be your delightful self with these children, and the rest will take care of itself. As soon as you're ready for an increased role, please say the word to me, and I will increase the number of lives you touch. Please be assured that I understand your temperament and will only bring you to situations that match your passions, talents, and interests. You are a blessing to children everywhere!"

Today's cards for each of the star signs

:

Due to lack of time, etc. These are the 'quick reading' messages - for the full reading and meaning of the cards you will need to obtain these cards for yourself - or get someone else to buy them for you as a gift!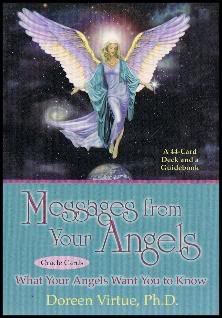 Here are your messages and insights for today. Try to sit quietly for a few moments, meditate on your card and think about how you can learn from, and act upon, its message...

Aries

: ATHENA

Quick message: "It is safe for you to be powerful. You know how to be powerful in a loving way that benefits others as well as yourself."

Taurus

: ROCHELLE

Quick message: "As you honor and follow the guidance of your heart, prosperity is coming to you now."

Gemini

: VANESSA

Quick message: "To make your decision, ask yourself, 'Which way brings me closer to my divine purpose? Which way takes me away from it?' "

Cancer

: GRACE AND ANTOINETTE

Quick message: "To help heal this situation, see the other person's point of view with compassion."

Leo

: CELESTE

Quick message: "A happy move to a new home or place of employment is in the works. This movement will usher in positive new energy."

Virgo

: FIONA

Quick message: "Now that you've asked the angels for help, be open to receiving Divine guidance and assistance. You deserve heaven's help!"

Libra

: INDRIEL

Quick message: "You are a lightworker. God needs you to shine your Divine light and love - like an angel - upon the earth and all of its inhabitants.

Scorpio

: MYSTIQUE

Quick message: "Keep charging ahead, and don't take no for an answer. Expect miraculous solutions to appear."

Sagittarius

: SEREPHINA

Quick message: "I am the Angel of Families. a happy change or addition is coming to your family."

Capricorn

: ISAIAH

Quick message: "It's a good time to give birth to new ideas and situations in your life. I am watching over you, guiding you and protecting you during these changes."

Aquarius

: PATIENCE

Quick message: "Now is the time to learn, study, and gather information. Enjoy being a student, because in the future, you will synthesize your knowledge into action."

Pisces

: OPAL

Quick message: "Your children on Earth and in Heaven are happy and well cared for by god and the angels."

Please feel free to leave any comments here on Blogger, or on my Facebook Page
The Daily Divination
, or on
Twitter
Thank you!