Greetings!

Where did the morning go?!

Busy 'problem-solving' and 'finance-juggling'...

Now I really need to get on with some orders!

Please find your message for Wednesday below and whatever your star sign - enjoy your day :)

Brightest Blessings,
Kaz
www.blessingz.co.uk
www.cheekywitch.co.uk



This week I am using the

Messages from you Angels Oracle Cards

by Doreen Virtue, Ph.D.


Quoted from the pack: "This card deck makes it easier than ever to give an amazingly accurate angel reading for yourself or others. Each card features a gorgeous angel painting, along with a one or two sentence message.
These cards will help you and others know what your exact life purpose it, whether ot not someone is your soulmate or not, what to do about your job and living situatuations, and other inportant life questions. Doreen based the cards upon her actual angel readings, using most commonly asked questions and angelic answers to create the ultimate deck for both the beginner and advanced card reader."

My personal card for today

: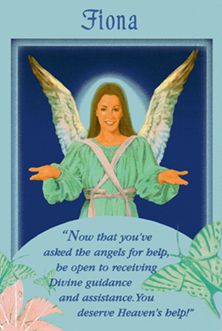 FIONA
"Now that you've asked the angels for help, be open to receiving Divine guidance and assistance. You deserve heaven's help!"
Additional message: "I am so happy that you asked for help from God and the angels. I am here to ask you to be open to our help. Sometimes I watch you struggle with situations that could easily be resolved if you would let me help you. I wait for you to give me any signal - a prayer or a thought of
Help!
- so that I can become involved in the solution.
Now you have asked for my help, and I am very glad to assist you. Because, you see, at other times, you have blocked me from doing so. You believed that you didn't
deserve
my help, or that making necessary life changes was too threatening. Remember that I am here to help you ease your mind. I need you to trust my guidance.
Notice the strong and repetitive impressions that come to you through your thoughts, feelings and visions. They are real messages from God - through me, to you. We won't let you fail in any way. You are fully supported by Heaven as you follow your Divine guidance."

Today's cards for each of the star signs

:

Due to lack of time, etc. These are the 'quick reading' messages - for the full reading and meaning of the cards you will need to obtain these cards for yourself - or get someone else to buy them for you as a gift!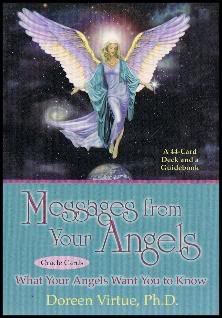 Here are your messages and insights for today. Try to sit quietly for a few moments, meditate on your card and think about how you can learn from, and act upon, its message...

Aries

: INDRIEL

Quick message: "You are a lightworker. God needs you to shine your Divine light and love - like an angel - upon the earth and all of its inhabitants.

Taurus

: SONYA

Quick message:"I bring you a message from your deceased loved one: 'I am happy, at peace, and I love you very much. Please don't worry about me."

Gemini

: ARIELLE

Quick message: "New psychic and spiritual experiences are changing the way you view the world and yourself. Allow your spiritual gifts to open - through study, prayer, and meditation."

Cancer

: ZANNA

Quick message: "You are protected from all types of harm. The worst is now behind you. I ask you to relax and feel safe."

Leo

: SEREPHINA

Quick message: "I am the Angel of Families. a happy change or addition is coming to your family."

Virgo

: ISAIAH

Quick message: "It's a good time to give birth to new ideas and situations in your life. I am watching over you, guiding you and protecting you during these changes."

Libra

: GRACE AND ANTOINETTE

Quick message: "To help heal this situation, see the other person's point of view with compassion."

Scorpio

: RAYE

Quick message: "Yoga and exercise are essential to your well-being, peace of mind, and spiritual growth right now."

Sagittarius

: LEILA

Quick message: "Spend time alone in nature, meditating about your desires and intentions. Ask the angels to help you gain a positive perspective."

Capricorn

: CRYSTAL

(2 days in a row!)

Quick message: "Have faith and hope, because there is something positive and new on the horizon that you can't yet see."

Aquarius

: ISABELLA

Quick message:"Yes, the timing is right for this new venture. a happy outcome follows your positive expectations."

Pisces

: CHANTELLE

Quick message: "New romance is imminent -either with a newcomer; or through re-ignited passion in your existing relationship. Be open to giving and receiving love."

Please feel free to leave any comments here on Blogger, or on my Facebook Page
The Daily Divination
, or on
Twitter
Thank you!