Good morning!

It's a beautiful sunny October day here on the south coast of England - I hope the sun is shining on you too, wherever in the world you may be!

Just flying in quickly to do today's cards and messages - then I have to go in search of printer ink as the delivery I was expecting today failed to a arrive! So annoying when you're out of one colour and it's the one colour you desperately need!

Please find your message from the Angels for Tuesday below and whatever your star sign - have a lovely day :)

Brightest Blessings,
Kaz
www.blessingz.co.uk
www.cheekywitch.co.uk



This week I am using the
Messages from you Angels Oracle Cards

by Doreen Virtue, Ph.D.


Quoted from the pack: "This card deck makes it easier than ever to give an amazingly accurate angel reading for yourself or others. Each card features a gorgeous angel painting, along with a one or two sentence message.
These cards will help you and others know what your exact life purpose it, whether ot not someone is your soulmate or not, what to do about your job and living situatuations, and other inportant life questions. Doreen based the cards upon her actual angel readings, using most commonly asked questions and angelic answers to create the ultimate deck for both the beginner and advanced card reader."

My personal card for today

:
SEREPHINA - "I am the Angel of Families. a happy change or addition is coming to your family."
Additional message: "Your prayers about family have been heard, and I have been sent to watch over you and answer your prayers. I am here to tell you about a beautiful change coming to your family. You are going through a period of adjustment right now, to prepare for this change. It might feel chaotic or disorganized, but be assured that this is simply part of the nesting process.
I will guide you through this time and help you with any upsets that may occur. Any challenges will stimulate forthright discussion, and this truth is very cleansing. It helps you to know your own feelings and priorities on a deeper level, and allows you to share with others in a deeply honest way, Then, when the purpose of the turmoil has been served, the storm will blow over, revealing blue skies for all. This happy change or addition to your family is Divinely ordered. Surrender any worries to God, and allow Heaven to serve your spiritual family who helps, guides and watches over you. We love you very much!"

Today's cards for each of the star signs

:

Due to lack of time, etc. These are the 'quick reading' messages - for the full reading and meaning of the cards you will need to obtain these cards for yourself - or get someone else to buy them for you as a gift!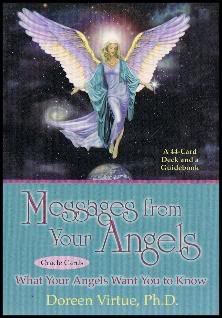 Here are your messages and insights for today. Try to sit quietly for a few moments, meditate on your card and think about how you can learn from, and act upon, its message...

Aries

: SONYA

Quick message:"I bring you a message from your deceased loved one: 'I am happy, at peace, and I love you very much. Please don't worry about me."

Taurus

: ZANNA

Quick message: "You are protected from all types of harm. The worst is now behind you. I ask you to relax and feel safe."

Gemini

: ROCHELLE

Quick message: "As you honor and follow the guidance of your heart, prosperity is coming to you now."

Cancer

: LEILA

Quick message: "Spend time alone in nature, meditating about your desires and intentions. Ask the angels to help you gain a positive perspective."

Leo

: AZURE

Quick message: "Your desired outcome will occur in the very near future. Have patience and faith, and don't try to force it to happen."

Virgo

: TERESA

Quick message: "Time-out! You've been so busy taking care of everyone else's needs, but now it's time to stop and take care of yourself."

Libra

: OCEANA

Quick message:"Take action. You're in touch with your truth in this situation, and you need to trust your gut and lovingly assert yourself."

Scorpio

: AKASHA

Quick message: "You are a spiritual teacher. You have the ability to counsel others and help them awaken their spiritual gifts and Divine life mission."

Sagittarius

: CARESSA

Quick message: "You are at the end of a cycle in your life. Call upon your angels to comfort you, and to guide you to your next step. Happiness awaits you now."

Capricorn

: CRYSTAL

Quick message: "Have faith and hope, because there is something positive and new on the horizon that you can't yet see."

Aquarius

: INDRIEL

Quick message: "You are a lightworker. God needs you to shine your Divine light and love - like an angel - upon the earth and all of its inhabitants.

Pisces

: YVONNE

Quick message:"You have a special bond with animals. Your pets on Earth and Heaven are watched over by angels."

Please feel free to leave any comments here on Blogger, or on my Facebook Page
The Daily Divination
, or on
Twitter
Thank you!