Good morning!

It's Manic Monday! Eeek!

Once again - I am starting the week trying to improve my time-management skills.

I got off to a good start by getting to bed well before midnight last night (it's usually closer to 1am!) and I managed to get about 7 hours sleep in total...

Aiming to get the cards done earlier each day than I have been doing of late too.

So you can see that I am full of good intentions this Monday morning!

This week I am using the Messages from you Angels Oracle Cards by Doreen Virtue, Ph.D.

Click here or on the photo for more information about these lovely cards.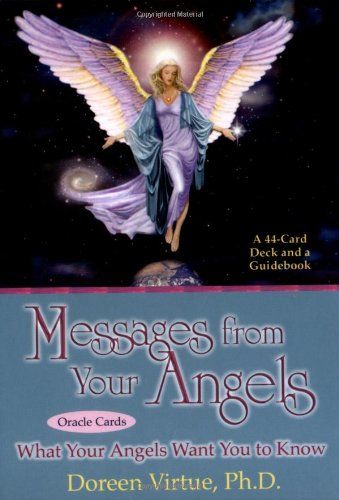 Please find your message below and whatever your star sign - have a good day :)
Brightest Blessings,
Kaz
www.blessingz.co.uk
www.cheekywitch.co.uk

This week I am using the

Messages from you Angels Oracle Cards

by Doreen Virtue, Ph.D.


Quoted from the pack: "This card deck makes it easier than ever to give an amazingly accurate angel reading for yourself or others. Each card features a gorgeous angel painting, along with a one or two sentence message.
These cards will help you and others know what your exact life purpose it, whether ot not someone is your soulmate or not, what to do about your job and living situatuations, and other inportant life questions. Doreen based the cards upon her actual angel readings, using most commonly asked questions and angelic answers to create the ultimate deck for both the beginner and advanced card reader."

My personal card for today

: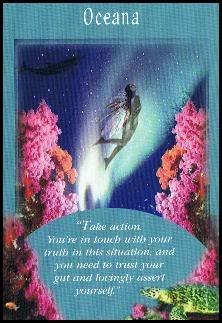 OCEANA
"Take action. You're in touch with your truth in this situation, and you need to trust your gut and lovingly assert yourself."
Additional message: "Dive right in! There's no need for more research or time. You can trust your feelings on this one. I will guide you through the actions that are necessary, considering the circumstances. Your main concern is to avoid procrastination at all costs. Break the situation down into small steps so that you don't become overwhelmed. Then, take those steps in regular intervals.
You already know what to do about this situation, and you have made up your mind to take action. I am here to validate that your decision is on the path of Light. Although there might be some temporary hard work or emotional turmoil, this will soon be replaced by a lightness of spirit akin to gently floating on a summer breeze.
Sometimes you may feel too emotional or tired to take action. That is because you're unsure of the 'correctness' of your decisions. Usually, unfounded guilt is the culprit that is draining your energy and happiness. This is when it's important to call upon the angels to shore up your faith. Notice how the doors open smoothly with each step you take. That is one more sign that you're taking the best course of action.

Today's cards for each of the star signs

:

Due to lack of time, etc. These are the 'quick reading' messages - for the full reading and meaning of the cards you will need to obtain these cards for yourself - or get someone else to buy them for you as a gift!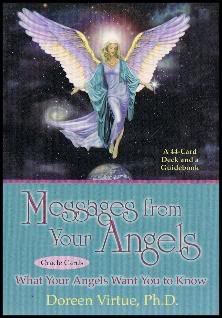 Here are your messages and insights for today. Try to sit quietly for a few moments, meditate on your card and think about how you can learn from, and act upon, its message...

Aries

: SEREPHINA

Quick message: "I am the Angel of Families. a happy change or addition is coming to your family."

Taurus

: DANIEL

Quick message: "I am the Angel of Marriage, and I am assisting you right now."

Gemini

: ROSETTA

"You have a gift for working with young people, and your Divine purpose involves helping, teaching or parenting children."

Cancer

: MERLINA

"You are confused and indecisive because you do not have enough information. Do research or seek expert advice before making a decision."

Leo

: ARCHANGEL RAPHAEL

Quick message: "I am helping you heal physical challenges in yourself and others. You are a healer, like me."

Virgo

: SONYA

Quick message:"I bring you a message from your deceased loved one: 'I am happy, at peace, and I love you very much. Please don't worry about me."

Libra

: INDRIEL

Quick message: "You are a lightworker. God needs you to shine your Divine light and love - like an angel - upon the earth and all of its inhabitants.

Scorpio

: RAYE

Quick message: "Yoga and exercise are essential to your well-being, peace of mind, and spiritual growth right now."

Sagittarius

: ATHENA

"It is safe for you to be powerful. You know how to be powerful in a loving way that benefits others as well as yourself."

Capricorn

: LEILA

Quick message: "Spend time alone in nature, meditating about your desires and intentions. Ask the angels to help you gain a positive perspective."

Aquarius

: AZURE

Quick message: "Your desired outcome will occur in the very near future. Have patience and faith, and don't try to force it to happen."

Pisces

: OMEGA

Quick message: "Victory! Your desire is coming to fruition. Keep up the good work!"

Please feel free to leave any comments here on Blogger, or on my Facebook Page
The Daily Divination
, or on
Twitter
Thank you!