Greetings!

Well, it's Friday again already!

The weeks are just flying by - aren't they?

September is here, Halloween is fast approaching and before we know it, it will be Christmas!

I can hear the groans... However, I am already receiving Christmas orders and it certainly makes sense these days, when we're all having to watch our finances, to start buying gifts early to help spread the costs.

I have lots of work to do in my Krimbles store and have made a start this week - I do enjoy it so much!

However, my energies are really scattered at the moment - because I have so much to do and seem to jump from one thing to the other and back again - all the time...

Not a suprise then, when I shuffled the cards and 2 flew out for me for this weekend!

Decisions and Balance!

I don't know about you - but for me the cards are usually so right...

Please find your message for the weekend ahead below and - whatever your star sign - have a great weekend :)

Brightest Blessings,
Kaz
www.blessingz.co.uk
www.cheekywitch.co.uk



This week I am using the
Cosmic Ordering Oracle wish Cards

by Stephen Richards and Karen Whitelaw Smith


Quoted from the pack: "This guidance booklet will give you the meaning of the 44 pocket sized Cosmic Ordering Oracle Wish Cards. Use them in many different ways and learn to work with the energy of that card.
Use the cards in your daily life to make a wish and watch it come true."

My personal cards for the weekend

: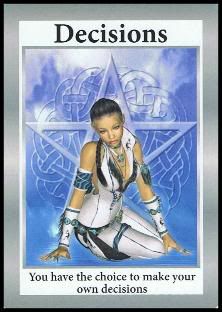 DECISIONS
You have the choice to make your own decisions
Full meaning: We all make decisions every day of our lives. Some move us forward, some trap us in the status quo. Now is the time to make the decision you've been avoiding.
Make a guided choice today, based in Spirit. A calm mind is required; our thinking creates our behaviour. The Cosmos identifies our true intent, so let your choice be constructive and mindful of others' needs.
Be decisive in today's Cosmic Order. Whatever your decision, act accordingly. Make the decision today to achieve greatness.
And my second card is: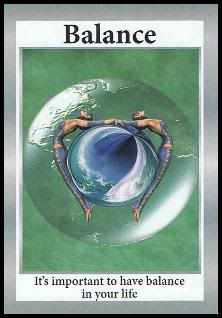 BALANCE
It's important to have balance in your life
Full meaning: Drawing this card indicates an imbalance in your life.
Is it in your physical body? Are you maintaining habits and activities to create a healthier you?
Is your imbalance emotional? What barriers to well-being are you erecting today? The gifts of the Universe need to flow. Where are you on the scale of giving and receiving?
Is your imbalance Spiritual? The solution is Faith. Trust the Cosmos. Use its strength to create your destiny.

Today's cards for each of the star signs

:

Due to lack of time, etc. These are the 'quick reading' messages - for the full reading and meaning of the cards you will need to obtain these cards for yourself - or get someone else to buy them for you as a gift!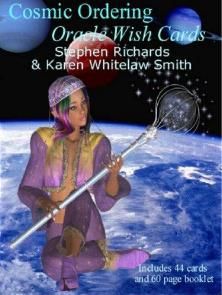 Here are your messages and insights for today. Try to sit quietly for a few moments, meditate on your card and think about how you can learn from, and act upon, its message...

Aries

: EMPOWERING Empower yourself

Do you empower those around you, inspiring them to achieve their goals? Or do you fear others will steal your power? Use your personal energy to empower others today. Praise people for their kindness. As we sow, so shall we reap.

Taurus

: HAPPINESS Happiness comes from knowing who you are

Happiness is your birthright. Claim it today. Make the decision to be happy, regardless of circumstance.

Gemini

: THOUGHTS Your thoughts create you future

To be happy, we must think happy thoughts. Fill your mind with love and watch it spill out into every aspect of your existence.
Cancer

: FORGIVENESS Learn to forgive others

Forgiving someone who has wronged us is the hardest lesson the human spirit can learn. But it is a vital lesson. Without forgiveness, anger rages through our lives like a torrent, destroying everything in its path.

Leo

: BIRTH The start of new beginnings

This card designates a new beginning. Choosing it signifies that today marks a new stage in your journey.

Virgo

: WISHES Make a wish and watch it come alive

Clear any obstacles to positivity. Keep your order free of ill thinking. Tune your will to the Spirit, and receive all the freedom and personal happiness you ever wanted.

Libra

: SPIRITUAL POWER It's time to unleash the power within and set yourself free

Use self-relaxation to discover your Spiritual power, which means connecting to Infinite Energy; with it we can move mountains.

Scorpio

: REFLECTIONS When you decide on what you want then that's what you get

Invoke the help of the Cosmos to change those things about your appearance you don't like.

Sagittarius

: GRATITUDE To be wealthy you have to be more grateful

Cultivate gratitude for all the gifts you've been given and those you've yet to receive.

Capricorn

: NEW DIRECTION Take time to re-assess your life

Invite the Cosmos to help you start anew. Take stock. Consider. Evaluate. Beware self-sabotage. Every time you catch yourself thinking negatively, change direction. Repeat the thought in an affirmative way.

Aquarius

: DREAM BIG Live life to the full

You stand at the door of unlimited abundance. The bigger your dream, the further it will take you on your journey. There are no limitations but your imagination.

Pisces

: CAREER Time to look at a new career path

Remember what you are on this earth to achieve. How can you align your work life with that goal? Reconnect with Spirit, asking to be shown the way forward. Through its guidance you will achieve the success you desire.

Please feel free to leave any comments here on Blogger, or on my Facebook Page
The Daily Divination
, or on
Twitter
Thank you!