Good morning/afternoon!

I still haven't got my clone yet and still snowed under with back to school orders (although some have gone back already!) so I'm just quickly popping in to do the cards.

I do hope you have found the cards to be interesting and relevant this week?

Whatever your star sign - have a good day :)

Brightest Blessings,
Kaz
www.blessingz.co.uk
www.cheekywitch.co.uk



This week I am using the

Cosmic Ordering Oracle wish Cards

by Stephen Richards and Karen Whitelaw Smith


Quoted from the pack: "This guidance booklet will give you the meaning of the 44 pocket sized Cosmic Ordering Oracle Wish Cards. Use them in many different ways and learn to work with the energy of that card.
Use the cards in your daily life to make a wish and watch it come true."

My personal card for today

: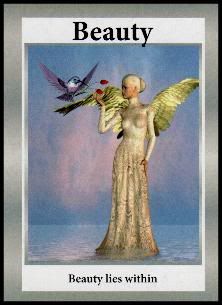 BEAUTY
Beauty lies within
Full meaning: Beauty is all around us, in nature, in golden sunsets, in glistening oceans and the amazing symmetry of flowers. We only have to open out eyes to it. Meditate on the beauty of the planet. Allow its healing power to de-charge your negative emotions and reconnect you to the earth.
You are part of this beautiful Cosmos. Its beauty lies deep within each of us. Are you hiding your spiritual beauty?
Connect with your real Self today. Focus on the highest, purest part of you. Show your beauty. Smile.
Today's cards for each of the star signs

:

Due to lack of time, etc. These are the 'quick reading' messages - for the full reading and meaning of the cards you will need to obtain these cards for yourself - or get someone else to buy them for you as a gift!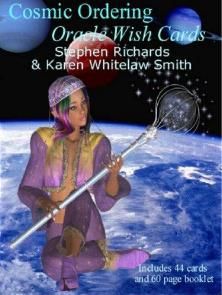 Here are your messages and insights for today. Try to sit quietly for a few moments, meditate on your card and think about how you can learn from, and act upon, its message...

Aries

: BIRTH The start of new beginnings

This card designates a new beginning. Choosing it signifies that today marks a new stage in your journey.

Taurus

: NEW DIRECTION Take time to re-assess your life

Invite the Cosmos to help you start anew. Take stock. Consider. Evaluate. Beware self-sabotage. Every time you catch yourself thinking negatively, change direction. Repeat the thought in an affirmative way.

Gemini

: RELATIONSHIPS The best relationship you will have is with yourself.

Use the law of attraction today to manifest your perfect partner or improve an existing relationship. Visit a friend or family member you haven't seen for a while. Show your appreciation of them.

Cancer

: COURAGE It only takes a little bit of courage to change

Be true to yourself and you will be given the courage to overcome your difficulties.

Leo

: MUSIC Listen to the music and feel the energy

Feel the music of Creation in your body. Use it to raise your vibrations, physical and mental.

Virgo

: LOVE True love never dies

Love is the greatest spiritual, magnetic force we know. Focus on its magnificent energy. Take a moment to revel in it, and then send out loving, peaceful thoughts to the world.

Libra

: HAPPINESS Happiness comes from knowing who you are

Happiness is your birthright. Claim it today. Make the decision to be happy, regardless of circumstance.

Scorpio

: DESIRE The desire to achieve success

Visualise yourself achieving your aims. Feel the success, then un-harness your belief. With the power of the cosmos anything is attainable.

Sagittarius

: SELF-BELIEF Believe in yourself to change your life

Focus only on the positive. Make choices today in line with your highest good. Use your gifts, in gratitude, believing they will lead to the right path.

Capricorn

: MESSAGES FROM YOUR LOVED ONES Stop and listen

Our loved ones will always find ways of connecting with us, especially in times of need.

Aquarius

: FORGIVENESS Learn to forgive others

Forgiving someone who has wronged us is the hardest lesson the human spirit can learn. But it is a vital lesson. Without forgiveness, anger rages through our lives like a torrent, destroying everything in its path.

Pisces

: GRATITUDE To be wealthy you have to be more grateful

Cultivate gratitude for all the gifts you've been given and those you've yet to receive.

Please feel free to leave any comments here on Blogger, or on my Facebook Page
The Daily Divination
, or on
Twitter
Thank you!