Good morning!

I hope you had a good weekend?

There's a distinct autumnal chill in the air and I'm loving it!

I do love this time of the year - it will soon be Halloween.... and then Christmas!

Yes, I think all the 'ber' months are definitely my favourite months of the year :)

It's Manic Monday - so much to do, but first the cards!

This week I am using the Power Animal Oracle Cards by Steven D.Farmer, Ph.D.

Click on the photo for more details about this lovely deck.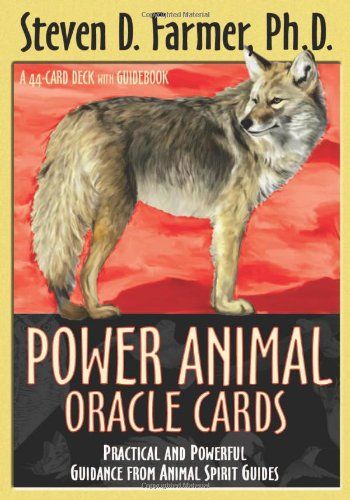 Please find your animal message for Monday below and whatever your star sign - have a good day :)
Brightest Blessings,
Kaz
www.blessingz.co.uk
www.cheekywitch.co.uk
This week I am using the
Power Animal Oracle Cards
by Steven D.Farmer, Ph.D.
Quoted from the pack: "Power Animals are spirit guides in animal form who provide protection, guidance and healing. This deck of 44 oracle cards by Steven Farmer will connect you with animal spirit guides who will advise you about any aspect of your life. Whether you're a beginner or an experienced reader, the enclosed easy-to-follow guidebook provides instructions to help you immediately give accurate readings to yourself and others."

My personal card for today

: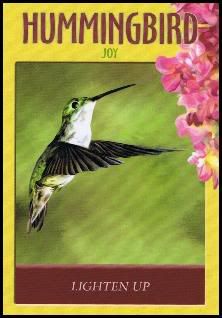 HUMMINGBIRD - JOY
LIGHTEN UP
Additional Association: Flexibility; Sensitivity; Vibration; Colour
Divinatory meaning: Have you ever seen images of the laughing Buddha? Or the laughing Jesus? Well, these spiritual masters and many others knew that life was not to be taken all that seriously. Life is very transitory and fleeting and although we may interpret events in our life as requiring solemnity, they're usually not that big a deal. Don't take everyday life too seriously - it's meant to be enjoyed! Have a good time, whether working, playing, resting, eating, or just hanging out with loved ones.
Yes, there are tragedies and losses, and it's best to give yourself time and space to grieve, to release the tears and let them fall away. Eventually let your grief transmute to joyful remembrance and warm feelings for who and what has to come before. There's such precious little time on this beautiful planet. Make every moment count. Love, and then go and love some more, no matter what else is going on!

Today's cards for each of the star signs

:

Due to lack of time, etc. These are the 'quick reading' messages - for the full reading and meaning of the cards you will need to obtain these cards for yourself - or get someone else to buy them for you as a gift!

Here are your messages and insights for today. Try to sit quietly for a few moments, meditate on your card and think about how you can learn from, and act upon, its message...

Aries

: COUGAR - CONFIDENCE

Be bold and TAKE CHARGE

Additional Associations: Stealth; Leadership; Focus; Conviction

Taurus

: SWAN - GRACE

APPRECIATE THE BEAUTY inside and all around you

Additional Associations: Elegance; Purity; Innocence

Gemini

: RAVEN - MAGIC

OWN your power

Additional Association: Shadow; Insight; Prophecy; Shape-Shifting

Cancer

: MONKEY - INGENUITY

The situation calls for ADAPTABILITY and INNOVATION

Additional Association: Dexterity; Clevernes; Inquisitiveness; Innovation

Leo

: OWL - OMENS

Pay attention to SIGNS

Additional Association: Wisdom; Shadows; Secrecy; Magician

Virgo

: BUTTERFLY - TRANSFORMATION

Get ready for a BIG BREAKTHROUGH

Additional Association: Rebirth; Vibrancy; Reincarnation; Colourfulness

Libra

: DOVE - SERENITY

SLOW DOWN, pause, and breathe

Additional Associations: Love; Soul; Domesticity; Spirituality

Scorpio

: RACCOON - RESOURCEFULNESS

You have all the RESOURCES you need

Additional Association: Stealth; Ingenuity; Cleverness; Dexterity

Sagittarius

: HORSE - FREEDOM

You always have a CHOICE

Additional Association: Integrity; Compromise; Speed; Agility

Capricorn

: FOX - ADAPTABILITY

ADAPT TO THE CHANGES that are happening

Additional Association: Shape-shifting; Flexibility; Cunning; Subtlety

Aquarius

: SEAL - IMAGINATION

IMMERSE YOURSELF in artistic and creative projects

Additional Associations: Creativity; Grace; Adaptation; Playfulness

Pisces

: MOOSE - AUTHORITY

YOU KNOW what is best for you

Additional Associations: Warrior; Self-Esteem; Balance; Fearlessness

Please feel free to leave any comments here on Blogger, or on my Facebook Page
The Daily Divination
, or on
Twitter
Thank you!