Good morning!

As usual, I'm running late on doing the blog this morning - it's almost lunchtime here in the UK!

So just quickly flying in to do the cards and messages for you all :)

Please find your mesage below and whatever your star sign - have a great day!

Brightest Blessings,
Kaz
www.blessingz.co.uk
www.cheekywitch.co.uk



This week I am using the
Power Animal Oracle Cards
by Steven D.Farmer, Ph.D.


Quoted from the pack: "Power Animals are spirit guides in animal form who provide protection, guidance and healing. This deck of 44 oracle cards by Steven Farmer will connect you with animal spirit guides who will advise you about any aspect of your life. Whether you're a beginner or an experienced reader, the enclosed easy-to-follow guidebook provides instructions to help you immediately give accurate readings to yourself and others."
My personal card for today

: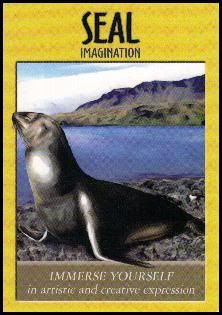 SEAL - IMAGINATION
IMMERSE YOURSELF in artistic and creative projects
Divinatory meaning: Your subconscious mind is the playground of your imagination, which waits to be called out by your willingness to unleash the bonds of personal convention and societal restraint, to challenge and surpass the usual limits you've placed on yourself regarding artistic expression. This means nothing less than to release your familiar sense of identity and stretch the boundaries of your creative mind. It's not a matter of believing - or disbelieving - that you have talent for any kind of creative pursuits. It's a matter of surrendering to the imaginative impulse that's beginning to be expressed in some form.
So drop underneath those restrictive beliefs, and tap into this most natural drive toward creative, artistic expression, perhaps something you've always wanted to do but have stopped yourself until now. Feel it in all its depth and dimensions, then throw yourself into it - whether it's singing, dancing, painting, drawing, writing, or some other path. This is food for your heart and soul. Don't put it off any longer. It's time to take that plunge.
Additional Associations: Creativity; Grace; Adaptation; Playfulness

Today's cards for each of the star signs

:

Due to lack of time, etc. These are the 'quick reading' messages - for the full reading and meaning of the cards you will need to obtain these cards for yourself - or get someone else to buy them for you as a gift!

Here are your messages and insights for today. Try to sit quietly for a few moments, meditate on your card and think about how you can learn from, and act upon, its message...

Aries

: FOX - ADAPTABILITY

ADAPT TO THE CHANGES that are happening

Additional Association: Shape-shifting; Flexibility; Cunning; Subtlety

Taurus

: DOLPHIN - PLAYFULNESS

Take time to PLAY

Additional Association: Communication; Breath; Community; Guidance

Gemini

: HUMMINGBIRD - JOY

LIGHTEN UP

Additional Association: Flexibility; Sensitivity; Vibration; Colour

Cancer

: LION - COURAGE

ASK for what you want

Additional Association: Ferocity; Nobility; Dignity; Assertiveness

Leo

: COUGAR - CONFIDENCE

Be bold and TAKE CHARGE

Additional Associations: Stealth; Leadership; Focus; Conviction

Virgo

: SQUIRREL - PREPARATION

Get ready for BIG CHANGES

Additional Associations: Gathering; Activity; Alertness; Guardian

Libra

: WOLF - GUARDIAN

YOU ARE SAFE and protected at all times

Additional Association: Family; Loyalty; Friendship; Teacher

Scorpio

: BEAR - BOUNDARIES

STAND your ground

Additional Association: Protection; Creativity; Solitude; Healing

Sagittarius

: DRAGONFLY - ILLUSION

YOU KNOW who you really are

Additional Associations: Colourfulness; Mirage; Mystery; Deception

Capricorn

: SWAN - GRACE

APPRECIATE THE BEAUTY inside and all around you

Additional Associations: Elegance; Purity; Innocence

Aquarius

: OPOSSUM - STRATEGY

Have a BACK-UP PLAN

Additional Associations: Grasping; Agility; Maternal Instinct; Stability

Pisces

: DOVE - SERENITY

SLOW DOWN, pause, and breathe

Additional Associations: Love; Soul; Domesticity; Spirituality

Please feel free to leave any comments here on Blogger, or on my Facebook Page
The Daily Divination
, or on
Twitter
Thank you!