Good morning!

Today is my dear old Dad's birthday! Happy Birthday Dad!

Sunday is my daughter Lucy's 30th birthday! She's having a party tomorrow, so we've got a busy weekend ahead :)

I am feeling very optimistic and enthusiastic today, as exciting things are happening for me at the moment... The future seems to hold lots of interesting possibilities!

I need to look at my options and seize opportunities - but first I have orders to make and emails and queries to respond to...

I need more hours in the day!

I hope you have found your messages relevant and insightful this week?

The Messages from Your Angels really is a lovely deck.

Here is a photo of the box: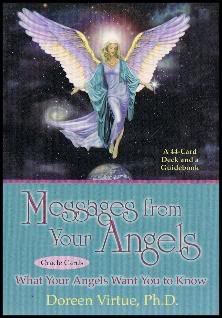 This is the image on the back of the cards.
Let's get on with the cards for the weekend ahead!
Whatever your star sign - have a wonderful weekend :)
Brightest Blessings,
Kaz
www.blessingz.co.uk
www.cheekywitch.co.uk
This week I am using the
Messages from Your Angels Oracle Cards


by Doreen Virtue, Ph.D.


Quoted from the pack: "This card deck makes it easier than ever to give an amazingly accurate angel reading for yourself or others. Each card features a gorgeous angel painting, along with a one or two sentence message.
These cards will help you and others know what your exact life purpose it, whether ot not someone is your soulmate or not, what to do about your job and living situatuations, and other inportant life questions. Doreen based the cards upon her actual angel readings, using most commonly asked questions and angelic answers to create the ultimate deck for both the beginner and advanced card reader."

My personal card for today

: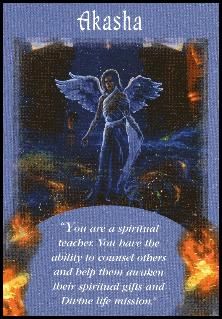 AKASHA
"You are a spiritual teacher. You have the ability to counsel others and help them awaken their spiritual gifts and Divine life mission."
Additional message: You have already helped many people by giving them guidance, advice, and messages. You have a natural gift for delivering just the right words, along with a healthy dose of comfort and inspiration. Now, we urge you to be available for even more people.
Your heart will tell you whether your teaching work will consist of writing, speaking, giving workshops, or counselling. Or, you may be guided to spontaneously help people whom you meet at the store, at school, or at work. Please know that you are absolutely qualified, and that we angels back you up with our supportive energy and loving words. This is your Divine life purpose. Ask us to help you with your teaching work, and we will do everything we can!"

Today's cards for each of the star signs

:

Due to lack of time, etc. These are the 'quick reading' messages - for the full reading and meaning of the cards you will need to obtain these cards for yourself - or get someone else to buy them for you as a gift!

Here are your messages and insights for today. Try to sit quietly for a few moments, meditate on your card and think about how you can learn from, and act upon, its message...

Aries

: CELESTE

Quick message: "A happy move to a new home or place of employment is in the works. This movement will usher in positive new energy."

Taurus

: MYSTIQUE

Quick message: "Keep charging ahead, and don't take no for an answer. Expect miraculous solutions to appear."

Gemini

: FIONA

Quick message: "Now that you've asked the angels for help, be open to receiving Divine guidance and assistance. You deserve heaven's help!"

Cancer

: OPAL

Quick message: "Your children on Earth and in Heaven are happy and well cared for by god and the angels."

Leo

: ARIELLE

Quick message: "New psychic and spiritual experiences are changing the way you view the world and yourself. Allow your spiritual gifts to open - through study, prayer, and meditation."

Virgo

: ARCHANGEL MICHAEL

Quick message: "I am with you, giving you the courage to make life changes that will help you work on your divine life purpose."

Libra

: SEREPHINA

Quick message: "I am the Angel of Families. a happy change or addition is coming to your family."

Scorpio

: ROCHELLE

Quick message: "As you honor and follow the guidance of your heart, prosperity is coming to you now."

Sagittarius

: SHANTI

Quick message:"I am the Angel of Peace. I bring you new tranquility and a smoother road ahead."

Capricorn

: MAYA

Quick message:"Schooling, study, and education help your life's purpose and personal growth at this time. The angels will guide you and help you with this process."

Aquarius

: AZURE

Quick message: "Your desired outcome will occur in the very near future. Have patience and faith, and don't try to force it to happen."

Pisces

: TERESA

Quick message: "Time-out! You've been so busy taking care of everyone else's needs, but now it's time to stop and take care of yourself."
Please feel free to leave any comments here on Blogger, or on my Facebook Page
The Daily Divination
, or on
Twitter
Thank you!