Good morning!

Phew! What a busy weekend! I'm exhausted!

We had a great one - I hope you did too?

My Dad had a lovely day for his birthday on Friday and everyone had a great time at Lucy's birthday bash in Lewes on Saturday.

She had a beautiful birthday cake!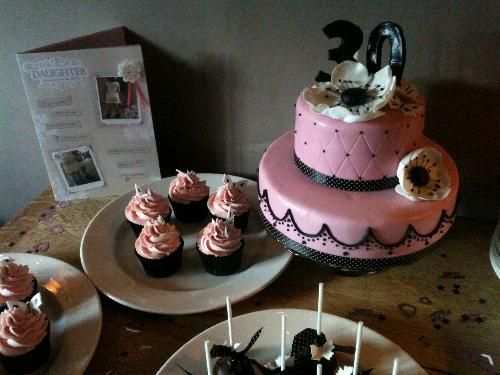 Here's Lucy cutting the cake, with the help of her cousin, Gemma.
Here's me enjoying a chocolate cake pop!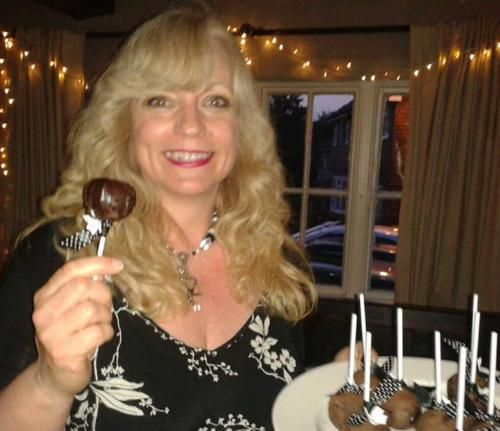 It was a lovely evening and thoroughly enjoyed by the birthday girl and all her guests :)
Yesterday was Lucy's actual birthday. She was born on the 7th day of the 7th month, and weighed 7lbs 7oz!
As her main birthday prezzy, she was treated to surprise day out at a
Jazz Festival
, with her partner and my little grandaughter - the weather was glorious and apparently they had a wonderful time!)
So I have been busy socialising this weekend - but also busy working too...
There's lots going on with my '
Cheeky Witch
' business at the moment!
I have such limited funds and so many creative ideas - so, following special requests from customers for more variations of my products, I decided to re-open and revamp my
Cheeky Witch Zazzle Store
.
Which means that, despite not having the necessary finances to produce the items myself, I can at least make lots of my ideas and creations available to the public - because Zazzle make, package and post any items that are ordered - and I earn a small royalty for designing the product... like this new mug!
And this Cheeky T Shirt!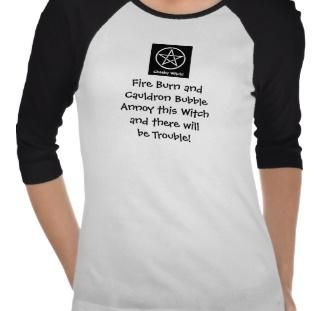 Please click on the photos above to see details of those particular items or
here
to visit my Zazzle Store!
What's great with Zazzle is that you can have my Cheeky Witch design and logo, but on your choice of mug (such as a travel mug) or garment (T Shirt, Sweatshirt, Fleece, Hoodie, etc). You can choose from lots of different styles - and different colours too!
It's all very exciting for me, to be able to get my designs out there!
However, I have received loads of orders on Ebay and Amazon this weekend, so re-vamping my Zazzle store will have to take a back seat today - while I get busy making lots of Bagz of Blessingz...
There's no rest for the Cheeky!
I am using the
Magical Mermaids and Dolphins Oracle Cards
this week, so let's get on with Monday's cards and messages....
Whatever your star sign - I hope you enjoy your day :)
Brightest Blessings,
Kaz
www.blessingz.co.uk
www.cheekywitch.co.uk

This week I am using the beautiful

Magical Mermaids and Dolphins Oracle Cards

by Doreen Virtue, Ph.D.


Quoted from the pack: "The Magical Mermaids and Dolphins Oracle Cards are specifically designed to help you manifest your goals, life purpose, and Divinely inspired dreams. These 44 beautifully illustrated cards can help you swim into the ocean of your unconscious mind, where profound thoughts and feelings can create - or block - your heart's desire. The cards are easy to use, and the enclosed guidebook will help you perform amazingly accurate readings for yourself and others."

My personal card for today

: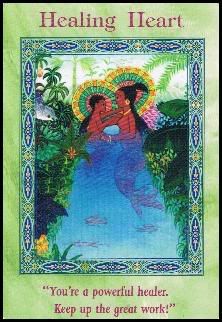 HEALING HEART
You are a powerful healer. Keep up the great work!
Divinatory meaning: Deep within your heart, you're aware of your healing abilities. Perhaps you've received feedback from others about the way your words or touch have helped them heal. By drawing this card, you're urged to take your healing work to the next level. You're also asked to purify your diet and thoughts so that higher frequencies of healing can flow through you.
By opening to the next level, you'll notice a shift in the people or situations that come to you for help. You may find the number of healing opportunities increasing, or your clients may display a greater understanding of spirituality.
Heaven wishes to support your healing work completely. If you'd like to further your education, work in a healing centre, or increase your income, just ask... and then be open to receiving.

Today's cards for each of the star signs

:

Due to lack of time, etc. These are the 'quick reading' messages - for the whole message and meaning of the cards you will need to obtain these pretty cards for yourself - or get someone else to buy them for you as a gift!

Here are your messages and insights for today. Try to sit quietly for a few moments, meditate on your card and think about how you can learn from, and act upon, its message...

Aries

: REST

You've been working hard. Take a nap and get some rest.

Taurus

: LET YOURSELF RECEIVE

Allow others to give you loving care. Receive without guilt or apologies.

Gemini

: PAY ATTENTION

Notice repetitious signs and your inner guidance, as this can yield valuable information.
Cancer

: HAVE FAITH

Your prayers are manifesting. Remain positive, and follow your guidance!

Leo

: BLESSED CHANGE

A major life change brings great blessings.

Virgo

: SYNCHRONICITY

Your prayers and questions are being answered by synchronistic events. Notice them in order to increase their flow.

Libra

: DIVINE MAGIC

Extra magical energy surrounds your situation right now. Expect miracles!

Scorpio

: SET YOUR SIGHTS HIGHER

Increase your standards, and expect more for yourself. Don't settle!

Sagittarius

: STAY OPTIMISTIC

Your dreams are coming true. Don't quit right before the miracle occurs.
Capricorn

: POSITIVE ENERGY

Surround yourself with positive people and situations, and avoid negativity.

Aquarius

: TIME TO MOVE ON

It's time to let go of the old and worn out so that the new can come in.

Pisces

: DREAM BIG

Let go of small thoughts about yourself! See yourself succeeding.

Please feel free to leave any comments here on Blogger, or on my Facebook Page
The Daily Divination
, or on
Twitter
Thank you!