Good morning!

I had quite an eventful day yesterday in all different areas of my life - mostly good and quite exciting - with a whole new career project becoming a possibilty.

(Keeping everything crossed for my new idea, but may have a long wait until I have further news... already waited 6 weeks for the reply which came finally yesterday, but my personal card for today is very encouraging!)

However, with all the goings-on yesterday I got behind with my 'day job' and ended up working and replying to emails until gone 1am...

Not surprising that I am feeling so tired this morning!

Before getting on with the cards, and then my orders, I just want to take this opportunity to wish all my friends and readers across the pond a very Happy Independence Day! Enjoy your celebrations!

Whatever your star sign - wherever you are and whatever you are doing - have wonderful day :)

Brightest Blessings,
Kaz
www.blessingz.co.uk
www.cheekywitch.co.uk



This week I am using the
Messages from Your Angels Oracle Cards


by Doreen Virtue, Ph.D.


Quoted from the pack: "This card deck makes it easier than ever to give an amazingly accurate angel reading for yourself or others. Each card features a gorgeous angel painting, along with a one or two sentence message.
These cards will help you and others know what your exact life purpose it, whether ot not someone is your soulmate or not, what to do about your job and living situatuations, and other inportant life questions. Doreen based the cards upon her actual angel readings, using most commonly asked questions and angelic answers to create the ultimate deck for both the beginner and advanced card reader."

My personal card for today

: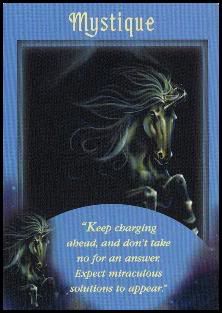 MYSTIQUE
"Keep charging ahead, and don't take no for an answer. Expect miraculous solutions to appear."
Additional message: "You are on the right path! Although it might seem to take a lot of time and effort, keep up the good work. You are definitely making progress toward your intended outcome. Sometimes flexibility is called for when you are working toward an aim. But in this instance, you need to stay firm in your conviction. Compromise will only water down the Divine plan that you're manifesting.
Resist the urge to bend, or please others. In the end, these individuals will be pleased by the outcome. You're following a Divine course, and others may not be privy to the same vision that you're following. Do your best to explain this vision to the others involved, but don't feel the need to defend your actions. Look at my picture. I am coming out of the darkness and into the light. So are you. You know what you're doing, and we in Heaven are here to back you up fully!"

Today's cards for each of the star signs

:

Due to lack of time, etc. These are the 'quick reading' messages - for the full reading and meaning of the cards you will need to obtain these cards for yourself - or get someone else to buy them for you as a gift!

Here are your messages and insights for today. Try to sit quietly for a few moments, meditate on your card and think about how you can learn from, and act upon, its message...

Aries

: ARCHANGEL RAPHAEL

Quick message: "I am helping you heal physical challenges in yourself and others. You are a healer, like me."

Taurus

: MERLINA

"You are confused and indecisive because you do not have enough information. Do research or seek expert advice before making a decision."

Gemini

: AKASHA

"You are a spiritual teacher. You have the ability to counsel others and help them awaken their spiritual gifts and Divine life mission."

Cancer

: INDRIEL

Quick message: "You are a lightworker. God needs you to shine your Divine light and love - like an angel - upon the earth and all of its inhabitants.

Leo

: ARCHANGEL MICHAEL

Quick message: "I am with you, giving you the courage to make life changes that will help you work on your divine life purpose."

Virgo

: ISAIAH

Quick message: "It's a good time to give birth to new ideas and situations in your life. I am watching over you, guiding you and protecting you during these changes."

Libra

: MAYA

Quick message:"Schooling, study, and education help your life's purpose and personal growth at this time. The angels will guide you and help you with this process."

Scorpio

: SHANTI

Quick message:"I am the Angel of Peace. I bring you new tranquility and a smoother road ahead."

Sagittarius

: BRIDGETTE

Quick message: "Caution is warranted. Look deeper into this situation before proceeding further."
Capricorn

: ARIELLE

Quick message: "New psychic and spiritual experiences are changing the way you view the world and yourself. Allow your spiritual gifts to open - through study, prayer, and meditation."

Aquarius

: ARCHANGEL URIEL

Quick message: "Your emotions are healing, which enables you to open to greater love. I will help you release anger and unforgiveness from your heart and mind."

Pisces

: ARCHANGEL GABRIELLE

Quick message: "You have an important life purpose involving communication and the arts. Please don't allow insecurities to hold you back. I will help you."

Please feel free to leave any comments here on Blogger, or on my Facebook Page
The Daily Divination
, or on
Twitter
Thank you!