Good morning!

Well, it's the day before my birthday and I should be feeling happy and excited, as we're planning a little birthday barbecue bash in the garden tomorrow and the forecast is for a lovely hot, sunny day...

However, mecury retro has decided to kick me in the teeth this morning instead!

I have received a very worrying email, which may really effect my business - and NOT in a good way :(

So I may have spend the weekend waiting and worrying until I receive a reply, to see what happens next, before I know what to do...

I really didn't feel like doing the Daily Divinations today, but then I thought "Let's see what the cards have to say?" and of course, as usual, my card is very appropriate.

Positive Energy!

It's not easy to keep positive when you're worrying about things, but I must try not feed the negativity in my current situation with all my negative thoughts...

So, on the advice my Mum - I am playing loud, cheerful music (a bit of 50's rock and Roll to start with!) and on the advice of the cards I will focus on all the positive in my life, and surround myself with positive people and have fun this weekend!

I hope your card for the weekend gives you wise advice and lifts your spirits too!

(Find your message below!)

Whatever your star sign - have a wonderful weekend :)

Brightest Blessings,
Kaz
www.blessingz.co.uk
www.cheekywitch.co.uk



This week I am using the beautiful

Magical Mermaids and Dolphins Oracle Cards

by Doreen Virtue, Ph.D.


Quoted from the pack: "The Magical Mermaids and Dolphins Oracle Cards are specifically designed to help you manifest your goals, life purpose, and Divinely inspired dreams. These 44 beautifully illustrated cards can help you swim into the ocean of your unconscious mind, where profound thoughts and feelings can create - or block - your heart's desire. The cards are easy to use, and the enclosed guidebook will help you perform amazingly accurate readings for yourself and others."
My personal card for today

: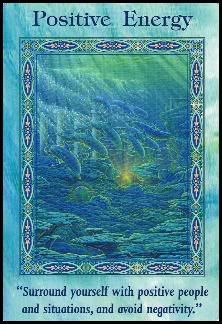 POSITIVE ENERGY
Surround yourself with positive people and situations, and avoid negativity.
Divinatory meaning: Your manifestation work is going wonderfully well. By drawing this card, you're encouraged to take the process to an even higher level by going on a "negativity diet." This means avoiding negative influences as much as possible. Avoid negative discussions with yourself or others. Turn off television and radio programs with negative themes, and stay away from violent movies. Don't read pessimistic headlines, and steer clear of gossip-based magazines. This negativity diet will cleanse you of any hidden blocks that could slow down the manifestation of your dreams - or prevent them from coming true at all.
Another thing you can do is to apply Feng Shui, the ancient art of placement, to your physical environs, which will help enhance the positive energy in all of your surroundings. You're also asked to donate or sell items that are cluttering up your home. This helps you bring in new energy and opportunity, and will also establish an environment that promotes creativity, health and abundance.

Today's cards for each of the star signs

:

Due to lack of time, etc. These are the 'quick reading' messages - for the whole message and meaning of the cards you will need to obtain these pretty cards for yourself - or get someone else to buy them for you as a gift!

Here are your messages and insights for today. Try to sit quietly for a few moments, meditate on your card and think about how you can learn from, and act upon, its message...

Aries

: DIVINE MAGIC

Extra magical energy surrounds your situation right now. Expect miracles!

Taurus

: REST

You've been working hard. Take a nap and get some rest.

Gemini

: READY, SET, GO!

Now is the perfect moment to dive in and embrace your heart's desire.

Cancer

: MORNING AFFIRMATIONS

Say positive affirmations each morning to open the gates of manifestation.

Leo

: FRIENDSHIP

Make a date for a play day with one or more friends.

Virgo

: A NEW DAWN

The worst is now behind you, and positive new experiences are on the horizon.

Libra

: ACCEPT HEAVEN'S HELP

You've prayed for help, so get out of the way and let Heaven help you.

Scorpio

: CONTEMPLATION TIME

Spend time alone, meditating upon what you truly desire.

Sagittarius

: SELF-FORGIVENESS

Let go of old guilt, and remember that you're God's perfect child!

Capricorn

: SYNCHRONICITY

Your prayers and questions are being answered by synchronistic events. Notice them in order to increase their flow.

Aquarius

: WAIT

Don't rush into action right now. Bide your time for better results.

Pisces

: TRANQUILITY

Make time to relax, be still, and enjoy your solitude, indulging in much-needed self-care.

Please feel free to leave any comments here on Blogger, or on my Facebook Page
The Daily Divination
, or on
Twitter
Thank you!