Greetings!

I'm feeling rather weary this morning... after another very late night :(

For the past week I don't think I have got to bed earlier than 1:30am...

One of my biggest faults (and I have many!) is my lack of skills in 'time-management'.

Combine that with my lack of will-power, procrastination and butterfly brain (my mind flits from one idea to another and another all the time) means I try to do too many things at once and then have difficulty getting it all done in time and to my deadlines!

On top of that, my 'hour of power' is around one o'clock in the morning - when I feel at my most productive and energised with ideas!

The trouble is, 'normal' life is basically set to working "9-5" and I have to try to fit in with that - whereas, ideally, I could work til 2am, bed by 3am and sleep until midday!

It doesn't help having a business that is open and accessible worldwide 24/7 - though I wouldn't have it any other way!

I really expected my card and message to be about getting some rest - but no - it's telling me to try new ventures, explore and take risks!

Actually - I think it's just confirming what I have been doing this past couple of weeks :)

That's enough of me rambling away! Things to do - deadlines to meet!

Let's get to your messages for Thursday - just scroll down to find the message for your star sign :)

Whatever your star sign - have a great day!

Brightest Blessings,
Kaz
www.blessingz.co.uk
www.cheekywitch.co.uk



This week I am using the beautiful

Magical Mermaids and Dolphins Oracle Cards

by Doreen Virtue, Ph.D.


Quoted from the pack: "The Magical Mermaids and Dolphins Oracle Cards are specifically designed to help you manifest your goals, life purpose, and Divinely inspired dreams. These 44 beautifully illustrated cards can help you swim into the ocean of your unconscious mind, where profound thoughts and feelings can create - or block - your heart's desire. The cards are easy to use, and the enclosed guidebook will help you perform amazingly accurate readings for yourself and others."

My personal card for today

: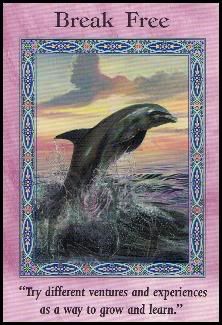 BREAK FREE
Try different ventures and experiences as a way to grow and learn.
Divinatory meaning: Sometimes we get into ruts and routines because they feel safe and comfortable. By drawing this card, you're asked to swim outside your comfort zone. It's time to take risks and explore new ways of thinking, making a living, or being in relationships.
When you make the commitment to explore and experiment, the world responds by giving you wonderful new experiences. Heaven isn't necessarily asking you to settle into these new avenues, but instead to test the water and venture out. Sometimes we'll experiment and learn new things, and then when we return to our comfortable old routines, we're changed (for the better). This is definitely a time for you to reach out and enjoy new options. Try something new today!

Today's cards for each of the star signs

:

Due to lack of time, etc. These are the 'quick reading' messages - for the whole message and meaning of the cards you will need to obtain these pretty cards for yourself - or get someone else to buy them for you as a gift!

Here are your messages and insights for today. Try to sit quietly for a few moments, meditate on your card and think about how you can learn from, and act upon, its message...

Aries

: HELPFUL PERSON

Someone wants to help you. Think of whom that might be, and initiate contact.

Taurus

: EMPOWERMENT

You're more powerful than you realise. It's safe for you t be powerful.

Gemini

: MORNING AFFIRMATIONS

Say positive affirmations each morning to open the gates of manifestation.

Cancer

: LET YOURSELF RECEIVE

Allow others to give you loving care. Receive without guilt or apologies.

Leo

: YES

Your intuition is correct. Take action accordingly.

Virgo

: SELF-FORGIVENESS

Let go of old guilt, and remember that you're God's perfect child!

Libra

: EXPLORE YOUR OPTIONS

It's time to look at other possibilities. It's a good time to make changes.

Scorpio

: WAIT

Don't rush into action right now. Bide your time for better results.

Sagittarius

: TRANQUILITY

Make time to relax, be still, and enjoy your solitude, indulging in much-needed self-care.

Capricorn

: TREASURE CHEST

An unforeseen windfall of new abundance comes to you now!

Aquarius

: YOU'RE BEING HELPED

Heaven is working behind the scenes to help you, even if you don't see results yet.

Pisces

: WORTHINESS

Know that you deserve to receive in good ways.
Please feel free to leave any comments here on Blogger, or on my Facebook Page
The Daily Divination
, or on
Twitter
Thank you!