Good morning!

I hope you had a great weekend?

After worrying all day on Friday, I was very relieved to receive an email, just before I went bed, clearing up what had been a Mercury-Retro influenced 'mis-communication'!

I'd had an email from Zazzle, first thing in the morning, saying that I had been reported for a copyright infringement and one of my products had been removed. The photo they sent me of the 'infringement' was of my logo - Cheeky Witch and the pentagram!

I couldn't believe that there could be an issue with my name - and how can you copyright a pentagram? If it was true, it would mean that they could have removed all my products - as they all have my logo on them...
and if it was my name 'Cheeky Witch' - it could have been a major problem and a legal battle!

However, after writing to them to ask exactly what the problem was, they wrote back and explained - it wasn't my logo at all, nothing to do with the photo they sent me - it was actually my Fifty Shades of Witchcraft Mug!

The Fifty Shades people wanted my mug removed!

I was so relieved! (If only they had sent the correct photo in the first place I would not have had all the worry - I would have understood immediately!)

So, if you are already the proud owner of one of my Ffty Shades of Witchcraft Mugs - hang on to it, it will be a rare item, as it is now a 'limited edition' mug, as there will be no more made...


I was able to actually get some sleep that night and woke relaxed and happy, ready to enjoy my birthday, on Saturday!
I had a wonderful day :)
Lots and lots of lovely messages and birthday wishes, and cards and prezzies! I was thoroughly spoilt!
I got two new packs of oracle cards to add to my collection too!
The gorgeous Wiccan Oracle Cards, from my daughter Lucy.
And the beautiful Earth Magic Oracle Cards from my Mum!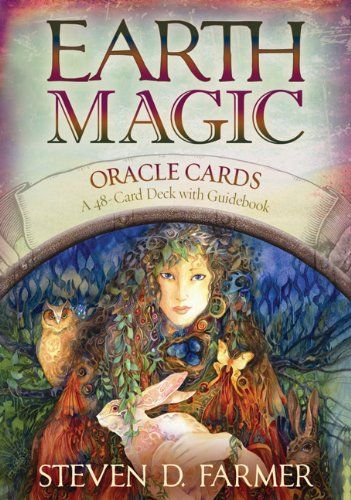 Can't wait to start working with both decks :)
We were blessed with beautiful weather all weekend - perfect for my birthday barbecue Saturday evening.
My beloved boyfriend, Richard, knows the way to my chocoholic heart! He baked this amazing chocolate cake for me!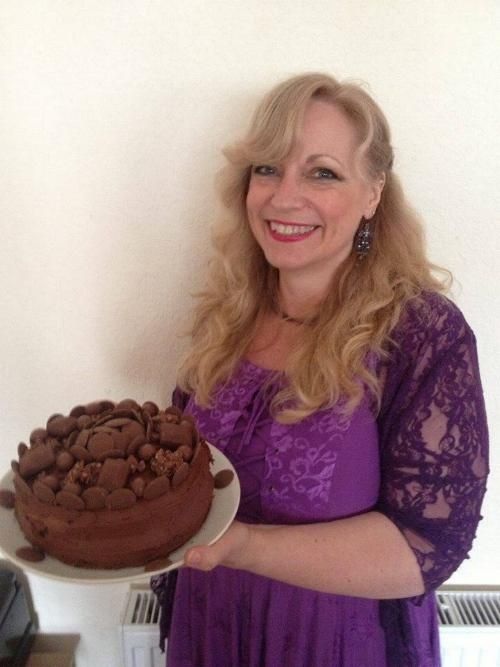 Covered it with chocolates!
Chocolate buttons, maltesers, etc... Yummy!!!
What a lucky girl I am :)
I love nothing more than having my family around me - although sadly two of my children couldn't make - as Katie lives in France, but was in Germany this weekend and Aimee lives too far away to pop down for the day... but the rest of us had a really lovely time.
This is me and my sleepy grandaughter, Gabriella, at the end of a very long but enjoyable day :)
Yesterday was mostly about clearing away the party debris, washing up and eating lots of leftover chocolate - and that's another birthday over for another year....
Back to today and it's Manic Monday - so let's get to the cards and messages!
I am using the
Angels of Light Cards
this week, which have a message and an affirmation for each day - I hope you like them...
Whatever your star sign - have a good Monday :)
Brightest Blessings,
Kaz
www.blessingz.co.uk
www.cheekywitch.co.uk

This week I am using the
Angels of Light Cards
by Diana Cooper
Quoted from the pack: "Angels are high spiritual beings. They come from the heart of God as guides, protectors, helpers and healers. Angels are willing and able to help us in many ways throughout our lives, all we need to do is call on them and they will respond. Allow these cards to help you bring them into your life.
Diana Cooper, best selling author of 'A Little Light on Angels', 'A Little Light on Ascension' and 'A Little Light on the Spiritual Laws' has created this beautiful new set of cards. This pack contains 52 cards, a 48 page booklet and a velvet bag which will allow you to carry the cards wherever you go."
(These cards do not have different illustrations just the beautiful image below on the back and all text on the front.)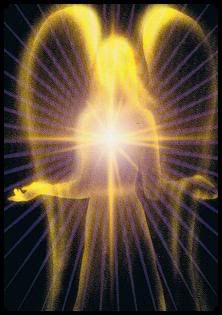 My personal card for today

: GRATITUDE

Full Meaning: Your guidance is to count your blessings. When you say thank-you to the Universe for its gifts, it responds generously to you.

Angel wisdom reminds you to say thank-you for all that you have, the intangible as well as the tangible.

Whenever you say thank-you from your heart, more is bestowed on you, for gratitude is the key to opening the doors to universal abundance.

Cultivate an attitude of gratitude and open yourself to receive love and plenty into your life.

Your angels while smile on you.

Affirmation: I am grateful for everything in my life.
Today's cards for each of the star signs

:

Due to lack of time, etc. These are the 'quick reading' messages - for the full reading and meaning of the cards you will need to obtain these cards for yourself - or get someone else to buy them for you as a gift! (The link below is to the new 'revised' edition of these cards - I am using the older version - I believe it is only the images which are different...)
Here are your messages and insights for today. Try to sit quietly for a few moments, meditate on your card and think about how you can learn from, and act upon, its message and repeat your affirmation throughout the day...

Aries

: OPPORTUNITY

Quick message: We are all presented with opportunities and are expected to flow with the currents that come our way. Drawing this angel card suggests that something is now being made available to you and it is up to you to use it to your greatest advantage. Be alert, be aware and be prepared. Quieten your mind and ask the angels to help you.

Affirmation: I am ready for all opportunities.

Taurus

: MERCY

Quick message: To develop the quality of mercy, forgive yourself and everyone around you. Be magnanimous, see the good in others and give them the benefit of the doubt. Open up to compassion, but most of all access the wisdom within that recognizes the Divine in every creature. When you temper your attitude to others with mercy, you offer them grace. You spread much light, joy and freedom and empower others to find the good in themselves.

Affirmation: I am merciful.

Gemini

: SERENITY

Quick message: Serenity bestows inner peace, tranquillity and calmness of mind. When you feel serene, you are your own person, for nothing and no one can bother, upset or influence you. You are like a calm, clear lake - beautiful and peaceful to be with. Your radiance brings hope and support to those who come within your aura. You attract respect and love from others, for all are calmed by you. Quietly ask your angel to hold you in serenity.

Affirmation: I am serene and still.

Cancer

: DISCERNMENT

Quick message: Discernment means sensing what feels right or wrong, trusting your judgement and acting on it. Your angel guidance is to look at the people and situations in your life now and respond to your gut feeling. Angel wisdom reminds you that when you can be trusted to use discernment, you can serve the Universe in a great way.

Affirmation: I trust my intuition.

Leo

: KINDNESS

Quick message: In order to be kind you must open your heart to the gentle qualities of caring and compassion. Be kind to yourself. have reasonable expectations and give yourself due praise. In order to nurture the gentle quality of kindness, cherish yourself. When you do something for yourself you automatically extend that same energy to others. Kindness melts the barriers of ice around people and re-empowers those who are afraid. So reach out to the lonely, draw out the shy, include those who feel isolated and comfort the sad.

Affirmation: I am kind to myself and others.

Virgo

: IMAGINATION

Quick message: Thoughts are the building bricks of life, for everything begins with a thought. Add creativity to thoughts and you have imagination. Every castle starts as a castle in the air. This image is then grounded by architects and builders. The angels are inviting you to use the power of your creative imagination to expand your horizons and picture the life you want. When you hold a vision, the angels see the clarity of your intention and open doors to help you. Be certain that you have the purest intentions. Then image your dreams and start the process of creation.

Affirmation: I picture positive outcomes for the highest good.

Libra

: CO-OPERATION

Quick message: Angel wisdom suggests that you use your skills and talents for the common good. Eliminate power struggles, conflict and competition, which come from a desire to win. Co-operation for the highest good promotes harmony and togetherness and draws the best from everyone. Your angel guidance is to bring people together and explore how you can mutually assist each other.

Affirmation: I co-operate with everyone.

Scorpio

: HONESTY

Quick message: Angel wisdom reminds you that your every thought, word, emotion and action is reflected in your aura. When you are honest, your aura is crystal clear. Everyone knows where they are with you and feels totally safe. When you are totally honest with yourself, you behave with integrity and dare to be open, for there is nothing to hide. people respect and trust you. As you radiate a resonance of honesty, people respond to you with openness and honesty in their turn.

Affirmation: I am honest in thought, word and deed.

Sagittarius

: SYNCHRONICITY

Quick message: There is no such thing as chance in our incredible Universe. The coincidences and synchronicities are carefully orchestrated by your guides and angels - so recognize them as the hand of spirit. Be aware that there is a divine reason behind them and consider what the message or lesson is. Synchronicity is also a reminder to you that all things happen in divine timing.

Affirmation: All things happen in perfect timing.

Capricorn

: ACKNOWLEDGEMENT

Quick message: Look after yourself by acknowledging your desires and needs and taking steps to meet them. Examine and note your gifts, talents and achievements. When you accept all aspects of yourself, you feel centred and confident. Then you can genuinely acknowledge others. Angel wisdom reminds you to recognise who you truly are - an evolved spirit in a human body. When you acknowledge your spiritual dimensions, you will align with your true self and your spirit will soar.

Affirmation: I acknowledge who I truly am.

Aquarius

: WISDOM

Quick message: Knowledge is learned, but wisdom is the divine prompting within you. Your angel guidance is to connect to your still, quiet centre and listen to the wisdom of your soul. Then you will take decisions and act from your own infinite self. With wisdom life takes on a new perspective, as dramas and fears become insignificant in comparison with the magnificence of the overall picture.

Affirmation: I listen to my wisdom.

Pisces

: BEGINNINGS

Quick message: Life is a series of cycles and a time of rebirth is indicated for you. This may mean a new phase in a relationship, the germination of a fresh idea or the development of qualities in you, like laughter, light or hope. It may herald a total change. Do not be afraid to let go of the familiar, for the new cannot enter until the old and outworn has departed. Your angel guidance is to accept the new for it will be welcome when it arrives.

Affirmation: I welcome and nurture the new in my life.

Please feel free to leave any comments here on Blogger, or on my Facebook Page
The Daily Divination
, or on
Twitter
Thank you!