Good morning!

Phew! It's another very hot day here on the sunny south coast of England!

I know some people love it, but it's a bit too hot for me I'm afraid...

I have a busy day ahead so, let's get straight to the cards and messages for Tuesday!

Whatever your star sign - have a wonderful day :)

Brightest Blessings,
Kaz
www.blessingz.co.uk
www.cheekywitch.co.uk



This week I am using the beautiful

Magical Mermaids and Dolphins Oracle Cards

by Doreen Virtue, Ph.D.


Quoted from the pack: "The Magical Mermaids and Dolphins Oracle Cards are specifically designed to help you manifest your goals, life purpose, and Divinely inspired dreams. These 44 beautifully illustrated cards can help you swim into the ocean of your unconscious mind, where profound thoughts and feelings can create - or block - your heart's desire. The cards are easy to use, and the enclosed guidebook will help you perform amazingly accurate readings for yourself and others."

My personal card for today

: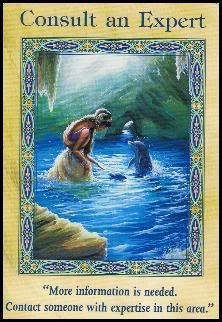 CONSULT AN EXPERT
More information is needed. Contact someone with expertise in this area.
Divinatory meaning: You are venturing into an area where other people could assist you by offering you new ideas and information, as well as the benefit of their experience.
To attract the right expert to help you, affirm; "A helpful, knowledgeable, experienced person with integrity is in my life right now, and this individual will help me with (describe the situation you'd like assistance with). This person comes to me easily and naturally, without delay."
When this person appears, know that it's Divinely orchestrated. Don't hesitate or feel guilty about asking for help. Instead, take notes and give thanks to the person and to Heaven.
Remember, it's not a sign of weakness to ask for help. Many of Earth's most wonderful inventions came from team efforts. by working with informed individuals, you also develop the healthy habit of consulting with your celestial guides more consistently.

Today's cards for each of the star signs

:

Due to lack of time, etc. These are the 'quick reading' messages - for the whole message and meaning of the cards you will need to obtain these pretty cards for yourself - or get someone else to buy them for you as a gift!

Here are your messages and insights for today. Try to sit quietly for a few moments, meditate on your card and think about how you can learn from, and act upon, its message...

Aries

: PAY ATTENTION

Notice repetitious signs and your inner guidance, as this can yield valuable information.

Taurus

: CONTEMPLATION TIME

Spend time alone, meditating upon what you truly desire.

Gemini

: MUSIC FOR MANIFESTING

To manifest rapidly, think of your desire while you chant, hum, sing, or play music.

Cancer

: SELF-EMPLOYMENT

You're a born entrepreneur, and your business is surrounded by magical opportunities.

Leo

: SYNCHRONICITY

Your prayers and questions are being answered by synchronistic events. Notice them in order to increase their flow.

Virgo

: READY, SET, GO!

Now is the perfect moment to dive in and embrace your heart's desire.

Your prayers and questions are being answered by synchronistic events. Notice them in order to increase their flow.
Libra

: MORNING AFFIRMATIONS

Say positive affirmations each morning to open the gates of manifestation.

Scorpio

: TREASURE CHEST

An unforeseen windfall of new abundance comes to you now!

Sagittarius

: POSITIVE ENERGY

Surround yourself with positive people and situations, and avoid negativity.

Capricorn

: HELPFUL PERSON

Someone wants to help you. Think of whom that might be, and initiate contact.

Aquarius

: EXPLORE YOUR OPTIONS

It's time to look at other possibilities. It's a good time to make changes.

Pisces

: TIME TO MOVE ON

It's time to let go of the old and worn out so that the new can come in.
Please feel free to leave any comments here on Blogger, or on my Facebook Page
The Daily Divination
, or on
Twitter
Thank you!