Good morning!

I had a lovely evening, yesterday, because my dear friend Ilena came to visit - and we hadn't seen each other for almost two years! (We couldn't believe how long it had been!) However, as it is with really good friends, it seemed like we'd seen each other only days ago and it was lovely to catch up on one another's news.

Also, she is a very gifted clairvoyant and she gave me a very interesting card reading too - which has given me lots to think about...

When she left, later than we'd planned, we agreed that was must make sure to meet up more often! The weeks and months seem to fly by and we don't want it to be another year before we get together again.

It's the Summer Solstice!

I am not a morning person, but I do tend to wake every day at least once or twice in the early hours - and I had planned on wandering over to the beach, with Maisie, to watch the sunrise this morning...

I woke at 1:30am so decided to sleep another couple of hours - as sunrise was 4:43am - but I woke up with a start at about 5:30am! Ooops!

However, it was (and still is) very cloudy, so I doubt I would have seen the sun anyway...

Maybe next year I will stay up all night and make sure I don't miss the sunrise - especially as it will be on Saturday next year and I don't have to worry about getting up for work :)

Unfortunately today I do have to work - but then it will be time to relax and enjoy the evening - and the weekend ahead!

I am really looking forward to seeing my daughter and grandaughter tomorrow, as I haven't seen them for a few weeks and they are coming over for lunch :)

Well, I must get on with today's orders, so I shall wish you a Blessed Solstice - or Yule (depending on your hemisphere)!

Whatever your star sign - have a wonderful weekend :)

Brightest Blessings,
Kaz
www.blessingz.co.uk
www.cheekywitch.co.uk



This week I am using the
The Wisdom of Avalon Oracle Cards


by Collette Baron-Reid


Quoted from the pack: "The Wisdom of Avalon Oracle Cards by Colette Baron-Reid is a 52 card divination system - an inspirational tool to bridge the unseen world of Spirit and the physical world of our day-to-day lives. Based on the rich mythology of ancient Britain's Isle of Avalon and the wisdom teachings of its priestesses, these cards (and the accompanying guidebook) will help you find valuable and powerful insights in all aspects of life as you chart your path and manifest your destiny with clarity and purpose."

My personal card for today

: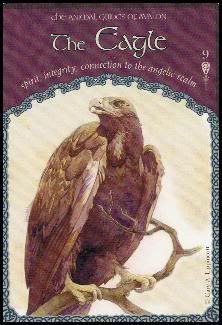 THE EAGLE - spirit, integrity, connection to the angelic realm
Divinatory reading: When the Eagle appears, it is a true signal of your connection to the angelic realm. With your angel's help and guidance, you can soar above life to see the larger vista. The Eagle helps you to make your choices accordingly, with integrity.
When you pray to your angels, they will always answer, for they patiently wait for you to call upon them for assistance. The angels reside beside you, always hoping to aid humankind in finding peace, manifesting abundance and prosperity.
The Eagle also asks you to remember to soar high above life and look at the big picture. Don't get too caught up in the tiny, unimportant aspects of life. The spiritual world is the real one - your physical life is the dream.
When the Eagle appears, it's also a signal for prayer. It's time for a moment of conscious contact with the Divine. Remember that you're always protected and Divinely directed if you follow the guidance of spirit as it appears in the form of the Eagle.
Today's cards for each of the star signs

:

Due to lack of time, etc. These are the 'quick reading' messages - for the full reading and meaning of the cards you will need to obtain these cards for yourself - or get someone else to buy them for you as a gift!

Here are your messages and insights for today. Try to sit quietly for a few moments, meditate on your card and think about how you can learn from, and act upon, its message...

Aries

: THE SERPENT - knowledge, healing

Quick reading: The Serpent's message is one of healing and of gaining knowledge. Whatever situation you're in right now is meant for this purpose. Perhaps it is time to read a book or take a class in order to gain more understanding of your enquiry, or you may need to ask questions of others who 'know' and can help you. Perhaps you need to rest, meditate and allow the knowledge to come to consciousness. Or maybe you just need to sleep more.

Taurus

: THE DEER - gentleness, diplomacy

Quick reading: When the Deer appears, it's a reminder for you to step gently on the path, for you're walking into a time when gentle movements and diplomacy are required. It's important that you be gentle with yourself as well. Blend your personal energy with Deer's energy of gentleness and diplomacy. Walk softly and the way forward will be smooth. And remember... never mistake gentleness for weakness in yourself or in others.

Gemini

: THE BARD - music, poetry, myth, history, the enchantment of storytelling

Quick reading: When the Bard appears, you're asked to seek answers in your personal history. Go back into your own story and find the threads of the patterns in your reality, and trace their length to the present. Perhaps you'll be surprised by how much of your past, or that of your ancestors, still weaves its influence on you today.

Cancer

: THE COW - nourishment, abundance, asking, receiving

Quick reading: The Cow says, "Nourishment is never-ending when I appear on your path. Don't forget to till the soil so that grass may grow. Do your part, and I will do mine with joy. Ask, and you will receive all the blessings I have to offer." The Cow reminds you that there is no shortage of blessings in the world. Ask to partake in infinite abundance, and you will, indeed, get exactly what you need.

Leo

: THE SPIDER - creative projects

Quick reading: You have within you the gift to create meaningful, purposeful work. Within you is an artist waiting to be expressed. Whether you see yourself as an artist or not, you're always co-creating with the divine. You are the architect of your own happiness and fulfilment. What life are you building? Don't just sit there - this is your time to create!

Virgo

: THE HAWK - omens, messages

Quick reading: When Hawk appears, expect a message to be delivered to you to aid you in your quest. Perhaps a telephone call from a friend, or a chance meeting with someone, or an overheard conversation will reveal an answer to your question. You will know it when it comes. Be open to messages from others, and be aware of omens and signs in nature. The world is constantly attempting to communicate with us, but we human beings have forgotten how to listen.

Libra

: THE LADY OF THE LAKE - absolute truth, courage, self-respect, responsibility.

Quick reading: The Lady of the Lake represents the highest order of respect for yourself and the manner in which you operate in the world around you. She demands nothing short of total truth and integrity; she asks you to be mindful of all the signs, signals and omens that present themselves to you. Seek the sword of truth within yourself and great success will be yours. Have courage for the strength of Avalon is behind you in support of your quest for wholeness and abundance.

Scorpio

: THE WIND FAERY - thoughts, words, intellectual analysis

Quick reading: The Wind Faery whispers that the power of thoughts manifests the unseen into the physical. Take time to observe your predominant thoughts. Are they positive and empowering? Or negative and disempowering? The Wind Faery also reminds you of the power of intellect, as this is a good time to use the power of your analytical mind. Think before you act; this is not the time for impulsive action. A well-thought-out strategy will yield a positive result.

Sagittarius

: MOVEMENT

Quick reading: This marker reminds you that all things change as part of the cycle of life. This may portend a physical move, or it heralds a release from restriction and waiting. Rejoice, for change is in the air and new things are about to enter your world. This marker is always an omen of change for the better.
Capricorn

: THE WASP - anger, retaliation, jealousy

Quick reading: Be mindful of how you address the world when Wasp appears. If you're not careful you may sting or be stung. Don't waste your stinger on a petty quarrel. Are you jealous or envious, or the victim of someone who is? Send love, light and compassion, and stay clear of the sting. The Wasp sends an omen of warning to protect yourself as well.

Aquarius

: THE MERLIN - alchemy, justice, balance

Quick reading: The Merlin is the messenger of initiation and alchemy and is both the Magician and the High Priest. The Merlin says "You have all you need to move forward. Rejoice that all the elements you require for success are indeed present!" You are given notice that, when it comes to your life and it's purpose, the magical aspect of the Merlin can be summoned to help you find an answer within you. Remember, all signs and omens sent by the Merlin are but reflections of that which is within you already.

Pisces

: THE EARTH FAERY - physical health, grounding, foundations

Quick reading: The Earth Faery says to pay attention to your health and all things pertaining to your physical body. Perhaps you need to exercise, pay attention to your diet, or get more sleep? Another message from the Earth Faery is to make sure the foundations of all you do are solid. Be aware that projects, relationships, business ideas, and families all need to be built on sturdy, steady foundations. The Earth Faery always helps you when you ask.

Please feel free to leave any comments here on Blogger, or on my Facebook Page
The Daily Divination
, or on
Twitter
Thank you!