Good morning!

Well, yesterday it was summer at last - a glorious, hot, mostly sunny day!

Today?

Looks like summer is over...

We are having such weird weather here in the UK! What's is like in your part of the world I wonder? Feel free to comment here or on my Cheeky Witch Facebook page.

I've been naughty this morning - spending longer than I should exploring some lovely and very interesting facebook pages... Time flies when you're reading interesting information, admiring stunning artwork and being uplifted by inspirational posts and quotes!

However, it really is time to knuckle down and do some work... but first - the cards!

Whatever your star sign - have a magikal day - and a Happy Solstice Eve :)

Brightest Blessings,
Kaz
www.blessingz.co.uk
www.cheekywitch.co.uk



This week I am using the
The Wisdom of Avalon Oracle Cards
by Collette Baron-Reid


Quoted from the pack: "The Wisdom of Avalon Oracle Cards by Colette Baron-Reid is a 52 card divination system - an inspirational tool to bridge the unseen world of Spirit and the physical world of our day-to-day lives. Based on the rich mythology of ancient Britain's Isle of Avalon and the wisdom teachings of its priestesses, these cards (and the accompanying guidebook) will help you find valuable and powerful insights in all aspects of life as you chart your path and manifest your destiny with clarity and purpose."
My personal card for today

: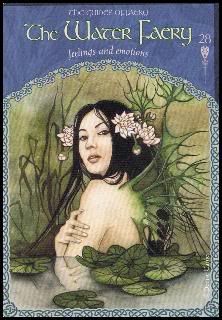 THE WATER FAERY - feelings and emotions
Divinatory meaning: When the Water Faery swims up to you with her liquid magic, she reminds you that emotions and feelings may be running the show. She asks you to consider how you really feel about things, and why. She also reminds you that you are
not
your feelings; you are the one experiencing them.
Remember that as water flows, emotions change. The Water Faery also tells you that it's time to lose your rigidity. Be fluid and willing at times to compromise, and allow change to happen.
If you're happy right now, enjoy, for the Water Faery swirls her love around you. If things are making you sad, she comes to wash away your tears. The Water Faery knows the power of emotions, so when she appears, be mindful of them and how they affect you.
Remember, feelings are the fuel for manifesting. Be certain that you want to create what you're feeling. Allow your feelings to pass through and focus on the positive.
The Water Faery longs to smile at you in reflection...

Today's cards for each of the star signs

:

Due to lack of time, etc. These are the 'quick reading' messages - for the full reading and meaning of the cards you will need to obtain these cards for yourself - or get someone else to buy them for you as a gift!

Here are your messages and insights for today. Try to sit quietly for a few moments, meditate on your card and think about how you can learn from, and act upon, its message...

Aries

: THE FROG - cleaning house, releasing emotional baggage.

Quick reading: It's time to clean house and get rid of the clutter in your environment, your head, and your heart. Move out any objects, thoughts, or relationships that hold you back. It's time to get rid of anything that clutters your life or space with unwanted burdensome energy, or anything that weighs heavily on your heart. It's time to release all things no longer appropriate to bring on your journey. Allow new and fresh energy to enter your world.

Taurus

: THE MERLIN - alchemy, justice, balance

Quick reading: The Merlin is the messenger of initiation and alchemy and is both the Magician and the High Priest. The Merlin says "You have all you need to move forward. Rejoice that all the elements you require for success are indeed present!" You are given notice that, when it comes to your life and it's purpose, the magical aspect of the Merlin can be summoned to help you find an answer within you. Remember, all signs and omens sent by the Merlin are but reflections of that which is within you already.

Gemini

: THE CAT - independence, healthy boundaries

Quick reading: The Cat reminds you of independence and to set healthy boundaries. Love with freedom - do not look to own what you desire, for too much attachment can lead to loss. On this leg of your journey, you will emerge safe and sound. Live freely, love without unhealthy attachment, and remember that with the Cat as your companion, you may fully immerse yourself in life, for there will be many more lives to come.

Cancer

: THE HAWK - omens, messages

Quick reading: When Hawk appears, expect a message to be delivered to you to aid you in your quest. Perhaps a telephone call from a friend, or a chance meeting with someone, or an overheard conversation will reveal an answer to your question. You will know it when it comes. Be open to messages from others, and be aware of omens and signs in nature. The world is constantly attempting to communicate with us, but we human beings have forgotten how to listen.

Leo

: THE FIRE FAERY - creative action, optimism

Quick reading: The Fire Faery sparks ideas into action. She rules the flame of creativity and encourages you to move quickly. She is also the voice of happy optimism, showing you signs, signals and happy omens to support your dreams. The Fire Faery gives you hope and courage and ensures your dreams will come true if you simply act on them.

Virgo

: COMMUNICATION

Quick reading: Are you clear and straightforward when communicating with others? Do you have difficulty asking for what you need? This marker reminds you of many things related to how you speak to the world and how it speaks to you. It asks you to be clear and to seek clarity in all communications between yourself and others in your life. This card notes that communication is not just between human beings. Your spirit guides, angels and other helpers on your path are always trying to get your attention. Are you open to their messages?
Libra

: THE WASP - anger, retaliation, jealousy

Quick reading: Be mindful of how you address the world when Wasp appears. If you're not careful you may sting or be stung. Don't waste your stinger on a petty quarrel. Are you jealous or envious, or the victim of someone who is? Send love, light and compassion, and stay clear of the sting. The Wasp sends an omen of warning to protect yourself as well.

Scorpio

: THE KING - man, authority, male sexual energy, things pertaining to the law, justice.

Quick reading: The King appears to represent powers of justice, authority, the law, and male sexual energy. When the King appears on your path, it's time to put your house in order, complete any unresolved legal issues and deal with issues related to fairness. The King always lets you know that something significant is yours to experience and learn from.

Sagittarius

: THE EARTH FAERY - physical health, grounding, foundations

Quick reading: The Earth Faery says to pay attention to your health and all things pertaining to your physical body. Perhaps you need to exercise, pay attention to your diet, or get more sleep? Another message from the Earth Faery is to make sure the foundations of all you do are solid. Be aware that projects, relationships, business ideas, and families all need to be built on sturdy, steady foundations. The Earth Faery always helps you when you ask.

Capricorn

: THE NOVICE - innocence, beginner, ignorance, new skill without practice, unstable curiosity

Quick reading: Innocence, naiveté, foolishness, early knowledge, not yet integrated, the ability to see the world untainted, and learning ability - these are the aspects of the Novice as she appears in your life. The Novice is reminding you to be teachable and humble. If you don't know something, don't pretend that you do. Chances are that you will make and error that may cost you more than you wish to pay. New information is coming, and this is the time to be open to learning and expanding.

Aquarius

: THE GOBLIN - the wounded human ego

Quick reading: When the Goblin appears on your path, your plans are, or are about to go, awry. It's time to stop what you're doing and check your motives. Are you coming from an ego-centered place? Are the circumstances in your life triggering unresolved past issues that still need healing? Now is the time for self-evaluation and taking inventory, before you take another step.

Pisces

: THE STAG - pride, leadership

Quick reading: Take pride in all you do. Be the leader and hold your head high and others will follow by your example. Always ask yourself "what is the highest good for all?" The Stag leads you into the kind of pride that reminds you that you're always in service to the God/Goddess in every step you take. You may already be there, in which case you should be proud and happy. Look how far you've come! Rejoice, for the Stag always leads you to a higher place with a sure and steady footing.

Please feel free to leave any comments here on Blogger, or on my Facebook Page
The Daily Divination
, or on
Twitter
Thank you!