Good morning!

I'm having one of those all behind and back-to-front days!

Woke several times in the night, and then overslept. I was late taking Maisie out, got rained on a little... Had a late breakfast while having a quick facebook catch-up - then got caught up answering some ebay emails and queries.

Next the postman arrived with a package for me to sign - a package that I sent to myself yesterday and must NOT open... It's a prototype I made, after having a brilliant idea! Something which I am hoping a certain company may be interested in purchasing from me...

I have written to the company about it (without actually telling them what it is yet!) so time will tell!

Watch this space ;)

It's Friday again already! It is also another bank holiday weekend here in the UK and I will be taking the day off on Monday, so I wont be back here until Tuesday.

In the meantime, I think I have mentioned before that I am a fan of Michele Knight? Particularly her Weekly Astrolgy Videos on You Tube - well she has now brought out a free Video Tarot App for iphone/ipad!


I downloaded the app this morning and my tarot card reading for today was spot on!
(If you want a 'past, present, future' reading you pay £1.99, but the daily card is free.)
If you're interested check it out here
https://itunes.apple.com/gb/app/video-tarot/id605550495?mt=8
I hope you have found your cards and messages interesting and relevant this week? Please find your
Cosmic Ordering Oracle Wish Card
for the weekend below and - whatever your star sign - have a great day!
I'll be back on Tuesday :)
Brightest Blessings,
Kaz
www.blessingz.co.uk
www.cheekywitch.co.uk

This week I am using the
Cosmic Ordering Oracle Wish Cards
by Stephen Richards and Karen Whitelaw Smith
Quoted from the pack: "This guidance booklet will give you the meaning of the 44 pocket sized Cosmic Ordering Oracle Wish Cards. Use them in many different ways and learn to work with the energy of that card.
Use the cards in your daily life to make a wish and watch it come true."

My personal card for today

: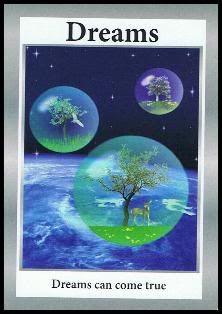 DREAMS
Dreams can come true
Full meaning: How is Spirit using your dreams to speak to you today?
Dreams are conduits to your innermost soul. Make sure you clear your mind before going to bed. Meditate for a short while before sleeping, to clear mental clutter. On awakening, ask Spirit to help you interpret any pictures, symbols and feelings from your dreams. How do they connect with events and people in your life?
Do certain dreams repeat themselves?
Harness their energy. Use them to strengthen and understand your Self.

Today's cards for each of the star signs

:

Due to lack of time, etc. These are the 'quick reading' messages - for the full reading and meaning of the cards you will need to obtain these cards for yourself - or get someone else to buy them for you as a gift!

Here are your messages and insights for today. Try to sit quietly for a few moments, meditate on your card and think about how you can learn from, and act upon, its message...

Aries

: DESIRE

The desire to achieve success

Visualise yourself achieving your aims. Feel the success, then un-harness your belief. With the power of the cosmos anything is attainable.

Taurus

: BIRTH

The start of new beginnings

This card designates a new beginning. Choosing it signifies that today marks a new stage in your journey.

Gemini

: DECISIONS

You have the choice to make your own decisions

We all make decisions every day of our lives. Some move us forward, some trap us in the status quo. Now is the time to make the decision you've been avoiding.

Cancer

: CONFIDENCE

Confidence comes from believing in yourself

Using positive language at all times, we create more confidence - within others and our selves. When we acknowledge our power, we can achieve anything.

Leo

: WISHES

(2 days in a row!)

Make a wish and watch it come alive

Clear any obstacles to positivity. Keep your order free of ill thinking. Tune your will to the Spirit, and receive all the freedom and personal happiness you ever wanted.

Virgo

: COSMIC ORDERING

Learn to attract abundance

As we believe so we receive. Believe you are worthy, and place your Order today using positive language.

Libra

: OCEAN

Spend time beside the water or relax in a warm bath

When we sit by the ocean our body relaxes, our spirit opens. Allow life's flotsam to float away and let yourself flow with the tide.

Scorpio

: COSMIC INDULGENCE

Look deeper

Ask the Cosmos for a special indulgence today, something wonderful, just for you. Remember too that the Cosmos will only reward you if you are giving back to the Universe.

Sagittarius

: TRAVEL

Take a break

Book a mental vacation. Empower your life with regular meditations on beautiful places. Let their healing energy uplift your spirit
Capricorn

: NEW DIRECTION

Take time to re-assess your life

Invite the Cosmos to help you start anew. Take stock. Consider. Evaluate. Beware self-sabotage. Every time you catch yourself thinking negatively, change direction. Repeat the thought in an affirmative way.

Aquarius

: MUSIC

Listen to the music and feel the energy

Feel the music of Creation in your body. Use it to raise your vibrations, physical and mental.

Pisces

: SELF-DISCIPLINE

To achieve you have to be self-disciplined

Self-discipline means aligning your actions with your desires, regardless of your emotional state. What will you do today to get closer to that dream?

Please feel free to leave any comments here on Blogger, or on my Facebook Page
The Daily Divination
, or on
Twitter
Thank you!