Good morning.

Well, it's not actually a very good morning here in the UK, as everyone is reeling following the horrific and barbaric murder in Woolwich yesterday afternoon.

My heart goes out to the family and friends of the victim. I cannot begin to imagine what they are going through...

Please join me in sending prayers to the family - and lots of love and light to this situation, as tensions are understandably running very high right now.

It's a very sad day.

Surrounding you with love and light,
Kaz
www.blessingz.co.uk
www.cheekywitch.co.uk



This week I am using the
Cosmic Ordering Oracle Wish Cards


by Stephen Richards and Karen Whitelaw Smith

Quoted from the pack: "This guidance booklet will give you the meaning of the 44 pocket sized Cosmic Ordering Oracle Wish Cards. Use them in many different ways and learn to work with the energy of that card.
Use the cards in your daily life to make a wish and watch it come true."

My personal card for today

: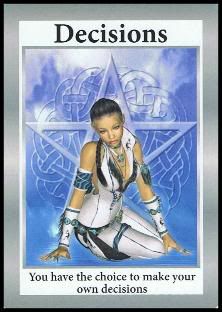 DECISIONS
You have the choice to make your own decisions
Full meaning: We all make decisions every day of our lives. Some move us forward, some trap us in the status quo. Now is the time to make the decision you've been avoiding.
Make a guided choice today, based in Spirit. A calm mind is required; our thinking creates our behaviour. The Cosmos identifies our true intent, so let your choice be constructive and mindful of others' needs.
Be decisive in today's Cosmic Order. Whatever your decision, act accordingly. Make the decision today to achieve greatness.

Today's cards for each of the star signs

:

Due to lack of time, etc. These are the 'quick reading' messages - for the full reading and meaning of the cards you will need to obtain these cards for yourself - or get someone else to buy them for you as a gift!

Here are your messages and insights for today. Try to sit quietly for a few moments, meditate on your card and think about how you can learn from, and act upon, its message...

Aries

: MUSIC

Listen to the music and feel the energy

Feel the music of Creation in your body. Use it to raise your vibrations, physical and mental.

Taurus

: JOURNAL

Journal your thoughts to release your emotions

Journal your experiences, especially the painful ones. The Cosmos gives us lessons so that we can learn from them.

Gemini

: DETOX

Wash away your worries

Have you been ignoring signs of overload in your body? Balance your physical body and clear your channel to the Cosmos. Drink more water to purify your system.

Cancer

: HAPPINESS

Happiness comes from knowing who you are

Happiness is your birthright. Claim it today. Make the decision to be happy, regardless of circumstance.

Leo

: WISHES

Make a wish and watch it come alive

Clear any obstacles to positivity. Keep your order free of ill thinking. Tune your will to the Spirit, and receive all the freedom and personal happiness you ever wanted.

Virgo

: LOVE

True love never dies

Love is the greatest spiritual, magnetic force we know. Focus on its magnificent energy. Take a moment to revel in it, and then send out loving, peaceful thoughts to the world.
Libra

: COSMIC ORDERING

Learn to attract abundance

As we believe so we receive. Believe you are worthy, and place your Order today using positive language.

Scorpio

: CONFIDENCE

Confidence comes from believing in yourself

Using positive language at all times, we create more confidence - within others and our selves. When we acknowledge our power, we can achieve anything.

Sagittarius

: FORGIVENESS

Learn to forgive others

Forgiving someone who has wronged us is the hardest lesson the human spirit can learn. But it is a vital lesson. Without forgiveness, anger rages through our lives like a torrent, destroying everything in its path.

Capricorn

: TRAVEL

Take a break

Book a mental vacation. Empower your life with regular meditations on beautiful places. Let their healing energy uplift your spirit

Aquarius

: 'ME' TIME

Spend time alone in a quiet place

Take time to allow your body to relax and de-stress. Care for your body today. Pamper it. Your spirit will blossom.

Pisces

: VISUALISATION

What you visualise can become a reality

Be on the alert for signs from Spirit., knowing you have the power to manifest all your dreams.
Please feel free to leave any comments here on Blogger, or on my Facebook Page
The Daily Divination
, or on
Twitter
Thank you!