Good morning!

I hope you had a good bank holiday weekend?

Nice to have had a couple of days 'off' (though I did have to do some work!) the weather was good and it was lovely to see my beautiful little grandaughter on Sunday...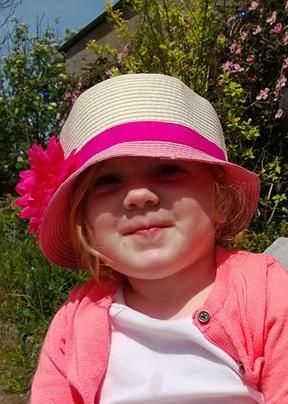 Doesn't she look a cheeky little cherub in her pretty sun hat?!
Yesterday wasn't so good though... My Mum is very poorly and had to have the doctor in, in the early hours, as she was in such a bad way. She has a kidney infection and is now on antibiotics, so she should start to feel better in a few days - but any prayers, healing and positive energy sent her way would be greatly appreciated.
Many thanks to all those who have already sent such lovely messages on Facebook, etc. My Mum is so grateful for your love and kindness :)
Well, it's time to get started on my 'working week' now. I have lots of
Bags of Blessings
to make - and
Cheeky Witch Mugs
to package
!
As well as several being sent to addresses in the UK, there are some going to the USA, and to Norway and Spain too! This
Cheeky Witch
is going global!
It seems there are a lot of coffee-addicted witches out there, as this is the mug that everyone wants!
I am using the
Power Animal Oracle Cards
this week, so let's see what our messages from the animals are, for Tuesday!
Whatever your star sign - have a good day :)
Brightest Blessings,
Kaz
www.blessingz.co.uk
www.cheekywitch.co.uk

This week I am using the
Power Animal Oracle Cards


by Steven D.Farmer, Ph.D.


Quoted from the pack: "Power Animals are spirit guides in animal form who provide protection, guidance and healing. This deck of 44 oracle cards by Steven Farmer will connect you with animal spirit guides who will advise you about any aspect of your life. Whether you're a beginner or an experienced reader, the enclosed easy-to-follow guidebook provides instructions to help you immediately give accurate readings to yourself and others."

My personal card for today

: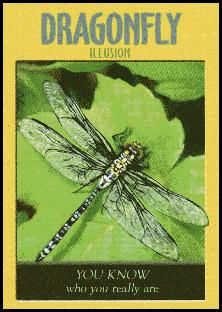 DRAGONFLY - ILLUSION
YOU KNOW who you really are
Divinatory meaning: You are a master of illusion, particularly in the guises you wear for others. This is a gift that was born in the travails of your childhood, an adaptation that once served you well. These masks do serve a purpose because you can be whoever you need to be in any situation. Yet it can also be easy to fool yourself into thinking that any of these personas are the real you.
The truth is that you don't need to rely on these false personas anymore! On occasion they will come in handy, but at this point it's time to let the "you" of who you are show up in all your varied expressions and manifestations.
One of the more popular ruses you run on yourself is pretending you don't know the truth. In other words, you play dumb, hoping that because others like to feel superior, you can indulge them this way. Yet inwardly you can be smug and secretly indulge in your own illusion of superiority. Once you acknowledge the truth, then you'll know what to do. And by that acknowledgement and acceptance, you accept the truth of who you are.
Additional Associations: Colourfulness; Mirage; Mystery; Deception

Today's cards for each of the star signs

:

Due to lack of time, etc. These are the 'quick reading' messages - for the full reading and meaning of the cards you will need to obtain these cards for yourself - or get someone else to buy them for you as a gift!

Here are your messages and insights for today. Try to sit quietly for a few moments, meditate on your card and think about how you can learn from, and act upon, its message...

Aries

: BEAR - BOUNDARIES

STAND your ground

Additional Association: Protection; Creativity; Solitude; Healing

Taurus

: LIZARD - DREAMTIME

Pay attention to your DREAMS AND VISIONS

Additional Association: Primal; Ancient; Reflexive; Spontaneous

Gemini

: SALMON - DETERMINATION

You know where you are going and YOU WILL GET THERE

Additional Association: Purpose; Sacrifice; Regeneration; Endurance
Cancer

: WHALE - SOUL'S PATH

HONOR your soul's purpose

Additional Associations: Migration; Devotion; Communication; Soul Memory

Leo

: HAWK - FOCUS

CHOOSE YOUR PRIORITIES and eliminate all distractions

Additional Associations: Messenger; Perspective; Detachment; Swiftness

Virgo

: BEAVER - PRODUCTIVENESS

Go ahead and JUST DO IT

Additional Associations: Enthusiasm; Community; Cooperation; Ingenuity

Libra

: DOLPHIN - PLAYFULNESS

Take time to PLAY

Additional Association: Communication; Breath; Community; Guidance

Scorpio

: SEAL - IMAGINATION

IMMERSE YOURSELF in artistic and creative projects

Additional Associations: Creativity; Grace; Adaptation; Playfulness

Sagittarius

: HUMMINGBIRD - JOY

LIGHTEN UP

Additional Association: Flexibility; Sensitivity; Vibration; Colour
Capricorn

: SQUIRREL - PREPARATION

Get ready for BIG CHANGES

Additional Associations: Gathering; Activity; Alertness; Guardian

Aquarius

: RACCOON - RESOURCEFULNESS

You have all the RESOURCES you need

Additional Association: Stealth; Ingenuity; Cleverness; Dexterity

Pisces

: DOVE - SERENITY

SLOW DOWN, pause, and breathe

Additional Associations: Love; Soul; Domesticity; Spirituality

Please feel free to leave any comments here on Blogger, or on my Facebook Page
The Daily Divination
, or on
Twitter
Thank you!