Good morning!

What a terrible start to the day - I ran out of coffee!

I had to make an emergency trip to the village shop, when I took Maisie out this morning - I cannot 'do' mornings without my coffee :)

Busy day ahead, so now that I have been caffeinated, let's get on with the cards and messages for Wednesday!

Whatever your star sign - have a great day :)

Brightest Blessings,
Kaz
www.blessingz.co.uk
www.cheekywitch.co.uk



This week I am using the
Power Animal Oracle Cards


by Steven D.Farmer, Ph.D.


Quoted from the pack: "Power Animals are spirit guides in animal form who provide protection, guidance and healing. This deck of 44 oracle cards by Steven Farmer will connect you with animal spirit guides who will advise you about any aspect of your life. Whether you're a beginner or an experienced reader, the enclosed easy-to-follow guidebook provides instructions to help you immediately give accurate readings to yourself and others."

My personal card for today

: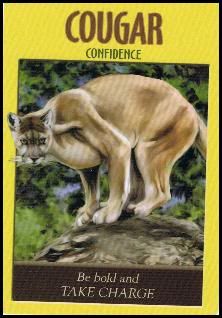 COUGAR - CONFIDENCE
Be bold and TAKE CHARGE
Divinatory meaning: You're being called to take a role of leadership, and it's natural for certain fears and considerations to surface, such as "Will I be seen as arrogant, bullying, or full of myself? Will others listen to me? Will I be challenged?" Well the truth is, these are all possible. You need to rise above all these mind-made fears, and heed the call.
Whether you realise it or not, you're a natural leader, and there's no need to diminish the hard-earned skills you learned through life lessons just so you can play it safe. What you have to offer is needed right now, whether it's with your partner, your family your community, or the larger world around you.
You will be judged. Count on it. And you need to hear these judgements, yet not allow them to rule you. Don't mistake ego-driven stubbornness and wilfulness for determination. Listen to the voice of your inner nature and wisdom to guide your choices. Acknowledge that everyone else has to make their own choices - including their response to you. Remember that effective leaders are good listeners. They know when to follow and when to lead, and when to move forward and when to hold still.
Additional Associations: Stealth; Leadership; Focus; Conviction

Today's cards for each of the star signs

:

Due to lack of time, etc. These are the 'quick reading' messages - for the full reading and meaning of the cards you will need to obtain these cards for yourself - or get someone else to buy them for you as a gift!

Here are your messages and insights for today. Try to sit quietly for a few moments, meditate on your card and think about how you can learn from, and act upon, its message...

Aries

: SWAN - GRACE

APPRECIATE THE BEAUTY inside and all around you

Additional Associations: Elegance; Purity; Innocence

Taurus

: DOLPHIN - PLAYFULNESS

Take time to PLAY

Additional Association: Communication; Breath; Community; Guidance

Gemini

: LIZARD - DREAMTIME

Pay attention to your DREAMS AND VISIONS

Additional Association: Primal; Ancient; Reflexive; Spontaneous

Cancer

: KANGAROO - GRATITUDE

BE GRATEFUL for all you are blessed with

Additional Association: Nurturing; Generosity; Abundance; Family

Leo

: BLACK PANTHER - PASSION

Follow your PASSION

Additional Associations: Sensuality; strength; Clarity; Solitude

Virgo

: PORCUPINE - INNOCENCE

FREE YOURSELF of guilt and shame

Additional Association: Humility; Protection; Sensitivity; Trust
Libra

: BADGER - PERSEVERANCE

Dig in and see it through to COMPLETION

Additional Associations: Self-reliance; Determination; Assertiveness; Willingness

Scorpio

: BUTTERFLY - TRANSFORMATION

Get ready for a BIG BREAKTHROUGH

Additional Association: Rebirth; Vibrancy; Reincarnation; Colourfulness

Sagittarius

: EAGLE - SPIRIT

TRUST in your higher self

Additional Association: Vision; Courage; University; Masculinity

Capricorn

: HUMMINGBIRD - JOY

LIGHTEN UP

Additional Association: Flexibility; Sensitivity; Vibration; Colour

Aquarius

: SEAL - IMAGINATION

IMMERSE YOURSELF in artistic and creative projects

Additional Associations: Creativity; Grace; Adaptation; Playfulness

Pisces

: GIRAFFE - FORESIGHT

YOU ARE ABLE TO SEE what is in store for the future

Additional Associations: Prophecy; Divination; Risk-taking; Gentleness
Please feel free to leave any comments here on Blogger, or on my Facebook Page
The Daily Divination
, or on
Twitter
Thank you!