Good morning!

Running a bit late this morning - that'll teach me to stay up working until the early hours.

The trouble is that my 'hour of power' is about 1 o/clock in the morning!

If I'm still awake and up after midnight, I seemed to get re-energised and get lots of 'bright ideas' and start working on them....

These days it's usually on the computer - tinkering with my ebay shop, or websites, etc... but in the past I have been known to get the urge to cut my hair, or re-arrange my furniture!

(It's lucky that I live alone, but rest assured that I am always mindful of my neighbours and keep the noise down!)

In my ideal world I'd go to bed about 3am and get up at noon, but unfortunately Maisie wont allow that - she does enjoy her early morning walkies!

Well, my card for today, Beaver, is all about being productive and getting on with a project - the trouble is it's not telling me which of my many on-going projects it's referring to!

Please find your message below and whatever your star sign - have a wonderful day :)

Brightest Blessings,
Kaz
www.blessingz.co.uk
www.cheekywitch.co.uk



This week I am using the
Power Animal Oracle Cards


by Steven D.Farmer, Ph.D.


Quoted from the pack: "Power Animals are spirit guides in animal form who provide protection, guidance and healing. This deck of 44 oracle cards by Steven Farmer will connect you with animal spirit guides who will advise you about any aspect of your life. Whether you're a beginner or an experienced reader, the enclosed easy-to-follow guidebook provides instructions to help you immediately give accurate readings to yourself and others."

My personal card for today

: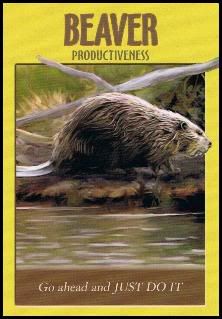 BEAVER - PRODUCTIVENESS
Go ahead and JUST DO IT
Divinatory meaning: Whatever the project is that you have before you, it's time to get to it. You think you have to do this or that to get prepared, but you could spend all your time planning and organizing and never get to it. You already have everything you need - just look around - and what you don't have will come to you as you proceed with your project. You've spent enough time thinking, talking, planning, and preparing, so don't make it a bigger deal than it is. Approach it like building a dam - one twig at a time. No more excuses, and nothing more to do to get ready - you don't have to do it perfectly!
Plus, you will have a lot more support than you think you do. You not only have friends and family members who will be there, but support from your spiritual allies. You've given a lot of support to others - even though you tend to downplay your contribution to their lives - and now it's time for you to receive their support. So take a deep breath and get on with it!
Additional Associations: Enthusiasm; Community; Cooperation; Ingenuity

Today's cards for each of the star signs

:

Due to lack of time, etc. These are the 'quick reading' messages - for the full reading and meaning of the cards you will need to obtain these cards for yourself - or get someone else to buy them for you as a gift!

Here are your messages and insights for today. Try to sit quietly for a few moments, meditate on your card and think about how you can learn from, and act upon, its message...

Aries

: COUGAR - CONFIDENCE

Be bold and TAKE CHARGE

Additional Associations: Stealth; Leadership; Focus; Conviction

Taurus

: HUMMINGBIRD - JOY

LIGHTEN UP

Additional Association: Flexibility; Sensitivity; Vibration; Colour

Gemini

: DOLPHIN - PLAYFULNESS

Take time to PLAY

Additional Association: Communication; Breath; Community; Guidance

Cancer

: OTTER - SURRENDER

LET GO of control

Additional Associations: Sensuality; Merging; Family; Playfulness

Leo

: DOVE - SERENITY

SLOW DOWN, pause, and breathe

Additional Associations: Love; Soul; Domesticity; Spirituality

Virgo

: BLACK PANTHER - PASSION

Follow your PASSION

Additional Associations: Sensuality; strength; Clarity; Solitude

Libra

: KANGAROO - GRATITUDE

BE GRATEFUL for all you are blessed with

Additional Association: Nurturing; Generosity; Abundance; Family

Scorpio

: OPOSSUM - STRATEGY

Have a BACK-UP PLAN

Additional Associations: Grasping; Agility; Maternal Instinct; Stability

Sagittarius

: PORCUPINE - INNOCENCE

FREE YOURSELF of guilt and shame

Additional Association: Humility; Protection; Sensitivity; Trust
Capricorn

: FROG - PURIFICATION

CLEAR OUT the clutter

Additional Associations: Singing; Rhythm; Rainmaker; Sensitivity

Aquarius

: PELICAN - FORGIVENESS

LET GO of your judgments

Additional Association: Grace; Unselfishness; Self-sacrifice; Cooperation

Pisces

: KOALA - EMPATHY

Speak less and LISTEN MORE

Additional Association: Rest; Detoxification; Safty; Sensitivity

Please feel free to leave any comments here on Blogger, or on my Facebook Page
The Daily Divination
, or on
Twitter
Thank you!