Good morning!

I had a lovely walk along the beach with Maisie this morning and found this amazing stone!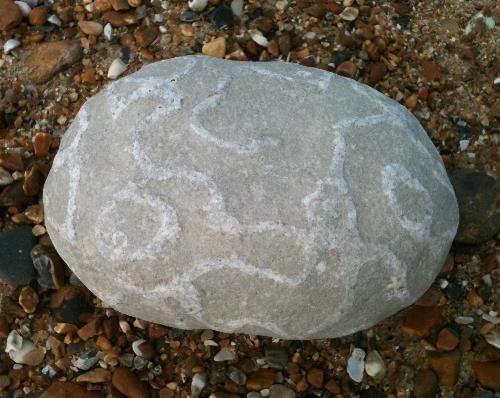 It is quite heavy and measures approximately 4 x 3 inches (10 x 8 cm) and is about 2 inches (5cm) thick - and it is covered by slightly raised swirly patterning.
This is the other side:
I have never seen anything like it before - have you?
I'm thinking it is probably some sort of fossil and have been looking for something similar on Google images, but haven't found anything yet...
I'm calling it my "Alien Pebble"!
It looks and feels amazing :)
Another beautiful gift from the beach! I am blessed indeed!
Whatever your star sign - I hope you have a blessed day too :)
Love and Lightbeams,
Kaz
www.blessingz.co.uk
www.cheekywitch.co.uk

This week I am using the
Wisdom Cards


by Louise L Hay
Illustrated by Eris Klein and Sarajo Frieden



Quoted from the pack: "A deck of 64 Affirmation Cards to help you develop your Inner Wisdom."
These cards are all about the power of positive thought!

My personal card for today

: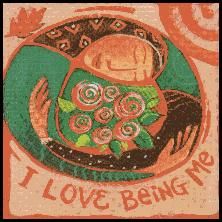 Affirmation: I Love being Me.
I no longer judge or criticize myself. I am free to love who I am.

Today's cards for each of the star signs

:

These cards are a bit different from some of the others I use, as they are a affirmation cards.

Read your message, think about its meaning and relevance to you and your situation, and use the affirmation throughout the day to remind yourself of its message - and change your thinking!

Aries

: Affirmation: I Forgive all Past Experiences.

I do not have to know how to forgive. All I have to do is be willing to forgive. The Universe will take care of the how.

Taurus

: Affirmation: Each person is part of the harmonious whole.

I choose to believe that "everyone is always helpful." Therefore, wherever I go in life, people are there to help me.

Gemini

: Affirmation: I Express my True being Today.

This is a new day. I begin anew to claim and create all that is good.
Cancer

: Affirmation: I Release the Past with Ease, and I Trust the Process of Life.

I do not use yesterday's mental garbage to create tomorrow's experiences. I create fresh new thoughts and a fresh new life.

Leo

: Affirmation: I am Connected to All of Life.

I can either help to destroy the planet or to heal it. Everyday I choose to send loving, healing energy to the planet. What I do with my mind does make a difference.

Virgo

: I Am centred in Truth and Peace.

I search my heart for injustices I still harbor. I forgive them and let them go.

Libra

: Affirmation: I am Here at the Right Time.

The work I do on myself is not a goal, it is the process - a lifetime process. I choose to enjoy the process.

Scorpio

: Affirmation: I am a Yes person.

If I dwell on what I don't want, then I will get more of it. I affirm only the good in my life.

Sagittarius

: Affirmation: I dwell on Positive Thoughts.

If good comes into my life and I deny it by saying, "I don't believe it," I literally push it away.
Capricorn

: Affirmation: My Mind is a powerful Healing Tool.

Every illness holds a lesson for me to learn.

Aquarius

: Affirmation: I Trust the Intelligence within me.

Whatever is happening out there is only a mirror of my own limited thinking.

Pisces

: Affirmation: I am Willing to Change and Grow.

When I am ready to make positive changes in my life, I attract whatever I need to help me.

Please feel free to leave any comments here on Blogger, or on my Facebook Page
The Daily Divination
, or on
Twitter
Thank you!